Operable Walls
Divide large, tall and open spaces quickly and easily.
Loved by teachers, nurses, and general staff our range of Prefabricated Operable Walls are the easiest to use on the Australian Market and are popularly used in classrooms, meeting rooms, medical facilities, retail, offices and convention centres to divide floor space as needed.
How to choose between our Operable Walls
Have questions about buying an Operable Wall? Chat with a specialist
Folding design
Units up to 3.75m high - 5.6m long
Our folding walls are the most flexible of them both, allowing you to open and configure your Operable Wall in any shape or form.

With each panel moving independently, this futureproof design works best if multiple configurations may be needed overtime. It also is more efficient in terms of cost per wall length.
Sliding design
Units up to 3.75m high - 4.6m long
Our sliding or telescoping Operable Wall design only opens in a straight line, but the whole wall can still pivot from the mounting point for added flexibility.

The simplicity of these operable walls comes at the cost of less wall length per dollar spent when compared to a folding design due to the slight overlap between panels.
Benefits of our range of Operable Walls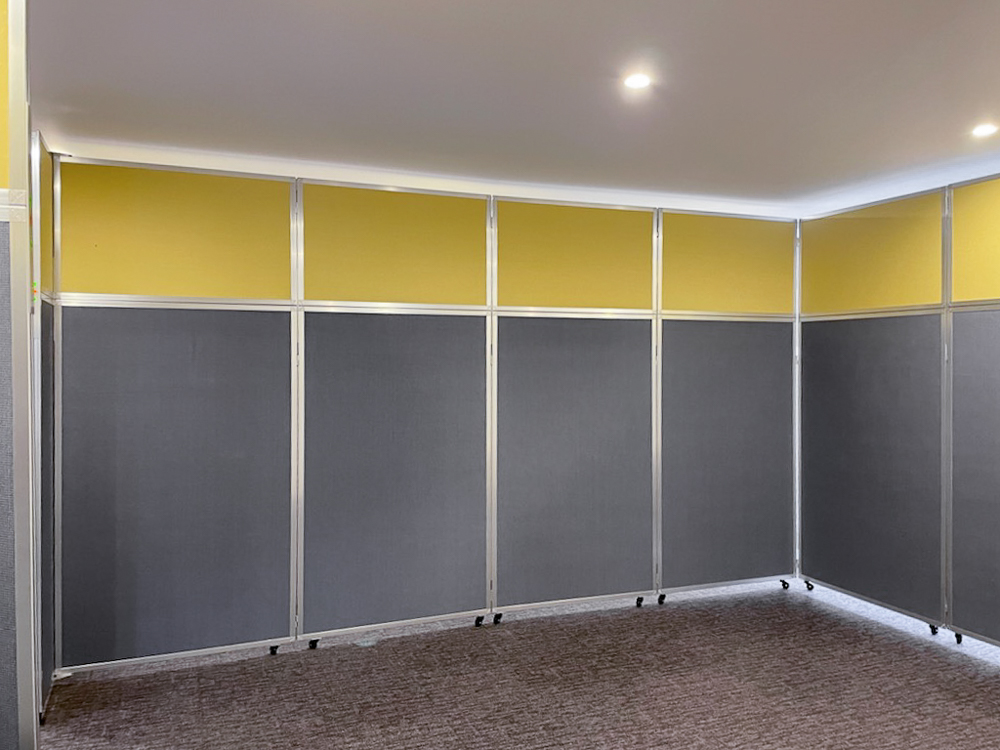 Flexible Environments
Need to improve acoustics or divide a large space in two? Our hand-built operable walls offer you an affordable and unique alternative to divide open spaces while keeping them modern and aesthetic. If you need to open the space up again simply stack panels together to close the wall.

Our operable walls are completely customisable and designed in a range of dimensions and fabric finishes that suit the functional criteria of any project and business while doing a brilliant job at dividing your large, open area.
No Tracks, No Hassle
Wall mounted on one side and supported on their own caster wheels, we manufacture our gravity based Operable Walls to roll smoothly with no ceiling or floor track required, making daily operation simple and easy.

By working without ceiling or floor tracks, our range eliminates the need for especially built structural beams, complex engineering work, landlord permits and builders on site, speeding up the installation process from months to minutes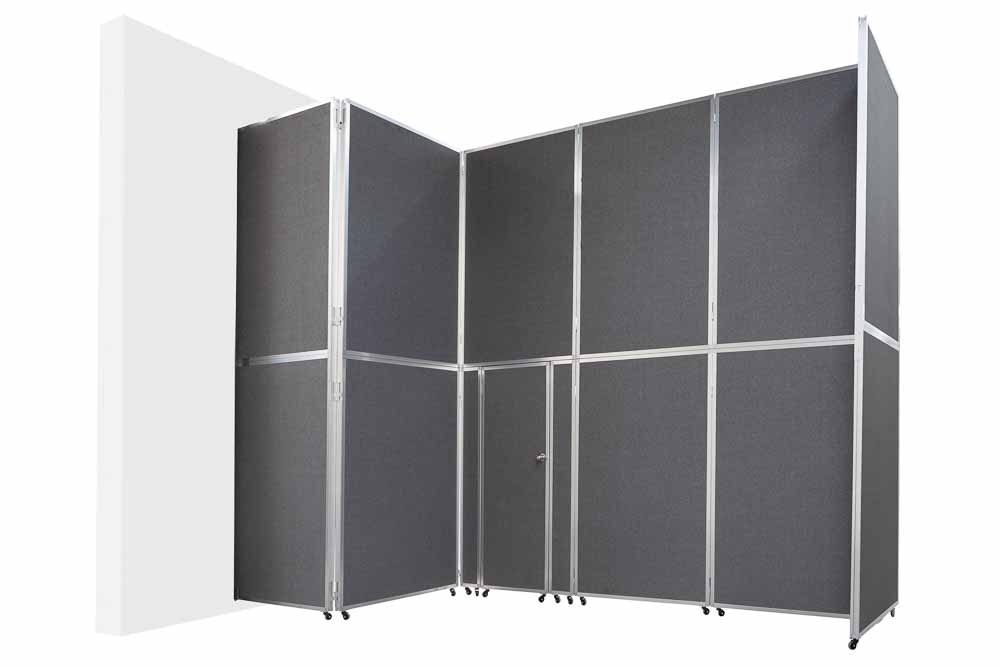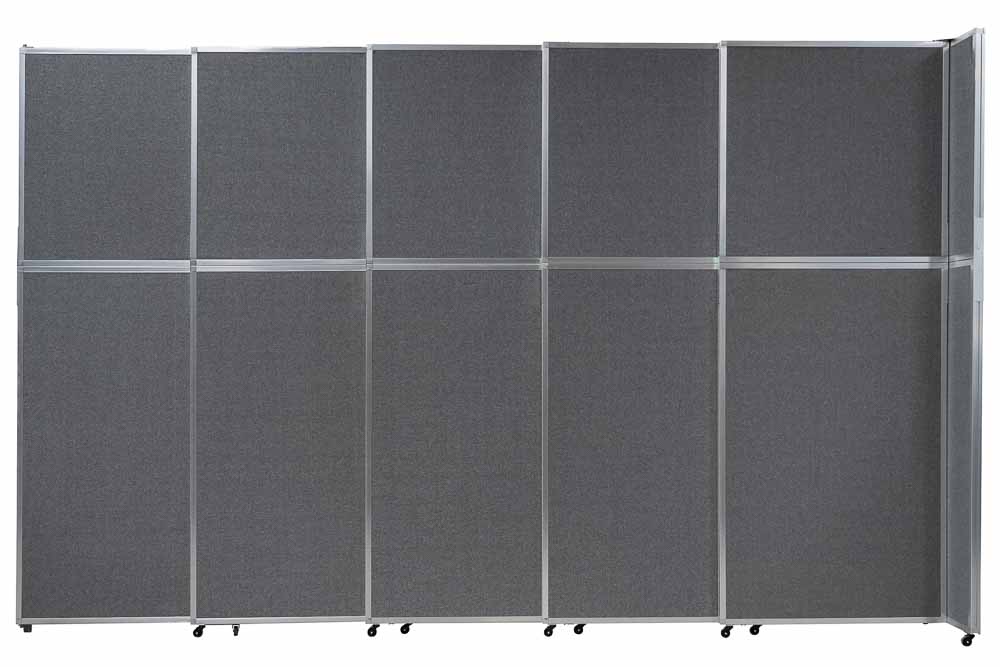 HVAC Friendly Product
Our operable partition walls provide more coverage than other types of partitions but leave a 5 cm gap at the top and the bottom to not affect HVAC flow, therefore eliminating the need to get building code or council permits for installations.

With air flowing freely even with the wall closed, you can change the size of any space in a matter of seconds
Best bang for your buck
Track based Operable Walls with acoustic seals are incredible products that provide good sound ratings and visual privacy, but at a price tag and timeline you may not be able to work with.

Our products are designed for people who need to visually separate two areas effectively and can compromise on some of the acoustic performance, but don't have the budget for a track based system or can't wait several months to install a solution.

From as little as $680 a metre, our acoustic panels will provide moderate sound reduction. Fast to install and easy to use on a daily basis our Operable Partition Walls will give you the best bang for your buck.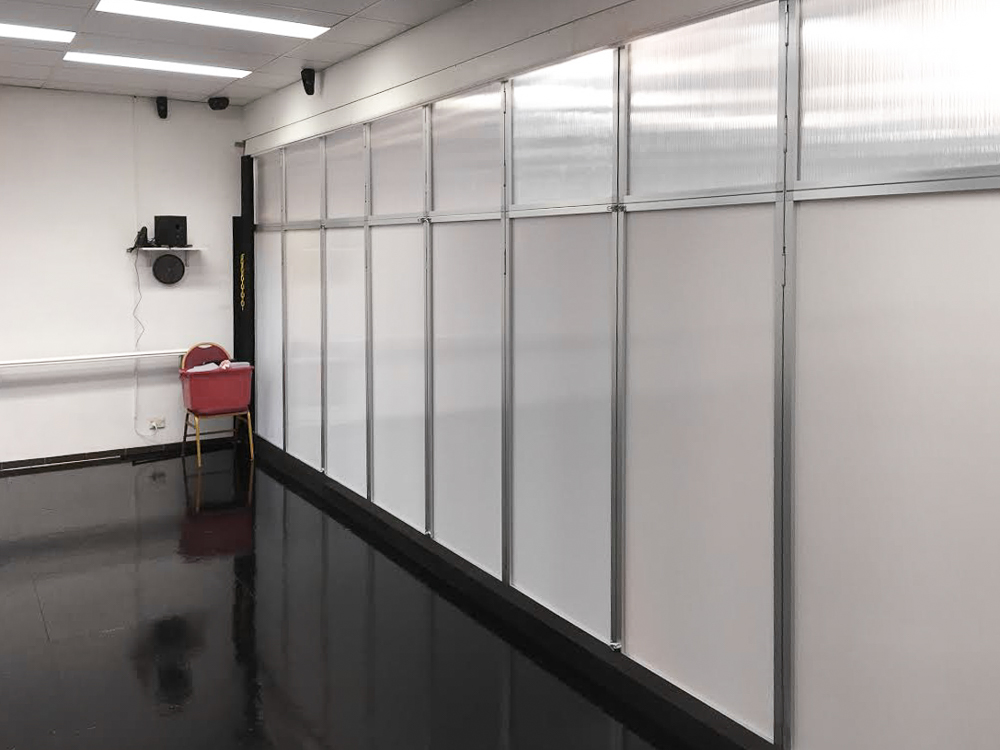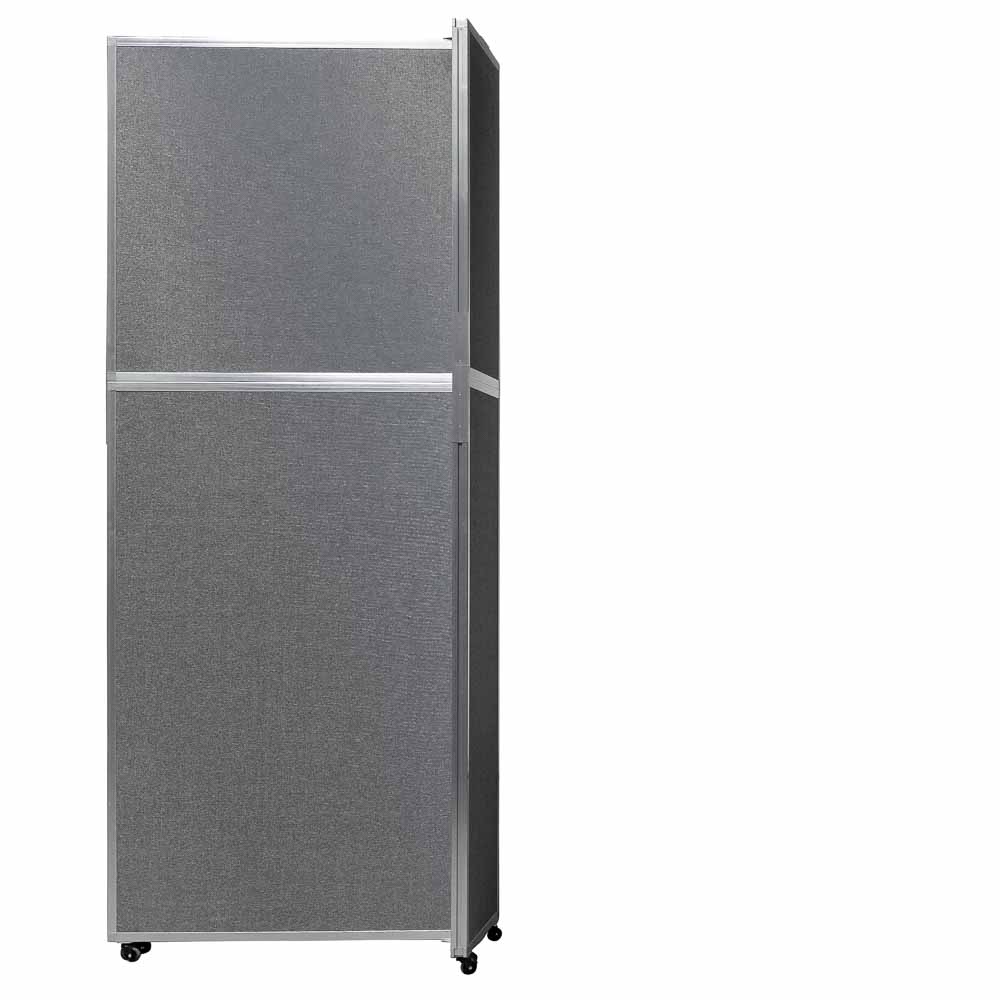 Loved by Staff & Facility Managers alike
Teachers, nurses and office managers operate our operable walls on a daily basis in different environments like classrooms, offices, meeting rooms and convention centres, and it is not uncommon that once they've bought and tested one they decide they need some more.

Unlike other systems that are slow and cumbersome to open or close, our operable partitions have been designed with our end users experience in mind as well as to meet stakeholders expectations by giving facility managers a fast alternative to urgent business requirements.
Multiple Applications
Popular business applications of our Australian made Operable Walls are:
Improving acoustics in meeting rooms and offices
Dividing classrooms in Schools and Universities
Organising retail and industrial warehouses of
Hospitality venues like hotels, restaurants, and casinos
Recreational and reception centres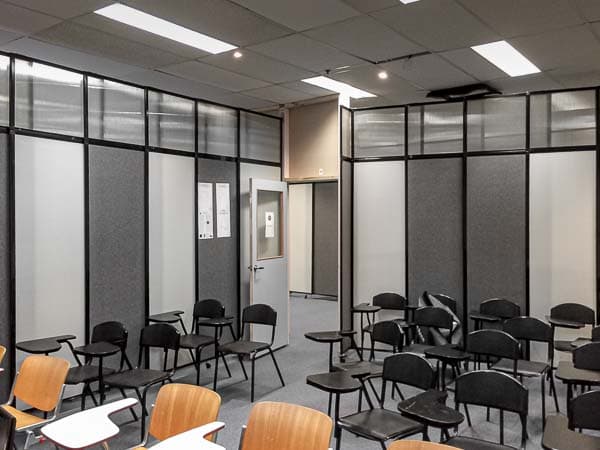 General Operable Wall Specifications
Panels
Panel Edges
Clear anodised aluminium frames.
Surface Finishes
Pushpin accepting fabric finishes in black, charcoal, cloud grey, navy blue, yellow, red, beige or any combination.
Panel Width
1.2m panels
Panel Thickness
50mm acoustic panel
Installation Requirements
Surface
Rolling surface should be flat, even and made of only one material, not where different floor materials join like carpet joining a hard surface. For example only carpet is ok.
Mounting Wall
Wall does not need to be structural as the connection is not weight bearing. It only needs to stop lateral movement.
Acoustic Performance
Panel Sound Rating
Our acoustic panels have an NRC value of approximately 0.5. The NRC value indicates how much sound a material will absorb when sound waves hit it, but is not equivalent to the perceived noise reduction of an installed product. This will vary on a case by case basis.
Acoustic Seals
No acoustic seals
Closure Systems
Sliding (telescoping) or Folding (accordion) designs
Budget & Value Estimation
From $680 inc. GST per metre + shipping costs.
Warranty
3 year product warranty on defects in materials and workmanship from the date of delivery
Customisations
Normal customisation includes any combination of the 7 fabric colour finishes available.

For additional customisation options including incorporating polycarbonate windows, a door or manufaturing taller or longer walls than advertised, get in touch with our customer service team.
Operable Walls available Australia wide
Manufactured in our local factory, our Operable Walls are delivered daily to our customers Australia wide to locations including Sydney, Melbourne, Perth, Brisbane, Adelaide and New Zealand. Get in touch for accurate shipping times or check our delivery page.
Need help buying Operable Walls?
We've got you covered. Our team has created a short guide to help you understand the different types of operable wall systems sold in Australia, the differences between these products and which one is the best option for your needs and budget.

If you want to speak with a specialist our customer service team is happy to help you make an informed decision
Related Case Studies