Portable Gym Dividers & Sports Room Dividers
Create the perfect space for different sports in moments
Give your teams a private dressing room, no matter where
Divide large spaces for competitions and public events
Set up activity rooms or learning spaces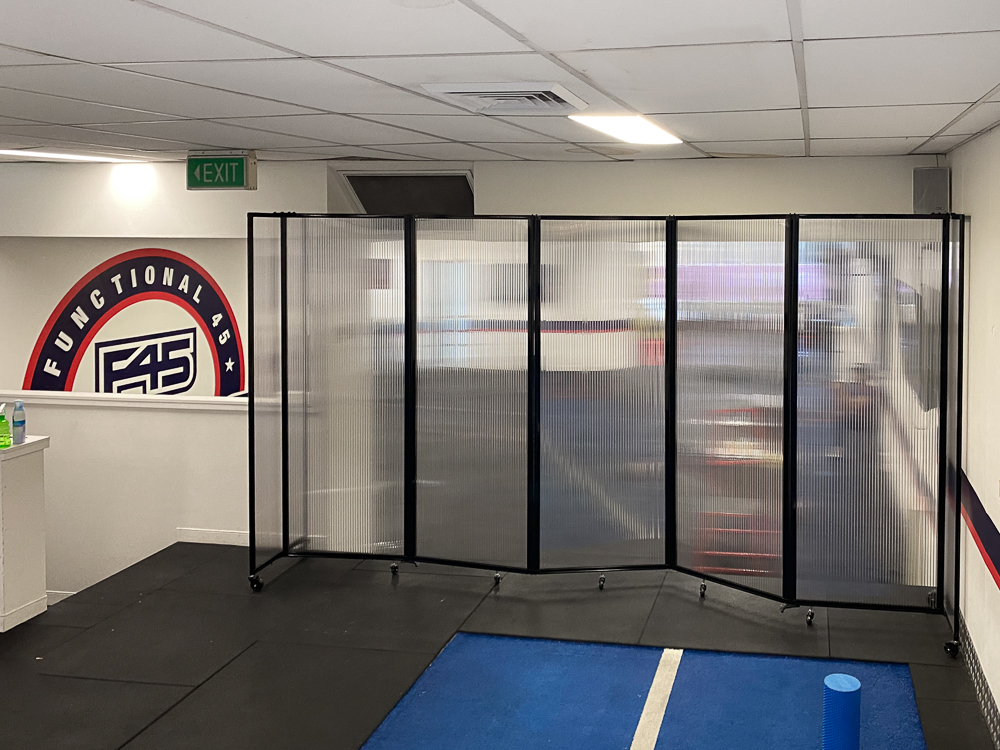 Trusted by Sports and Leisure facilities across Australia Why Gyms & Sport Centres Choose Us?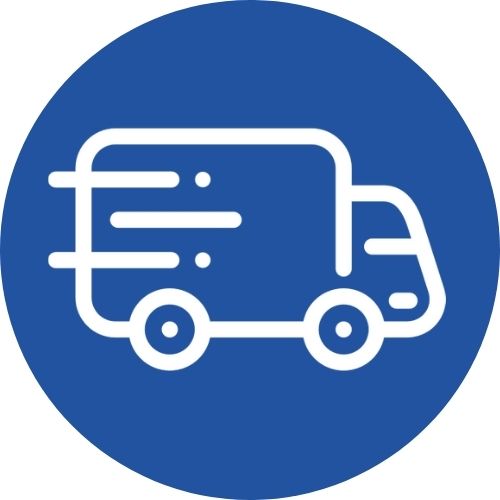 Fast & Reliable
Nobody beats us on time to dispatch,
quality construction or price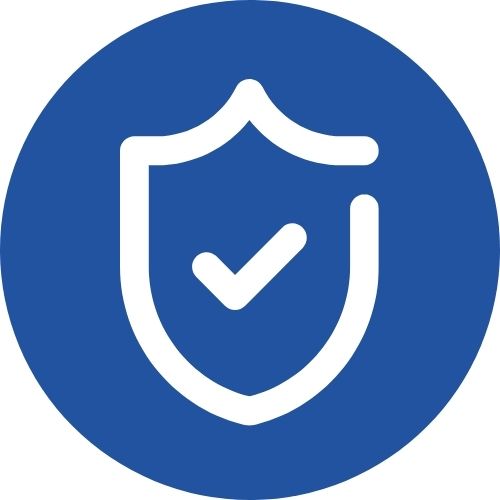 3 Year Warranty
Up to 3 year warranty on materials
and workmanship defects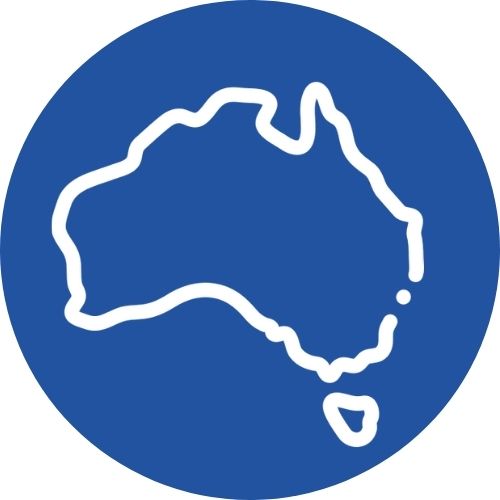 Aussie Quality
Manufactured and shipped
directly from our Sydney factory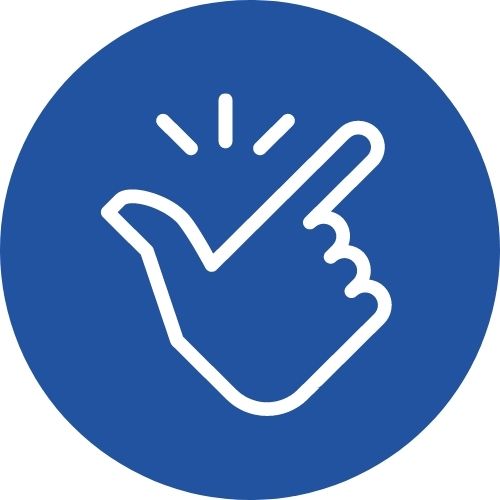 Cost effective
Customise your space without builders, long construction times, or permits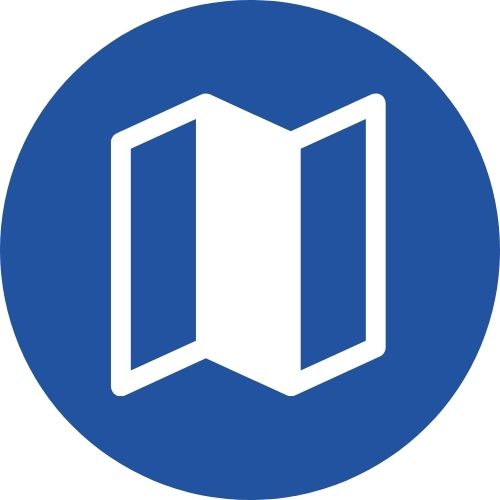 Ultimate Flexibility
Create sporting areas however and whenever you need them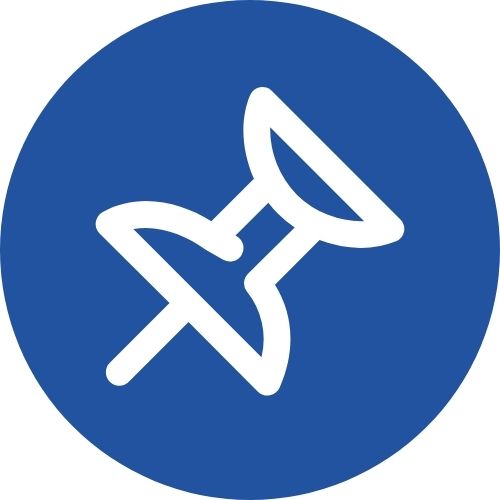 Pinnable Fabrics
Post team photos, 'wins', events, and competition updates
Our Most Popular Portable Gym Dividers
For creating portable dressing rooms, dividing big areas and controlling crowds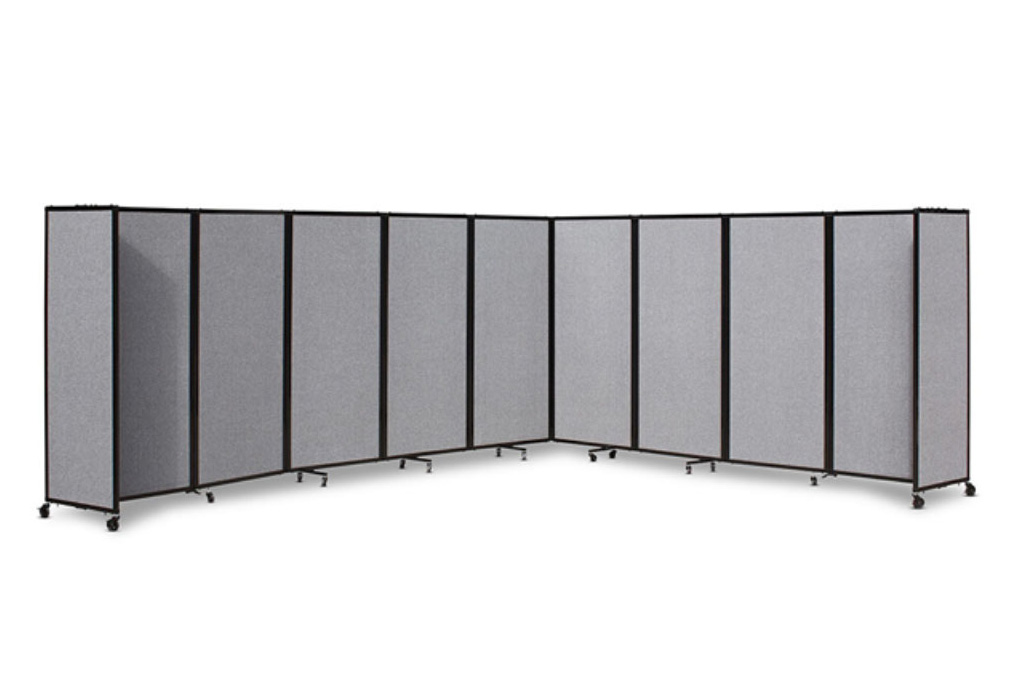 Portable or wall mountable
Up to 2.3m high and 7.6m long
Fully articulating or straight line partitions
Sound dampening and tackable fabric finish
From $1195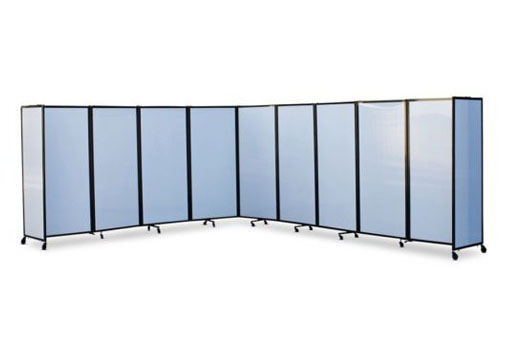 Portable or wall mountable
Up to 2.3m high and 7.6m long
Fully articulating or straight line partitions
Easy to clean polycarbonate wipeable surface
From $1195
Privacy Screens for Sport Centres
For creating physio treatment areas or small private spaces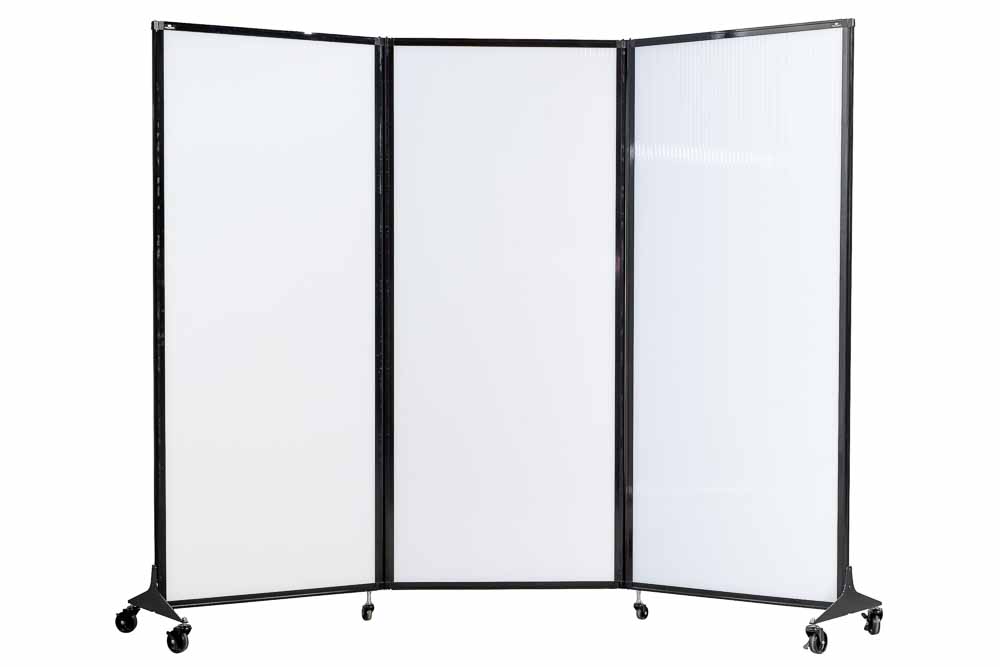 Portable (on wheels) or on feet
Up to 2m high and 2.55m long
Configurable in any shape or straight line
Easy to clean polycarbonate surface
From $890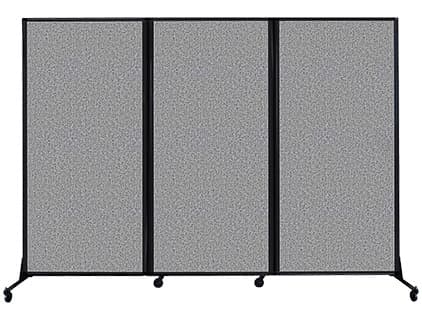 Wheel, feet or no feet options available
Up to 2m high and 2.5m long
Configurable in any shape or straight line
Sound dampening pinnable fabric
From $890
Large Gym Partition Walls
For dividing big open spaces with sound dampening capabilities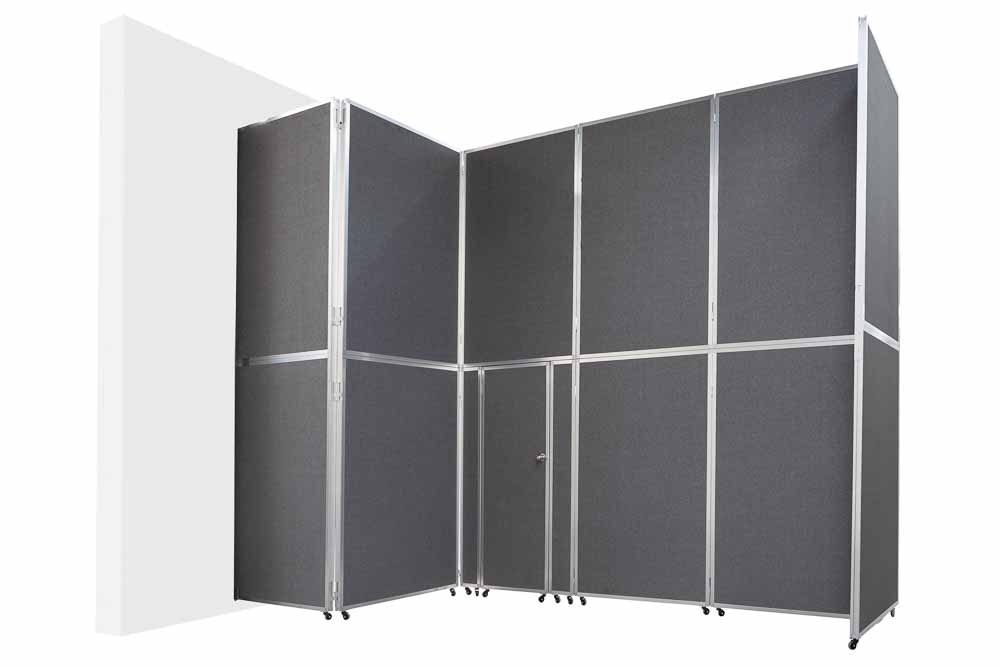 Wall mounted folding design
Up to 3.7m high and 5.9m long
Configurable in any shape or straight line
Pinnable fabric is designed to dampen sound
From $2530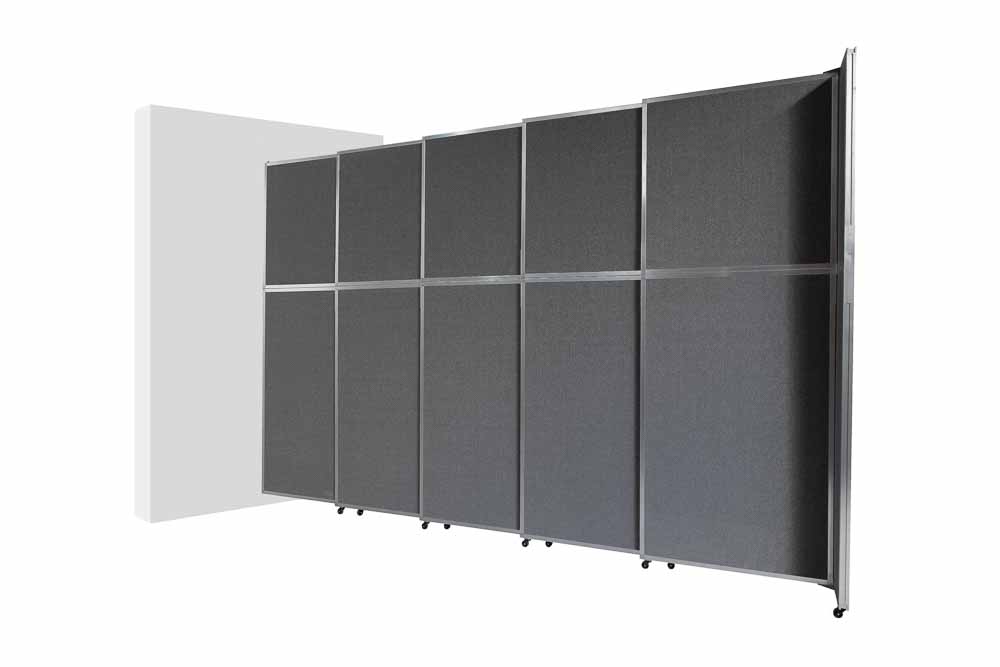 Wall mounted telescoping design
Up to 3.7m high and 4.6m long
Configurable in any shape or straight line
Pinnable fabric is designed to dampen sound
From $2530
Why Use Portable Gym Dividers?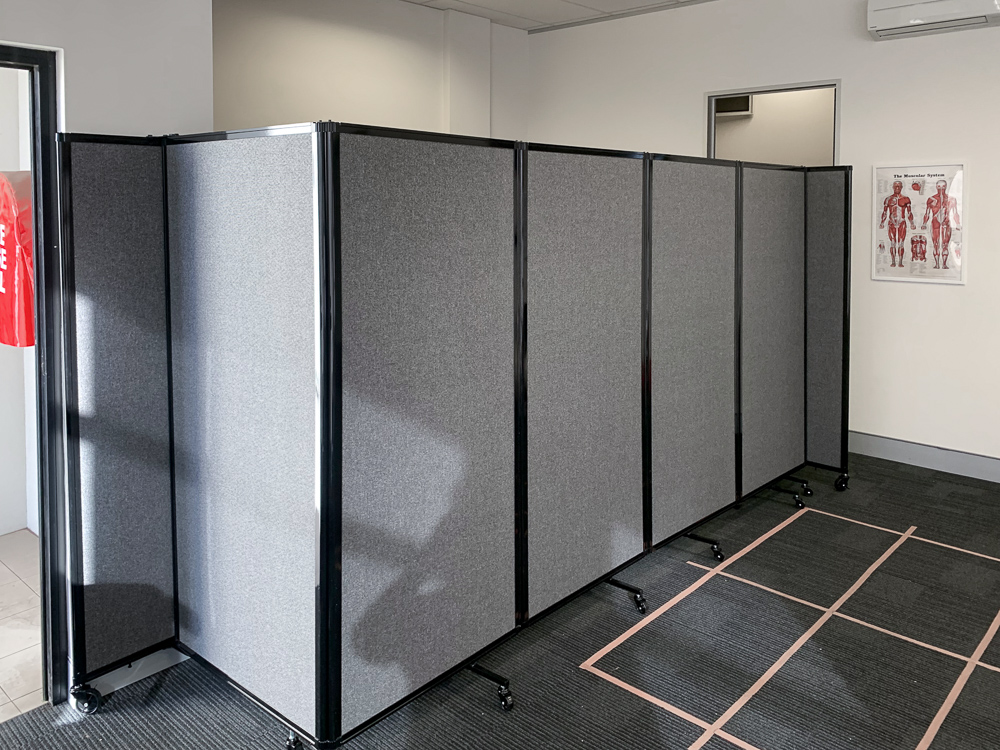 Often running simultaneous events for a range of different sports, ages, skill levels and genders, a successful gym or sports centre needs to be able to divide up its space effectively. But with such a broad number of activities and sports on offer, permanent walls and dividers may not necessarily be the most efficient solution.

Flexible and offering a range of sizes, styles and configurations, our portable partitions are designed for ultimate adaptability. That means you can set up, reconfigure and pack down your partitions in moments, giving you the ability to fully customise your space whenever and however you need to host a wide variety of activities.
Turn your leisure or sporting facility into a multi-use space
Your gym or sporting facility needs to cater to a range of different sports and activities, which means you need a flexible partitioning solution to suit all possible needs and uses.

Our partitions come in a wide variety of styles and sizes, and are built for ultimate adaptability to maximise your space.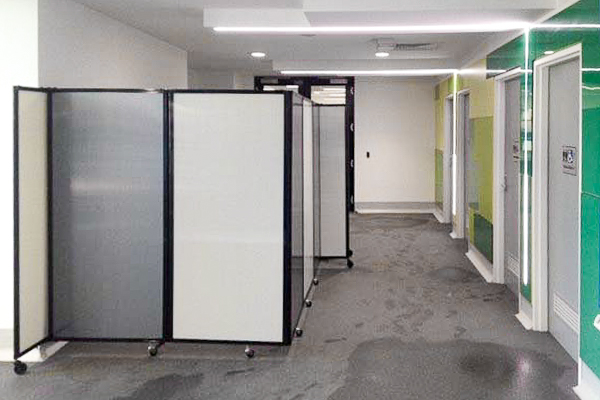 Offer portable dressing rooms
When travelling with your sports team or club, you can't always be confident that you'll be supplied with adequate changing rooms.

Our range of privacy screens are designed to be lightweight and highly portable so that you can always offer suitable facilities for your team. Our folding mobile room dividers come in both pinnable fabric and polycarbonate variations, and feature three panels which can be conveniently folded out against a wall to offer a small portable dressing room.

For a more permanent dressing room solution for smaller gyms and sporting clubs working out of a factory or commercial building, our range of Portable Gym Divider Walls are durable, highly customisable and can be used to create larger changing room spaces. Perfect for rented spaces where alterations may not be allowed, our portable partitions offer a visually appealing and sturdy option without the need for construction work or permission from your landlord.
Divide your space into customisable sections
Different sports and activities have different space requirements. But rather than dedicating an entire room to each activity, you can now turn a large room into highly customisable spaces that can be used for a variety of purposes.

Our range of Operable Walls can be used to divide large spaces into two sections, such as when hosting two different events or training sessions. Featuring a convenient telescoping function, our Sliding Operable Wall is designed to be mounted directly onto the wall to support a taller design without the risk of toppling. The sliding version is perfect for spaces that simply need to be divided in half.

Alternatively, our Folding Operable Wall features the same height and wall-mountable construction, plus fully articulating hinges that can be used to create a variety of differently shaped spaces. Both versions feature wheels that make them easy to pull into place, and also offer less clearance at the top and bottom for greater privacy and noise dampening qualities.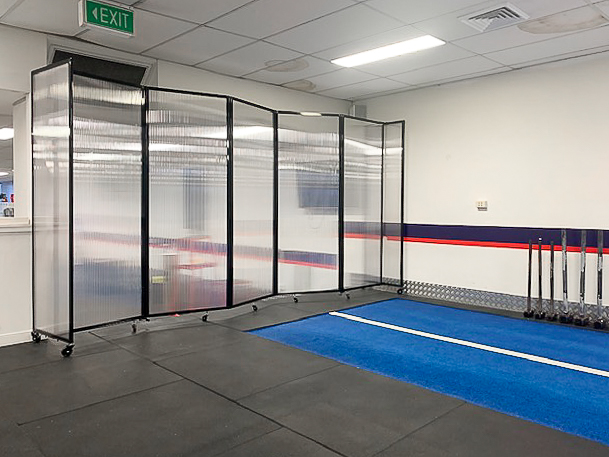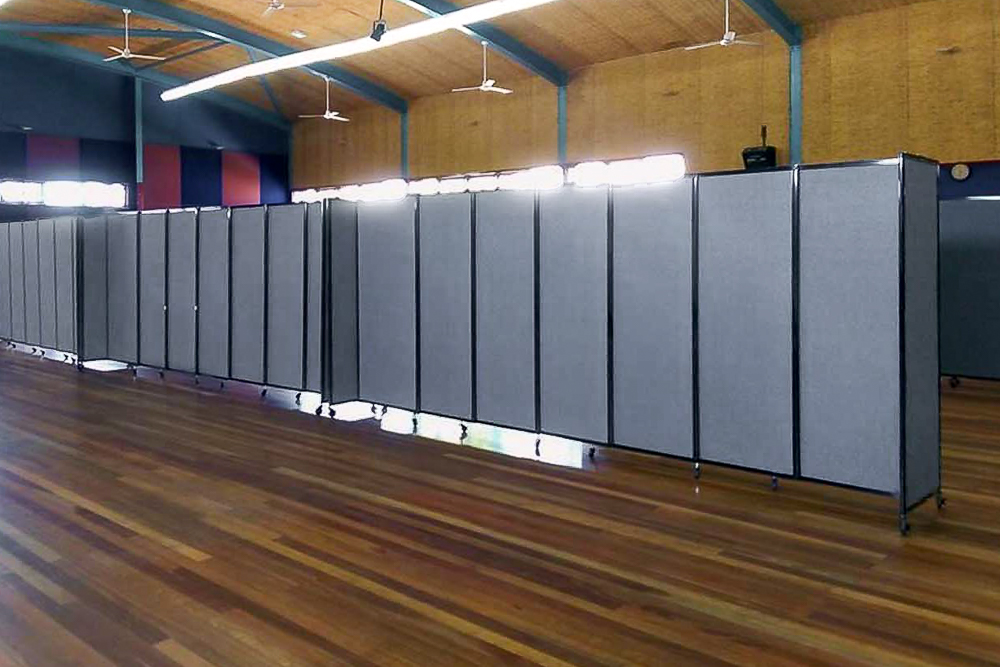 Create spaces for different activities
Large gyms, courts and sporting facilities often play host to a broad range of activities, including crafts, yoga, and even childcare. But the wide open spaces of a basketball court or gym can result in a lot of noise, and create a distracting environment, particularly for small children.

Portable gym dividers and sports club partitions are a great way of breaking your space up into smaller temporary rooms to offer greater privacy, reduce noise, and minimise distractions for people participating in the activities.

Freestanding and highly portable, our 360 Degree Polycarbonate Portable Gym Divider can be configured into a wide variety of shapes to best suit your needs. It's also easy to clean and offers excellent sound reflecting qualities that help to prevent distracting noises from finding their way in or out of the room.

Our Fabric Portable Gym Dividers offer the same great flexibility and portability, plus the benefit of sound dampening pinnable fabric, which can be used as an excellent teaching tool for interactive learning.
Set up public events
Larger sporting facilities are often used as venues for community events, such as festivals, craft markets and conventions.

Specially designed to break up large areas into smaller and more functional rooms, gym divider walls, such as our range of highly adaptable Portable Walls, come in both straight-line and fully articulating variations. These can be used to create art display walls, learning centres, presentation rooms, and more!

Both our fabric and polycarbonate room dividers serve as an attractive barrier that helps to minimise distractions and control noise. Our fabric dividers offer superior sound dampening qualities, while polycarbonate dividers are designed to reflect sound, preventing noise from making its way to the other side of the partition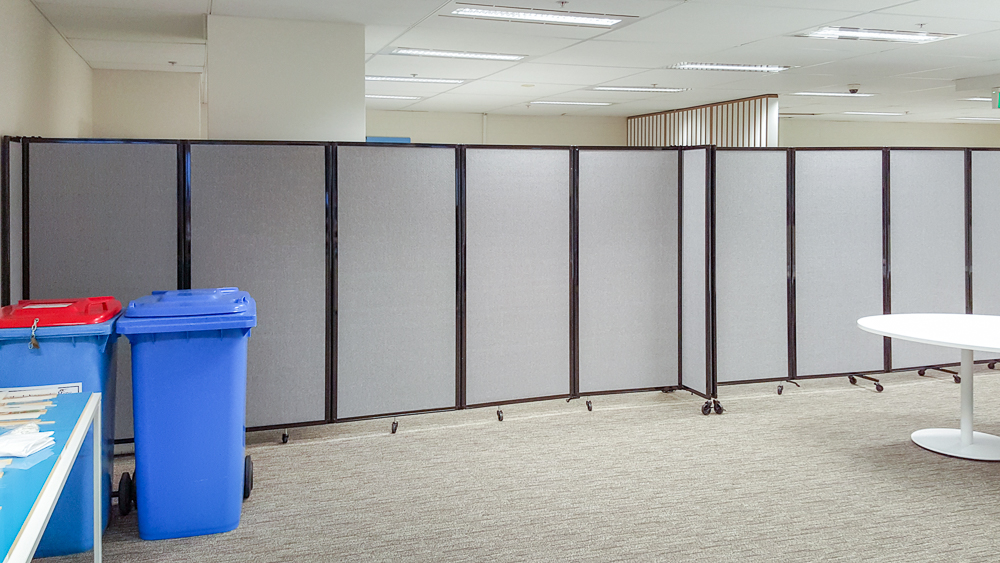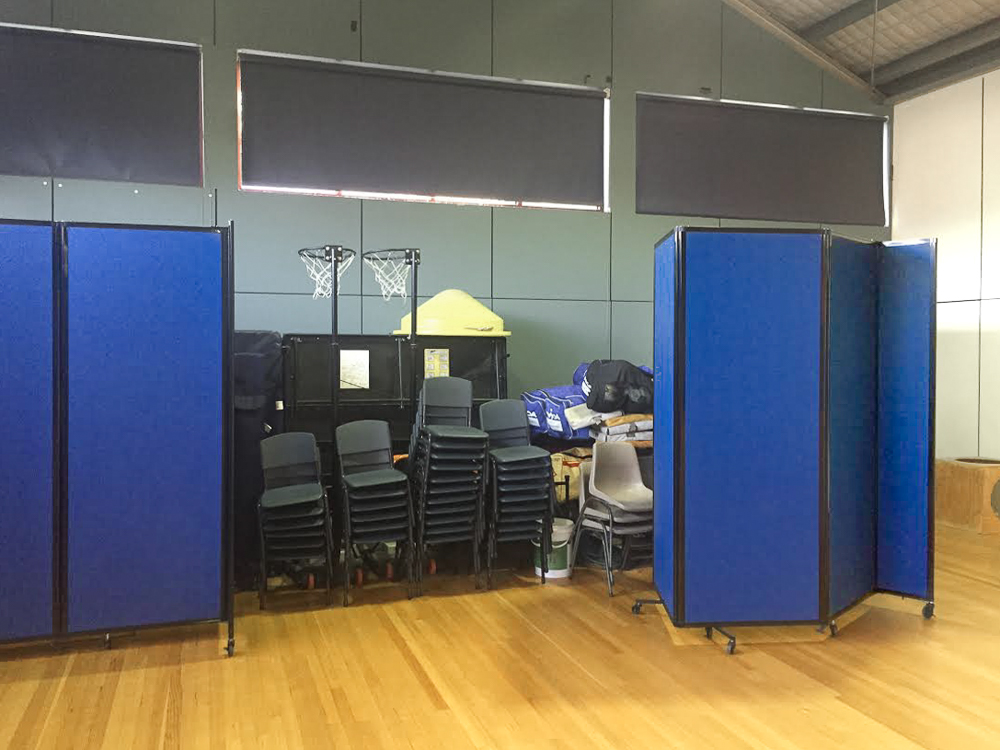 Hide unused equipment & storage areas
Gymnasiums usually have lots of sports equipment and chair racks but they usually lack a nearby dedicated storage area to put those things away when not in use.

Instead of building a costly storage room, you can use portable gym dividers to hide unsightly storage areas while keeping gear handy for whenever it's needed.

Our Portable Room Dividers are a great solution that comes in a range of colours and materials to match to the vibe of your gym.

If acoustics are an issue you can also choose some of our soundproofing room dividers to help manage the sound of bouncing balls and crowds as an added benefit.
Help social distancing with floorstanding sneeze guards
The way people feel about their personal space has dramatically changed, and distances that once were ok now might seem uncomfortably close.

Our floor standing single panel protection screens have a super narrow footprint, making them ideal to be placed between exercise stations such as treadmills or bicycle machines to help people feel safer and more in control of their personal space.

Similar to our reception sneeze guards, these floor standing screens create a physical barrier between two people exercising close to each other.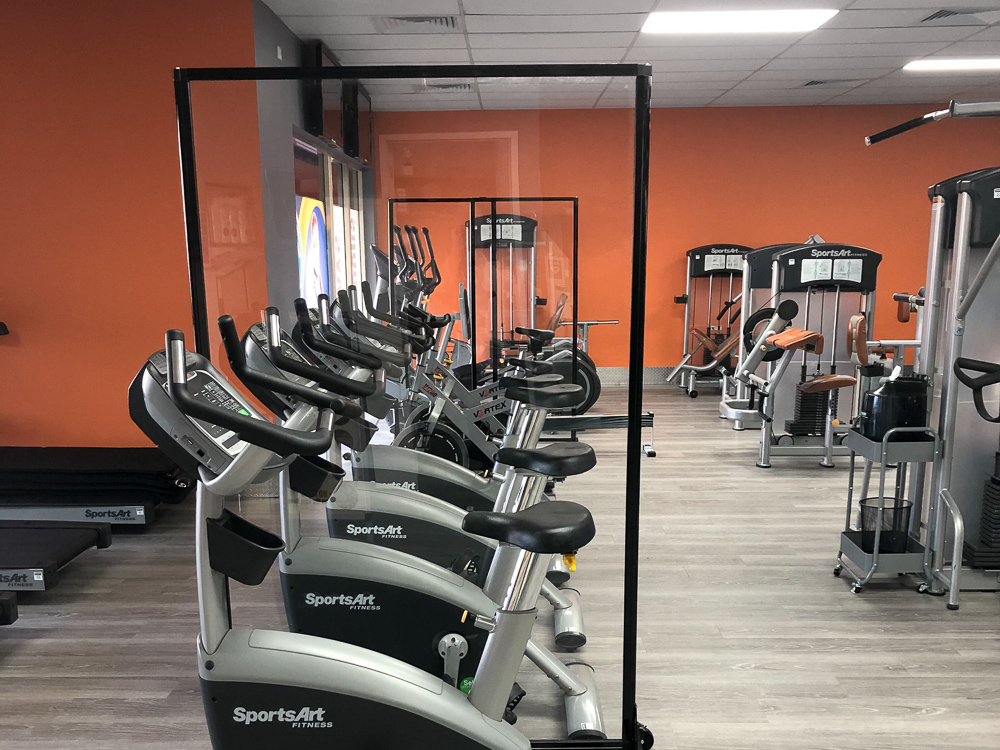 Let us find the portable gym dividers for you
Whether you're a big sporting centre, a small gym, or somewhere in the middle, our team at Portable Partitions Australia is dedicated to helping you find the right partitioning solutions to suit your space.

Simply give us a call or fill out the form below, and one of our friendly customer service staff will be happy to help.
Need help choosing office partitions?
If you need guidance, help choosing or customising office partitions for your needs, give us a call or get in touch and our friendly customer service team will help