Operable Walls Melbourne
Customise Your Space With Ease
Allowing businesses throughout Victoria to alter their space in moments, operable walls are a popular partitioning solution for industry leaders from Melbourne's CBD all the way to Regional Victoria. Used in hospitals, government buildings, and schools, our operable partition walls are transforming spaces for just about every industry and locality.
How to choose between our range of Operable Walls
Have questions about buying an Operable Wall? Chat with a specialist
Wall Mounted Operable Wall
Can be installed from 3 days of purchase
No Landlord or Building Permits Required
Up to 3.7m high and 5.19m long
Affordable separation from $276/m²
5cm HVAC and Sprinkler Friendly gaps at top and bottom of the partition
Available in folding or sliding configurations.
Acoustic fabric finish available in 7 colours.
Track Mounted Operable Wall
Soundproof floor to ceiling partition wall
Landlord and Building Permits Required
Up to 7.5m high, unlimited length
Superior separation from $990/m²
Sound insulation Coefficient up to 44db
Retractable top and bottom acoustic seals
Centre, Side or Remote Stacking options
Multiple finish options per architecture req.
Selecting the Right Wall Mounted Operable Wall System in Melbourne
Their lightweight, portable, and flexible design makes them one of the most versatile partitioning solutions on the market, while their simple, wall-mounted construction eliminates the need for extensive and costly installation processes.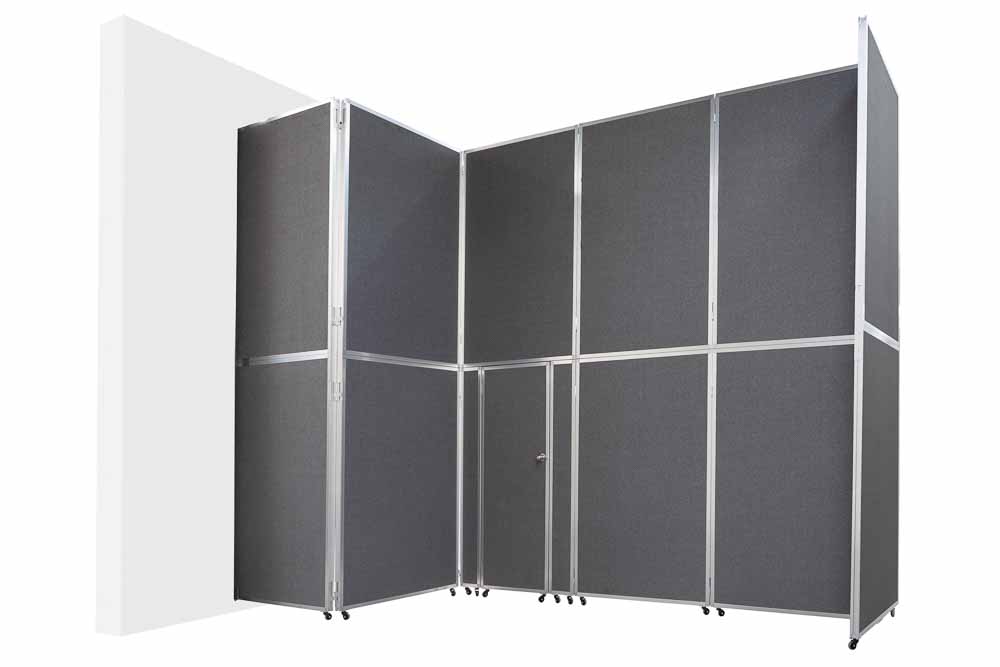 Wall mounted folding design
Up to 3.7m high and 5.9m long
Configurable in any shape or straight line
Pinnable fabric is designed to dampen sound
$2,530 – $6,080
Wall mounted telescoping design
Up to 3.7m high and 4.6m long
Configurable in any shape or straight line
Pinnable fabric is designed to dampen sound
$2,530 – $6,080
If you need a little help deciding which operable wall system is right for your melbourne-based business, our friendly customer service team is always here to help. Speak to one of our specialists today.
Folding Operable Walls Melbourne
Maximum height of 3.75m and maximum length of 5.6m.
Easily one of our most popular operable wall systems in Melbourne, our folding partitions feature articulating hinges that allow you to set your walls up in any configuration. This means you can create temporary rooms to your exact specifications, or divide a large room with a straight wall.

If you ever need to open up your space, the operable wall panels are designed to neatly fold up for discrete storage against the wall. The versatility of these operable walls allow you to 'future-proof' your Melbourne-based business so that you can be confident your space will always suit your needs without ever having to pay for an expensive redesign or permanent alterations.
Sliding Operable Walls Melbourne
Maximum height of 3.75m and maximum length of 4.6m.
Designed to open in a straight line, our sliding operable walls feature a clever telescoping function that smoothly glides out to cover the space.

Perfect for areas that simply need to be divided in two, the first panel is attached to the wall with the same pivoting connection as our folding operable walls, offering a little more flexibility to choose the direction of opening.

The slightly overlapping panels means that sliding operable walls aren't quite as long as the folding version.
Operable Wall Specifications for Melbourne Businesses
Panels
Panel Edges
Wall Mounted
Track Mounted
Panel Thickness
50mm
65 – 100mm
Panel Width
1200mm
800 – 1200mm
Panel Height
2560 – 3730mm
2000 – 7500mm
Panel weight / STC
36 – 39db
65mm thickness
22 – 38 kg/m


40 – 44db
80mm thickness
28 – 44 kg/m
Panel Edges
Clear anodised aluminium frames
Clear or powder coated anodised aluminium frame
Surface Finishes
Pushpin accepting acoustic fabric finish in cloud grey, charcoal, navy blue, beige, balck, red and green
Acoustic fabric, acoustic panel, melamine faced MDF or Plywood, wood veneer, high pressure laminate, formica, white board, etc.
Installation Requirements
| | Wall Mounted | Track Mounted |
| --- | --- | --- |
| Ceiling track | No | Yes |
| Floor track | No | No |
| Track fixing | No track needed | Timber, concrete or steel |
| Ceiling surface | Doesn't Apply. Wall Mounted operable walls have a 5cm gap between the top of the partition and the ceiling. | ±5mm |
| Floor surface and levels | Flat, even and made of only one material, not where different floor materials join like carpet joining a hard surface. For example, carpet only is ok. | ±5mm |
| Mounting Wall | Wall doesn't need to be structural as the connection is not weight bearing. It only needs to stop lateral movement. | Doesn't apply. |
| Installation provided | DIY | Installation supplied |
Acoustic Performance
| | Wall Mounted | Track Mounted |
| --- | --- | --- |
| STC Performance | Not measured | Rw 36 – 44db |
| Finish NRC | 0.5 | 0.4 – 0.75 |
| Acoustic Seals | None | Retractable top & bottom seals |
| Top Seal (mm)/Pressure (kg) | None | 22.5mm / 35kg |
| Bottom Seal (mm)/Pressure (kg) | None | 22.5mm / 35kg |
Stacking & Closure System
| | Wall Mounted | Track Mounted |
| --- | --- | --- |
| Stacking system | Folding or telescoping Mechanism | Centre, side or remote stacking |
| Closure system | | Expanding panel with rubber bulb seals |
| Doors | Embedded door available | Embedded or full height door available |
Budget and timeline estimation
| | Wall Mounted | Track Mounted |
| --- | --- | --- |
| Budget estimation | From $276/m² | From $990/m² |
| Time to installation | 3 – 15 days from date of order | 6 – 8 weeks from date of order |
| Warranty | 3 year product warranty on defects in materials and workmanship from the date of delivery | 1 year product warranty on defects in materials and workmanship from the date of delivery |
| Maintenance | Available on request | Available on request |
| Customisations | Material and design customisations available. | Full customisation available |
How Victorian Businesses Benefit From Operable Walls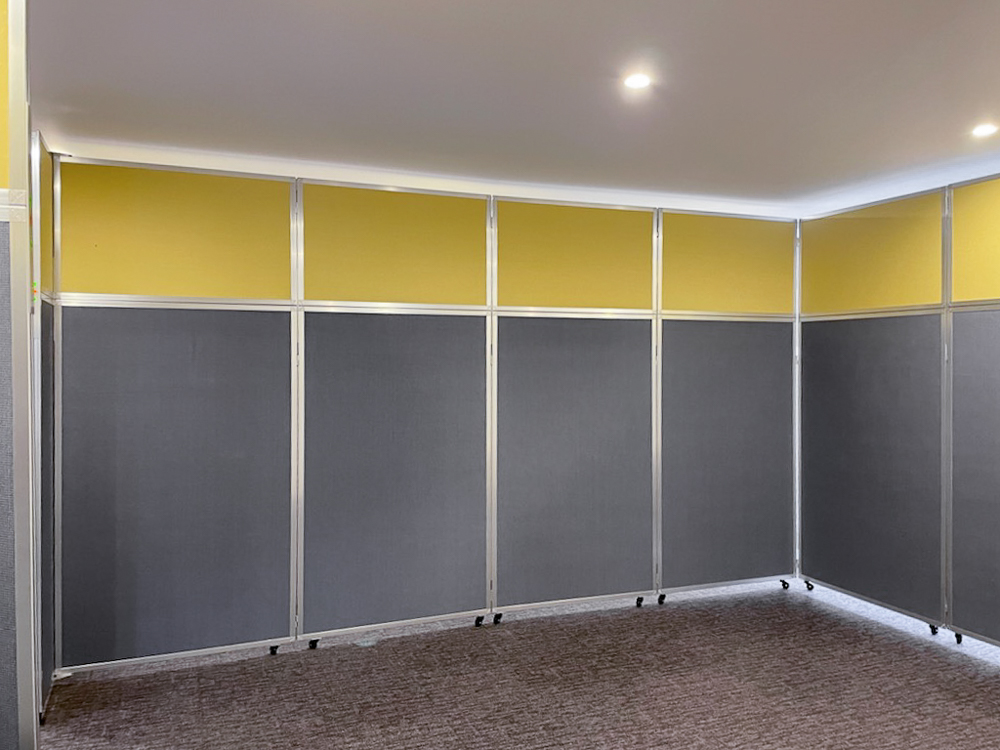 Customising Melbourne Spaces
Whether you're based in regional Victoria or in the heart of Melbourne's CBD, space is a premium for businesses of every locality and industry.

Our operable walls give you the power to make the most of your space by allowing you to set up temporary dividers in any room and to any configuration without ever having to commit to a single layout.

The highly portable design means that virtually anyone can roll their operable partition walls into position, and then fold them back down again when no longer needed. For other freestanding units or modular office cubicles as well as operable walls check out our Office Partitions Melbourne range
Outstanding Acoustic Performance
Noise is one of the biggest challenges that Victorian businesses have to face, and being able to find a noisecontrolling solution that won't break the bank will not only improve employee satisfaction, it can even enhance productivity in the workplace.

The demountable design of our operable wall panels allows them to be built taller than our freestanding partitions for greater noise-control and a near complete visual barrier. The panels also come covered in a sound-dampening fabric which minimises noise and echoing in large spaces that are prone to reverberation.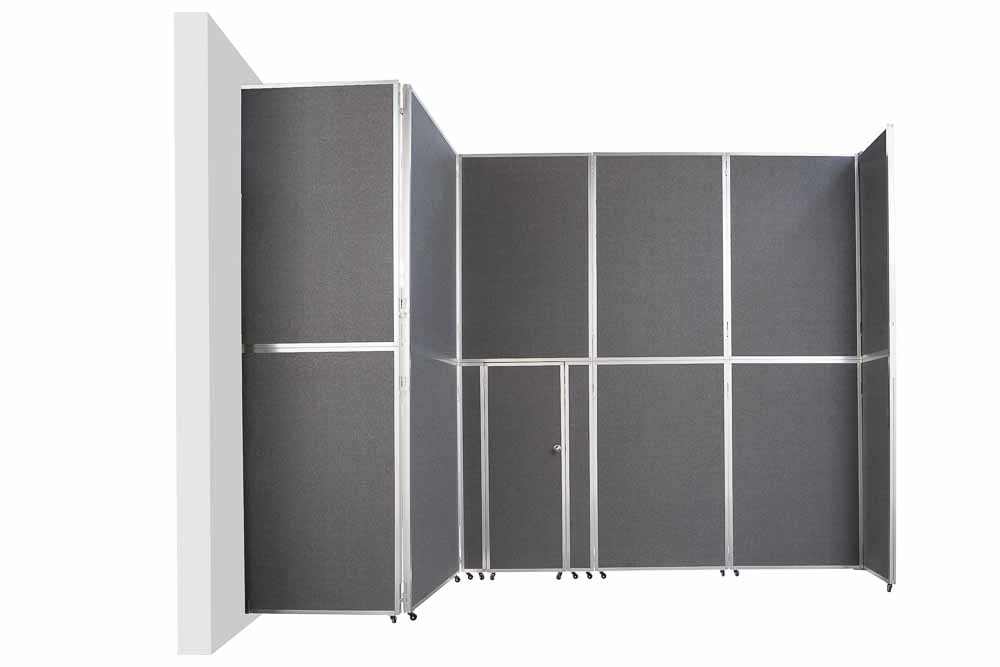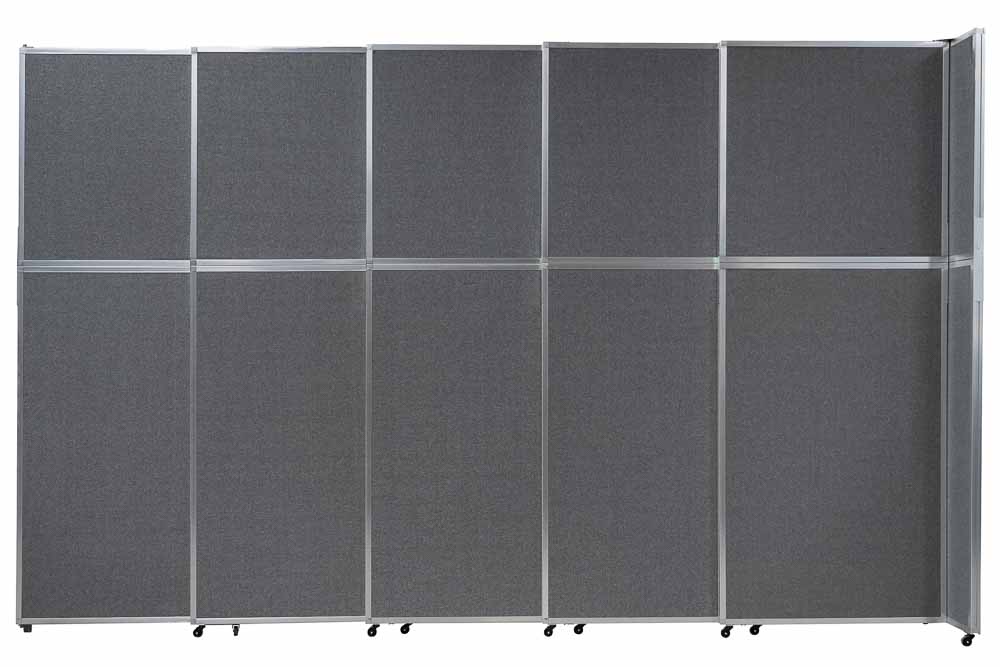 Track-Free. Permit-Free. Hassle-Free!
If you're working out of a rented space in Melbourne, installing a track-mounted partition may not be a practical solution. Requiring support beams, runners, and permanent alterations to your building, the costs and months can quickly add up when installing this style of partition.

On the other hand, mounted operable walls stand on sturdy castors and only need to be attached to a single wall for stability purposes. So easy to install you can do it yourself in as little as an hour without much experience or tool-use, there'll be no need for time-consuming and costly installations by a professional builder.

The best part is, if you need to move your operable walls, they can simply be disconnected and moved to another location, saving you on future purchases and building fitouts.
A HVAC-Friendly Partitioning Solution
As our operable walls come mounted on rolling castors, they come with a gap of at least 5cm at the top and bottom. This means that they still offer outstanding acoustic performance and serve as a near-complete visual barrier without affecting air, heating, or air conditioning, or requiring council or building permits prior to installation.

This means you can enjoy the freedom of a more flexible operable wall system that won't compromise your HVAC flow.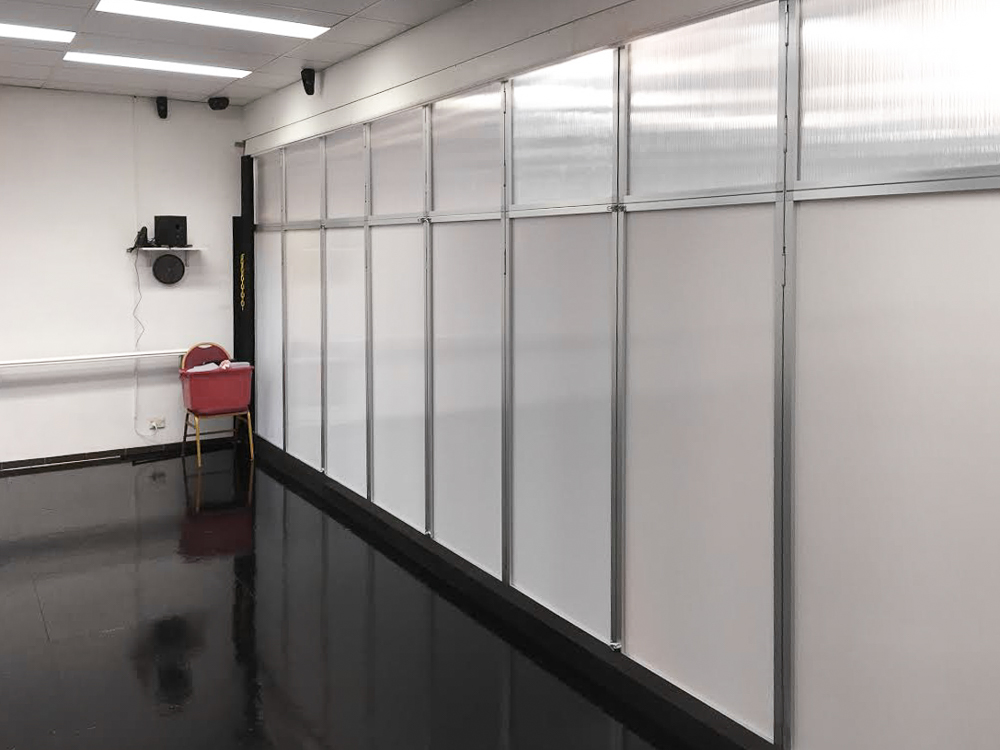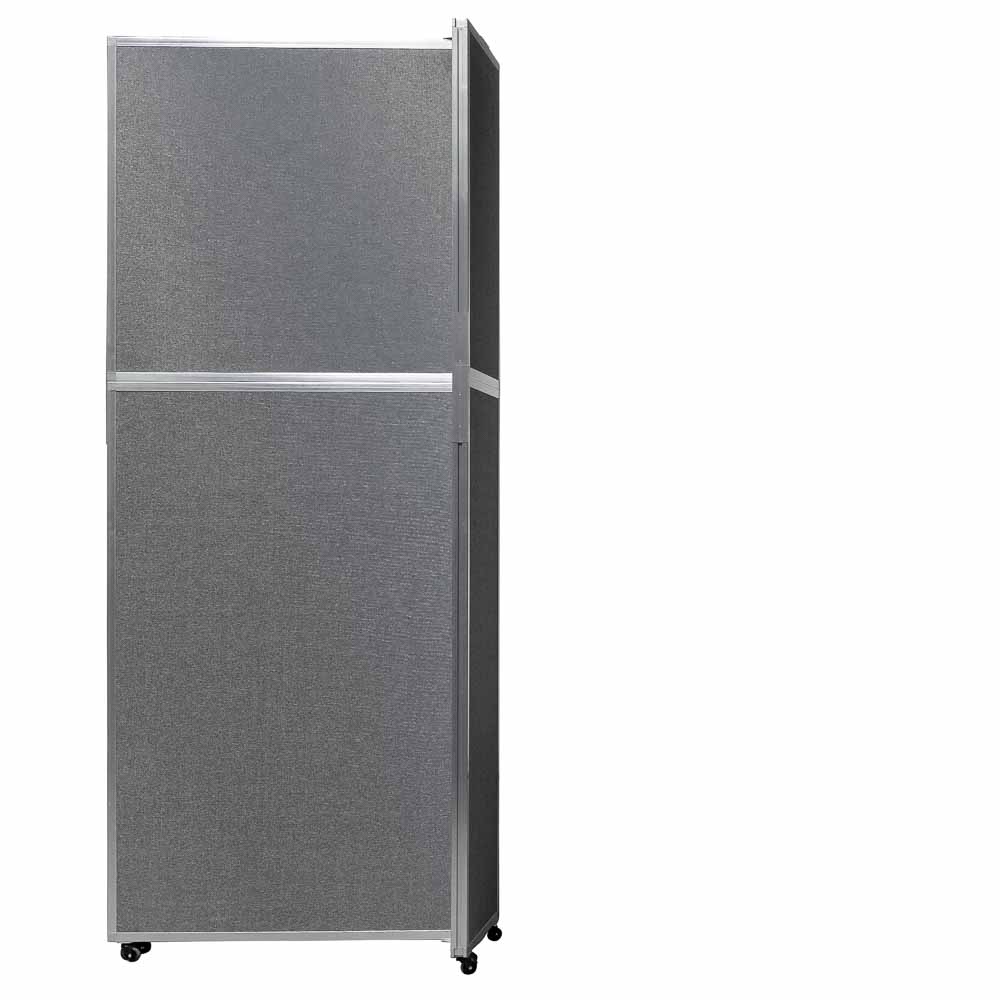 Melbourne's Popular Operable Wall Supplier
Loved by industries throughout Victoria, from Melbourne City to the Dandenong area and beyond, our operable wall panels are used by just about every industry on a daily basis.

Installed in Melbourne offices, government facilities, council buildings, hospitals, and more, these highly versatile operable walls can be used to transform virtually any space to suit your needs.

Made from high-quality yet lightweight materials for an extremely portable design that can be operated by almost anyone, our operable walls are easier to install, faster to set up, more cost-effective, and much more flexible than permanent partitioning solutions.
Multiple Uses, Multiple Industries, Victoria-Wide
From schools in Dandenong to exhibition centres in the CBD, our operable wall panels are being put to a variety of uses throughout Victoria.
Minimise noise and echoing within large spaces
Separate large classrooms in schools and universities
Customise large spaces for public events
Enhance storage and organisation of retail and industrial warehouses
Establish dining 'zones' and function rooms for restaurants
Create temporary meeting rooms in open-plan Melbourne offices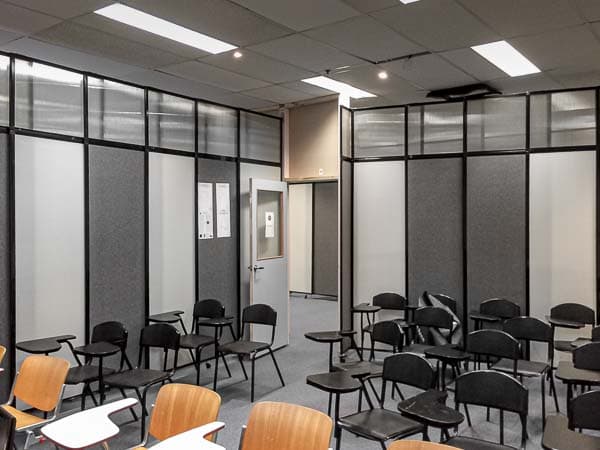 Panels
Panel Edges
Clear anodised aluminium frames.
Surface Finishes
Pinnable fabric with finish options in black, charcoal, cloud grey, navy blue, yellow, red, beige or any combination.
Panel Width
1.2m panels
Panel Thickness
50mm acoustic panel
Installation Requirements
Surface
For your safety and to prevent damage to the partition, please ensure that your operable partition walls are being operated on a flat and even surface.

While operable walls work fabulously on carpet and hard surfaces alike, the transition between surfaces can impact stability and damage the sliding or folding mechanism over time. Therefore, they must be used on a floor made up of only a single material.
Wall Mounting
The wall connection is for stability purposes to prevent lateral movement, and requires no load-bearing properties. That means our operable walls can be easily mounted to your wall using the connections provided without the need for structural alterations to your building.
Acoustic Performance
Panel Sound Rating
The sound absorbing properties of an acoustic surface is indicated by an NRC value. The NRC value of our operable wall panels is approximately 0.5, though it's important to note that this value does not indicate the perceived noise reduction in the room, as this will vary from space to space.
Acoustic Seals
Our operable partition walls possess no acoustic seals.
Closure Systems
Our operable walls come in both a sliding (telescoping) and folding (accordion) variant.
Budget & Value Estimation
Prices start at $680 (inc. GST) per metre + shipping.
Warranty
3 year product warranty on material and workmanship defects from the date of delivery.
Customisations
We offer 7 colour finishes that you can mix and match to customise the style of your partitions.

If you're looking for greater customisation options such as polycarbonate windows, a door, or taller or longer partitions, please contact the team at Portable Partitions Australia to discuss your requirements.
Operable Walls for Melbourne Manufactured in Australia
A trusted operable wall supplier in Melbourne, our products are popular across all industries and localities in Victoria. All our operable partition walls are built to order and dispatched from our Australian factory on the next business day.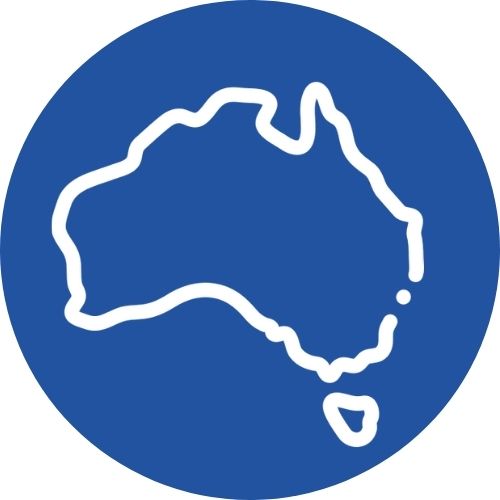 Made in Australia
Manufactured and shipped
directly from our Sydney factory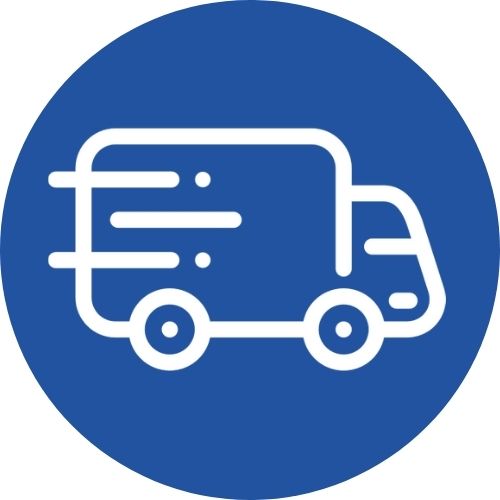 Next Day Dispatch
Nobody beats us on time to dispatch,
quality construction or price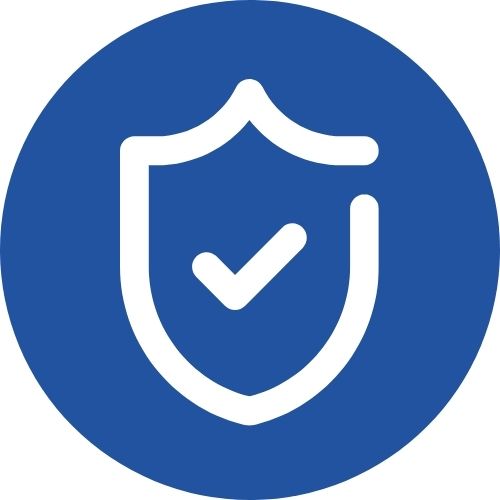 3 Year Warranty
Up to 3 year warranty on materials
and workmanship defects
Committed to giving you a flexible operable wall system that transforms your Melbourne space, our products are one of the most portable, convenient, and cost-effective options on the market.
Melbourne Shipping and Services
From the Melbourne metro area to Regional Victoria, you'll be able to enjoy fast delivery with Portable Partitions Australia.

All of our operable walls are built to order in our Aussie-based factory with next-day dispatch Victoria-wide, and 3-4 day shipping for Melbourne metro areas, such as Dandenong, Frankston, and the City of Whitehorse.

Arriving in a semi-assembled state to reduce shipping costs and delivery times while making the package easier to handle, your operable wall panels can be put together and mounted in as little as an hour. That means you'll be able to get your partitions up and running on the same day they arrive at your door!
Need Help Selecting Your Operable Walls?
As a trusted supplier of operable walls for Melbourne businesses, our customer service team are always here to offer our help and recommendations. Give us a call or fill out the form below and we'll be with you shortly to answer any queries you might have
Why Portable Partitions Australia?
Trusted by industry leaders throughout Victoria, including Melbourne and Bendigo Health, the Macedon Ranges Shire Council, the Melbourne Airport, and the Victorian Department of Justice and Community Safety, our partitioning solutions have proven themselves time and time again.

Offering a lightweight, convenient, easy-to-use, and affordable partitioning solution without compromising on quality, our operable walls deliver many of the same features as a more permanent solution, plus the versatility of a more flexible one. This allows them to be installed in virtually any space and operated by almost anyone with ease, giving you the freedom to customise your building without permanently altering it.

Portable partitions are a particularly popular option for businesses operating out of temporary or rented spaces.
What We Offer Our Victorian Customers
Australian-owned and operated, we know what Aussie businesses are looking for in a partitioning solution. That's because we are an Australian business.

When purchasing from Portable Partitions Australia, our Victorian customers can expect fast delivery, expert advice from Aussie partitioning professionals, and a reliable and responsive service, every time. All partitions are built to order and dispatched from our Australian factory on the next business day to ensure timely delivery, no matter where you're based in Victoria.

You can also enjoy the confidence in knowing that your purchase comes backed by a 3 year warranty, and that our team will always be there to help resolve any issues or answer any questions that may arise.
Full Acoustic Solutions Victoria Wide
While acoustic operable walls provide massive acoustic advantages, they might not tackle all acoustic issues within a space. When acoustics are a priority we recommend complementing your acoustical solution with acoustic panels Melbourne to reduce noise, reverberation and minimising echo within the room.