Designed to open and close, operable walls are a type of office partition wall typically used to divide large spaces into two separate areas. This means they can create two rooms that can be used concurrently, but can also be neatly packed away when the larger space is required.
Offering greater sound performance than shorter partitions, operable walls typically come wall-mounted or can be hung from the ceiling with the use of a support beam and track system.
Here, we'll be discussing the difference between each style to help you decide which is the right choice for you.
What are the different types of operable walls?
From vertically folding operable walls to operable panels on a track, there are a range of different styles of operable wall and panel systems, each of which comes with its own benefits and restrictions.
Ceiling-hung operable walls on a track system
From wood to acoustic fabric panels, ceiling-mounted operable walls are an attractive partitioning solution that offers a superior acoustic barrier due to their floor-to-ceiling construction. The panel edges are designed to lock neatly together for a flush wall finish that masks the board edges and perimeter frame.
This beautiful style of partition is perfect for prestige locations where the visual appeal of the room needs to be taken into consideration.
Ceiling hung operable walls can be used as a full height door, with the end panel easily sliding or folding back at any time.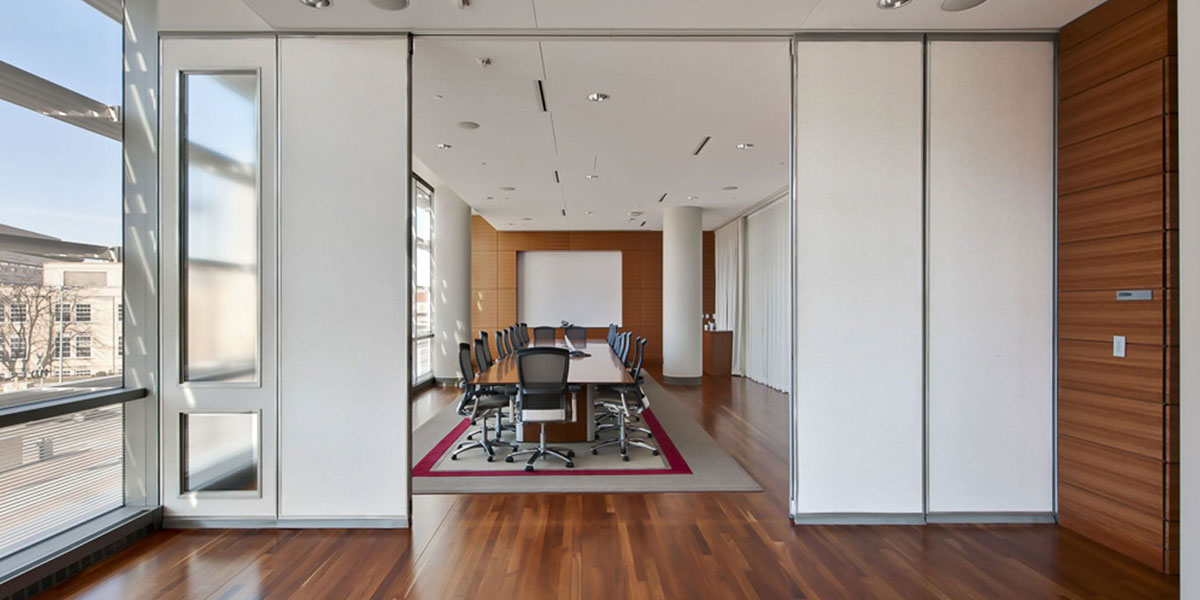 Featuring tall panels and typically made from sound-controlling materials, quality products can create spaces that are almost totally protected against external noise, while preventing internal noise, such as the sound of normal voices, from making their way out of the room. This is perfect for meeting rooms,  conference centres and other spaces where your acoustic requirements include a higher sound rating and near-perfect noise control.

However, acoustic perfection often comes with a heavy price tag and a complex installation process. Typically requiring a support beam and track system, this range of partitions need to be professionally installed by a team of planning, engineering and building modification experts. The combined cost of the partition itself and the installation service can easily reach tens of thousands of dollars, and usually takes months of construction work.
Once installed, ceiling-hung panels are often heavier and take longer to arrange and connect than other partitioning systems. This means that day-to-day operation is likely to be a little more time-consuming. While this style of operable wall is certainly a visually striking and effective solution, we recommend that you consider the cost, build times, and everyday use of the partition before making a purchase.
Wall-mounted operable wall systems
A lighter and more cost-effective solution than ceiling-hung panels, wall-mounted operable walls require no track system or supporting beams and are built sturdy, so they can be used in even the toughest environment. Panel installation takes very little time at all and doesn't require a professional building service. The expanding panel system is also easier to operate, and is typically a lot less expensive than ceiling hung panels.
Mounted to the wall and designed to glide smoothly on solid casters, this style of partition is made of lighter materials and comes connected by either fully articulating hinges or a simple telescoping function.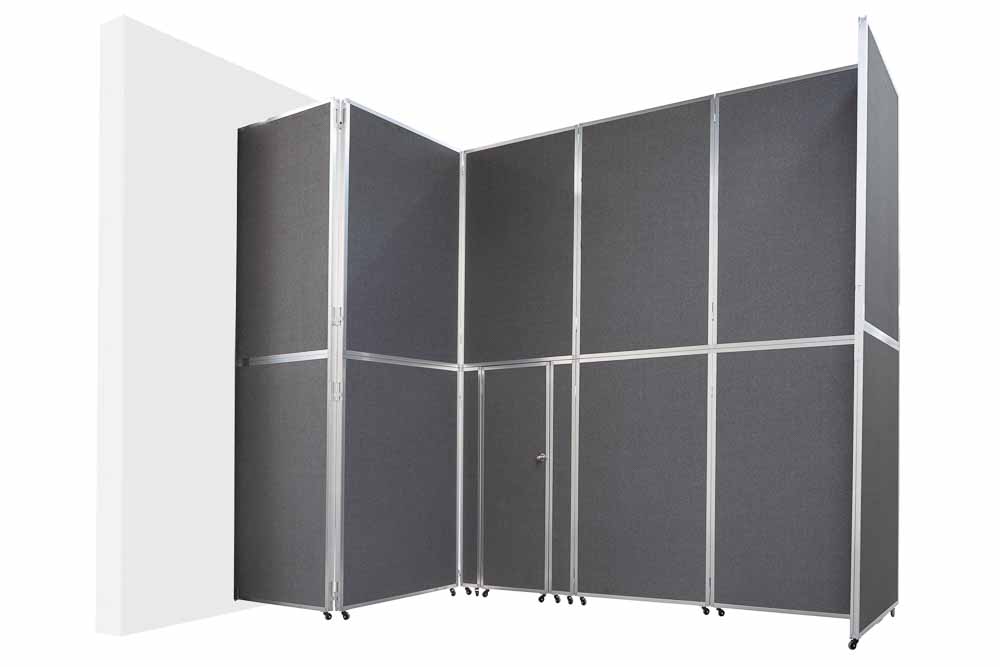 That means the entire partition can be rolled out in just moments, and then rolled back when not in use. Compared to the panel-by-panel construction of ceiling-hung solutions, wall-mounted partitions are easier to use, quicker to set up, and can be operated without the need for a team of stronger individuals.
Due to their wall-mounted design, which allows for taller acoustic panels, demountable operable walls typically offer excellent sound-dampening qualities compared to other partitioning solutions. However, it's important to note that the lower price-point, lighter construction, and ease-of-use does come at the cost of some acoustic performance . As this style of partition is mounted on wheels and not connected to the roof, it can't offer the same floor-to-ceiling panel coverage, and therefore can't be expected to offer the same sound rating as the full height panels of ceiling mounted solutions. But, if you need an affordable, quick and effective way to reduce noise in an open space, these operable walls are a great alternative. When choosing between ceiling-hung and wall-mounted operable walls, it's important to consider your acoustic requirements, budget and timeline to help guide your decision making.
Operable glass panel systems
A bit different from solid partitions, operable glass wall systems make a stylish option for dividing up an office space without blocking natural light sources or sacrificing an open plan design.
Often ceiling-mounted on a track system, double-glazed glass operable walls can offer excellent acoustic performance, but don't provide any sort of visual barrier. This means they may not be suitable for meeting rooms or other situations where privacy may be required. However, there are options for frosted or tinted glass that may serve as an attractive solution, though this may limit the natural light in your office space.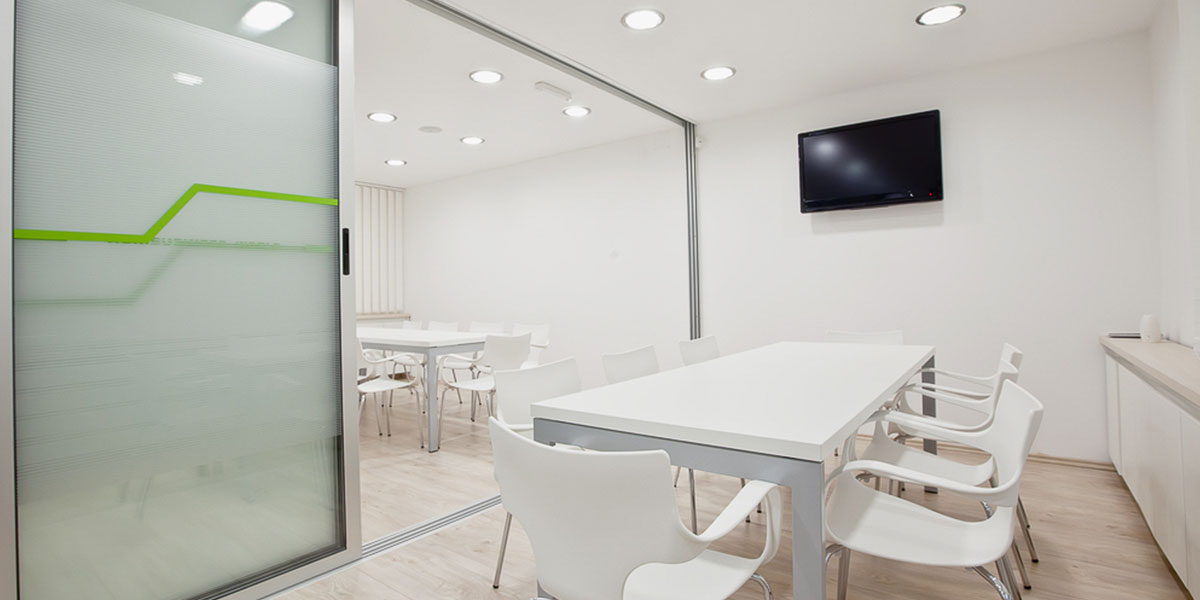 It's important to note that glass partitions don't necessarily offer sound dampening qualities. However, they can be used to contain the sound of normal voices for enhanced privacy, while blocking out background noise on the other side of the panels to help employees focus on their work.
Operable wall installation
Depending on the style of operable wall system you've purchased, the process of installing it will vary from months of construction work by a team of professional builders, to less than an hour of DIY assembly. If you decide to buy a ceiling hung operable wall, the installation process will most likely be planned and executed by the supplier's team of engineers and professionals. Depending on how big and how many units you are installing consider space downtime to allow for installation and machinery to be involved.
If you decide upon a wall-mounted solution, you won't need much more than a couple of brackets and an electric screwdriver. Set on smooth, rolling wheels, demountable acoustic operable walls don't require any support beams, tracks, or major alterations to the surrounding structure.
The wall-mounted design also means that you won't have to worry about any HVAC interference from your partitioning solution. Glass panel systems are not as hard to install as ceiling hung operable walls but still require a specialised installation team, office downtime, installation waiting time and no further flexibility of location once installed. Whatever style you decide to go with, it's vital that you measure the length of the wall, and the height that needs to be covered before purchasing your acoustic operable walls. Whether or not your panels offer floor-to-ceiling coverage, all styles of operable wall typically offer better privacy and sound-management properties than other partitioning solutions. By accurately measuring your space, you can ensure that you get the best coverage and acoustic performance to make the most out of the space you have.
Need help choosing an appropriate partitioning system?
Our customer service team are all experts in finding the right solution for your space. Offering an extensive range of partitioning solutions and high quality service, simply give us a call or send us an email and we'll be there to give you our recommendations.