Office Partitions Sydney
Fast next day dispatch across Sydney and NSW
Same week shipping for Sydney metro areas
Customise your office design for maximum efficiency
Offer privacy and reduce distractions to help employees work more productively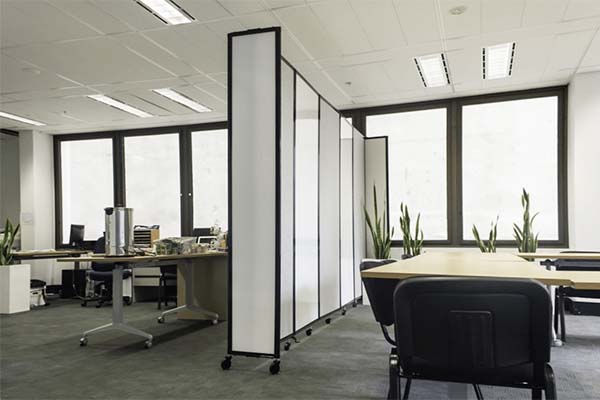 The most trusted office partitions for Sydney offices









Discover our most popular office partitions in Sydney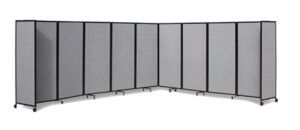 Portable or wall mountable
Up to 2.3m high and 7.6m long
Configurable in any shape or straight line
Pinnable sound dampening or wipeable surface
From $1195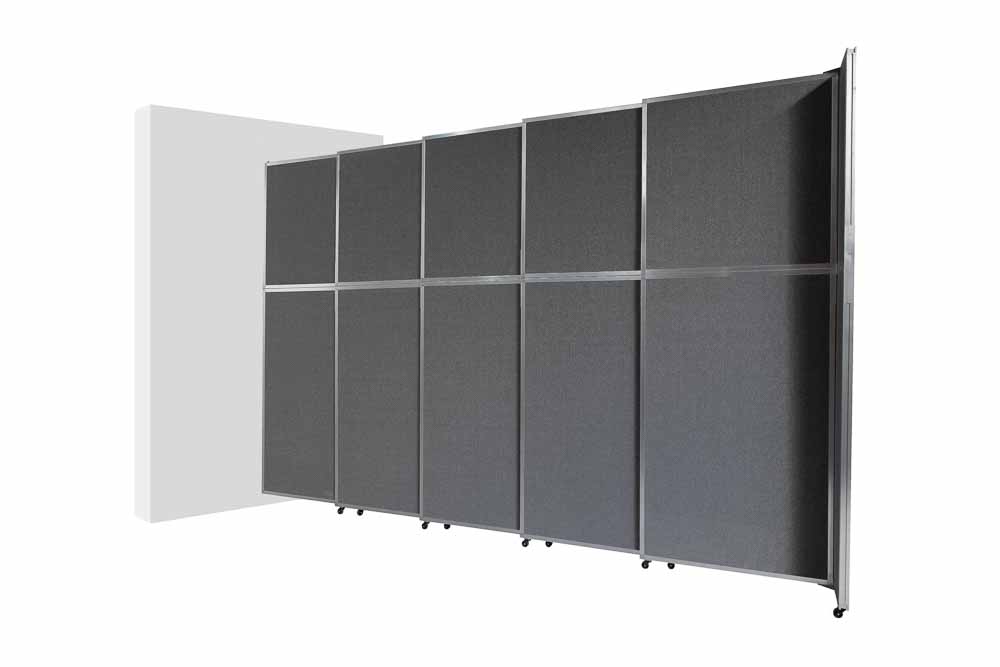 Wall mounted
Up to 3.7m high and 5.9m long
Configurable in any shape or straight line
Pinnable sound dampening fabric surface
From $2530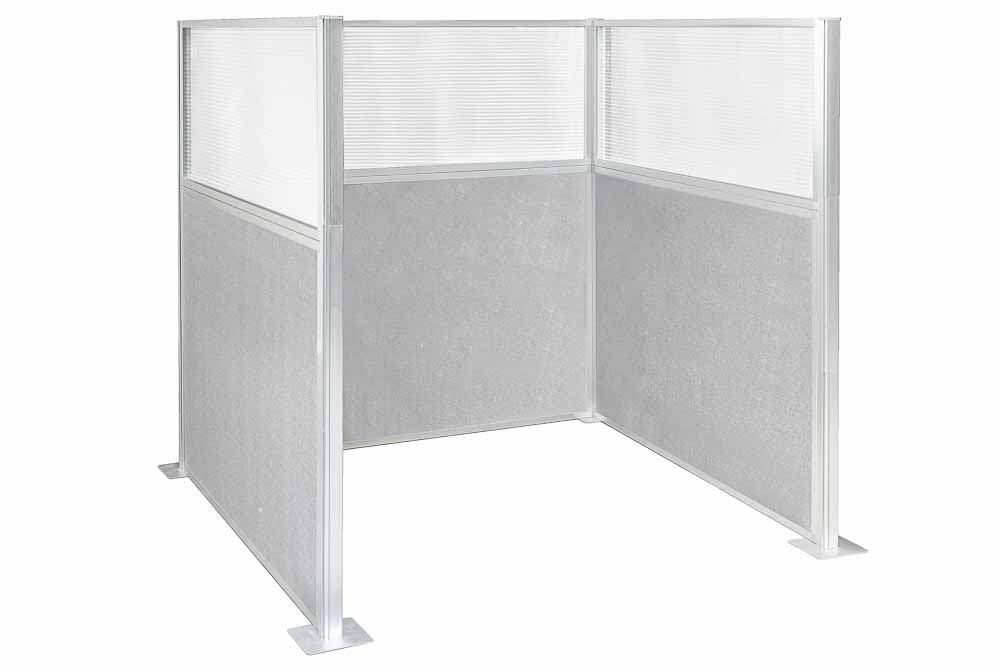 Simple panel and post system
Custom height, 1.2m or 1.8m high panels
Sound dampening fabric with optional windows
Quote for price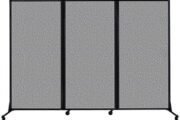 Wheel, feet or no feet options available
Up to 2m high and 2.5m long
Configurable in any shape or straight line
Pinnable fabric is designed to dampen sound
From $890
Optimise your Sydney office workspace with office partitions
Portable Office Partitions Sydney
Portable office partitions are a great option for breaking up your office space without having to make permanent changes to your building.

Perfect for sectioning off areas without the need to pay expensive fitout costs, our Telescoping Portable Wall can be set up in seconds and extends to 4.72 metres with a simple straight line telescoping function.

If you're looking for a little more versatility, our 360 Degree Portable Room Divider features fully articulating hinges that allow you to create private workspaces that suit the layout of your office. Extending up to 7.6m long this free standing office partition can also be combined with more units to create even longer dividers.
From $ 1195
Portable or wall mountable
Up to 2.3m high and 7.6m long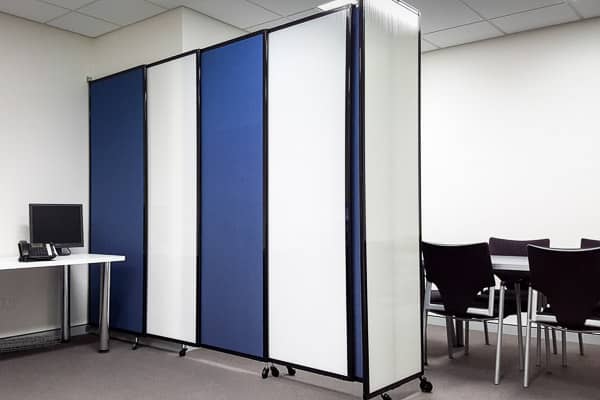 From $ 1195
Demountable
Up to 2.3m high and 7.6m long
Internal room partitions Sydney
Permanent walls and dividers can be expensive, and don't give you the freedom to customise your office as your business grows.

Offering a simpler, more flexible and more cost effective means of dividing up the space, our Sliding Wall Mounted Room Divider opens in a straight line in seconds, and can be folded away just as easily when not in use.

Alternatively, our 360 Degree Folding Room Divider wall mounted boasts the some discrete footprint as the sliding wall, but with the added versatility of fully articulating hinges that allow you to create rooms of a variety of shapes and sizes.

These demountable office partitions are an essential divider for every Sydney office
Office Partition Walls Sydney
For maximum comfort and productivity in the workplace, floor-to-ceiling partition walls offer excellent sound dampening qualities, making them a fantastic choice for busy Sydney offices.

Custom built to suit the needs of your business, our range of operable partition walls can be designed with just 5cm of clearance at the top and bottom to block out sound and offer private spaces where employees can work productively.

Our Operable Wall (sliding) features a convenient telescoping design that can be opened and closed in a straight line. If you're looking for something a little more flexible, our Operable Wall (Folding) features fully articulating hinges, which can be configured to whatever shape you need.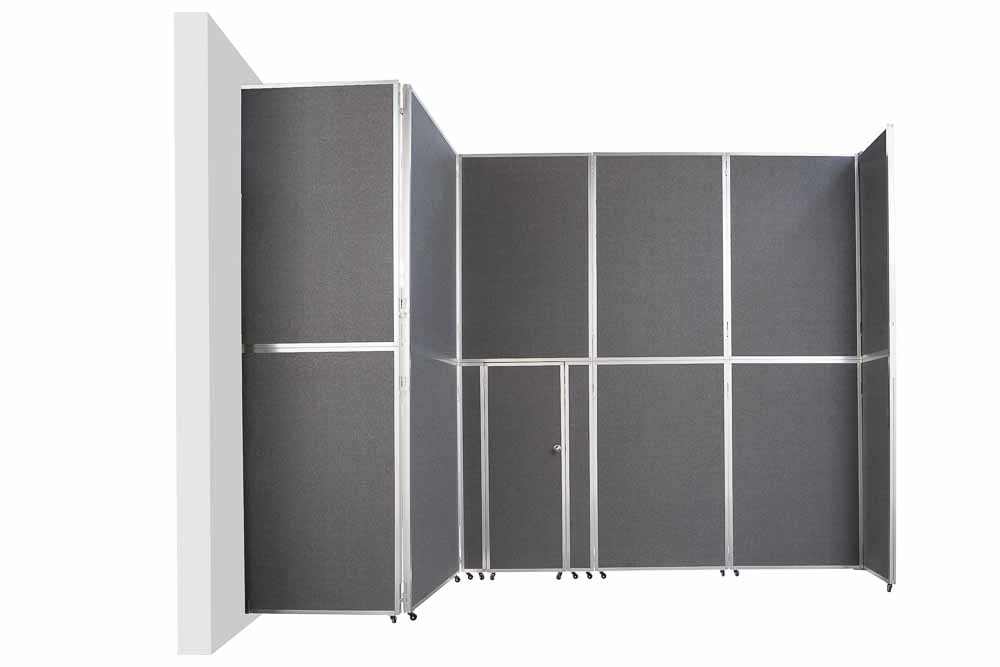 From $2530
Wall mounted
Up to 3.7m high and 5.9m long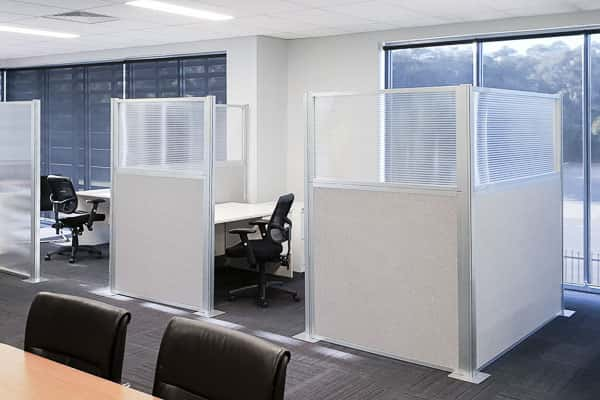 Quote for price
Custom heights, 1.2m or 1.8m high panels
Cubicle Systems Sydney
When it comes to purchasing office furniture, your business is better off with something that leaves room to grow.

Designed to change with you, our Configurable Cubicle Partitions come with a simple panel and post system that makes them easy to set up, rearrange and customise at any time.

With the ability to be lengthened and shortened according to the needs of your business and the space available, our free standing modular office cubicles can easily be reorganised whenever you need.
Office Screens Sydney
While open plan offices may seem like the best way to maximise space, they can have a negative impact on your team's productivity. With so much noise and activity going on at all times, working out in the open can be intimidating and distracting for your staff.

Designed to respect your employees' need for privacy, our Open Plan Office Privacy Screens offer the peace and seclusion staff need to get to work. Given their own private space, your employees will be able to work more comfortably and productively, while the superior sound dampening fabric helps them focus in the office.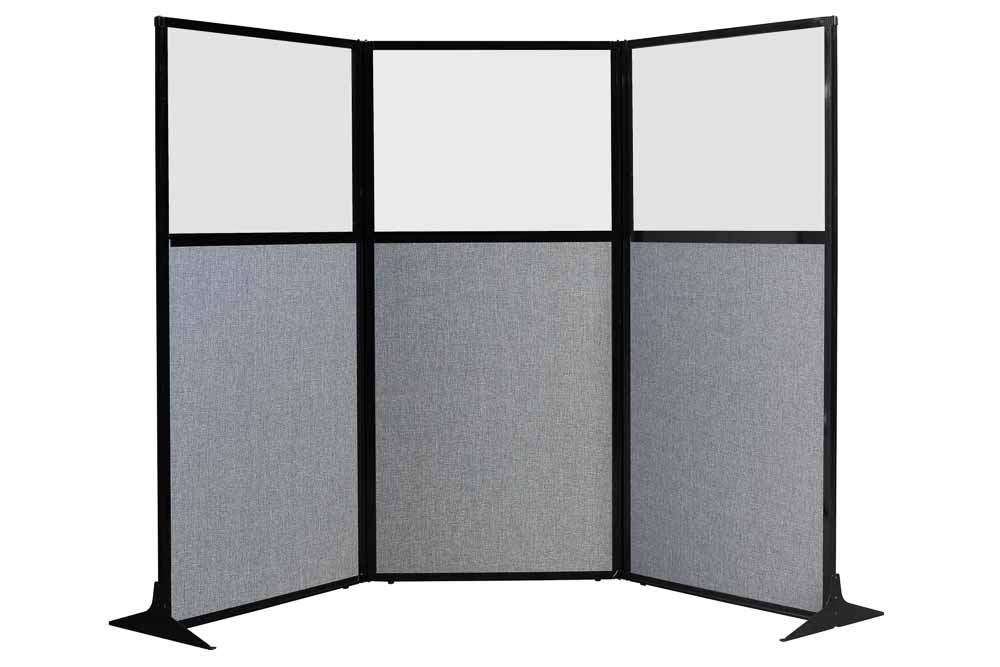 From $890
On feet
Up to 1.8m high and 2.5m long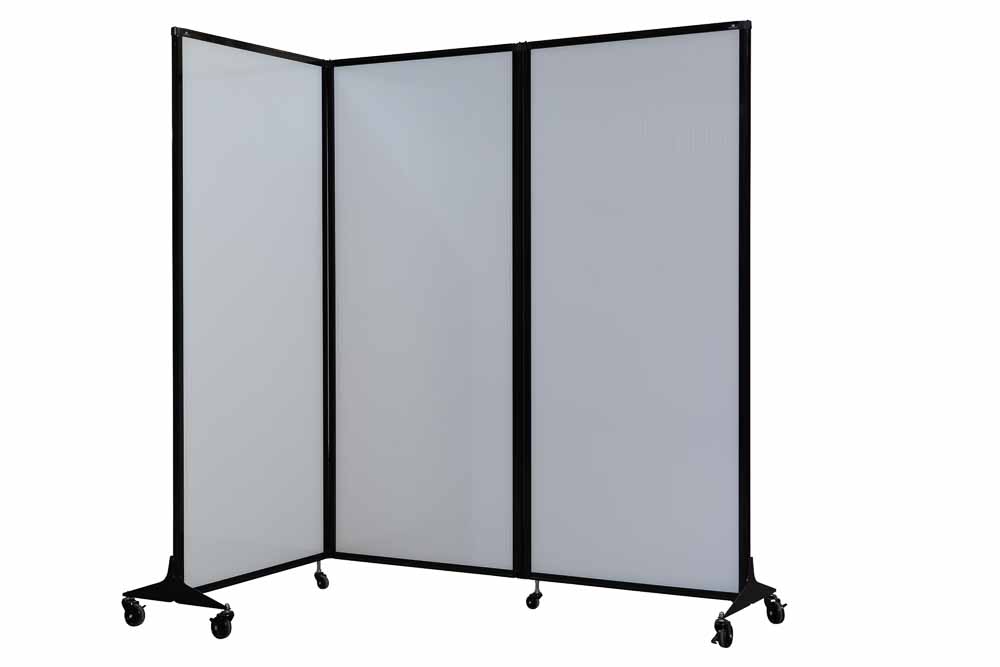 From $890
On wheels or on feet
Up to 2m high and 2.5m long
Cheap office partitions Sydney
The one thing that's certain in business is that nothing is certain. So when it comes to dividing up your office, you can never underestimate the value of a solution that's easy to change in the future.

Our Office Screens are easy to set up, easy to take down, and designed to pack away when not in use. This means you can customise your layout whenever you want, and if you ever need to move, your partitions can come with you to reduce the cost of your next office fitout!

With options for a variety of fabric colours and the choice of two different heights, your concertina folding partitions can be customised to suit the interior design of your office, and the needs of your employees.
Fabric Desk Screens
An environment that encourages collaboration and teamwork is important, but so is respecting your employees' need for privacy.

Giving your staff the space they need to work independently without constant distractions or interruptions, our Desk Screens are designed to block the view between workstations so that your employees can work comfortably and focus on their projects.

Fabric clamp on desk screens also provide protection from germs to help reduce the spread of illness in the workplace.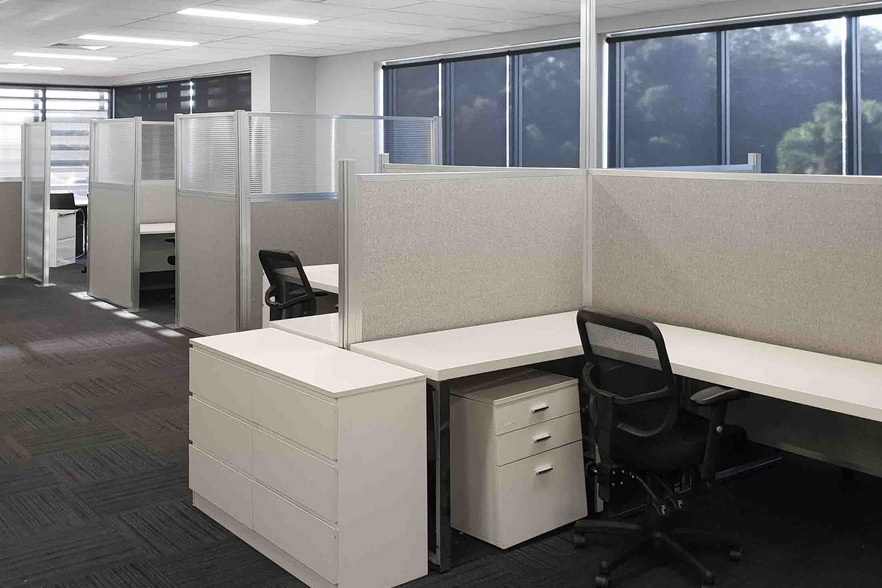 Quote for price
Custom heights, 1.2m or 1.8m high panels
Office partitions manufactured right here in Sydney
Offering a range of office partition products, from desk screens and cubicles, through to folding dividers and free standing office partitions, our office dividers are built to order right here in our Sydney factory, and shipped to our Sydney customers within just three days.

Dedicated to helping businesses create a safer, more comfortable and more productive work environment for their employees, our partitions are affordable, convenient and built to the highest quality.

Shipping New South Wales we deliver same week shipping to any NSW location, including Sydney metro Newcastle and other regional areas within the state
Why Portable Partitions Australia is the right choice for you
Like most office furniture, you want office dividers that will suit your needs now and long into the future.

Designed to provide ultimate flexibility, our products can be custom made to suit your needs and can be easily folded down and packed away when not in use.

With no need to pay for expensive structural changes, you'll be able to set up your office quickly, easily and to your utmost satisfaction with portable partitions. That means you can enjoy the freedom to design and redesign your office workspace again and again.
Versatile Office Acoustic Solutions
While office partitions offer some acoustic benefits, they might not address all acoustic challenges, even if you install an acoustically sealed operable wall. When acoustic are a priority, acoustic panels Sydney serve as a complementary acoustic solution, enhancing sound quality and reducing office distractions.
Need help finding the right solution for your Sydney office?
Whatever you need, we can help you select the perfect partitioning solution for your business. Simply give us a call or fill out the form below, and one of our friendly customer service team will be there to help you.