Medical Privacy Screens &
Portable Medical Room Dividers
Offer greater privacy for patients and aged care residents
Create temporary rooms when there's an influx in patients
Divide large rooms into treatment or activity rooms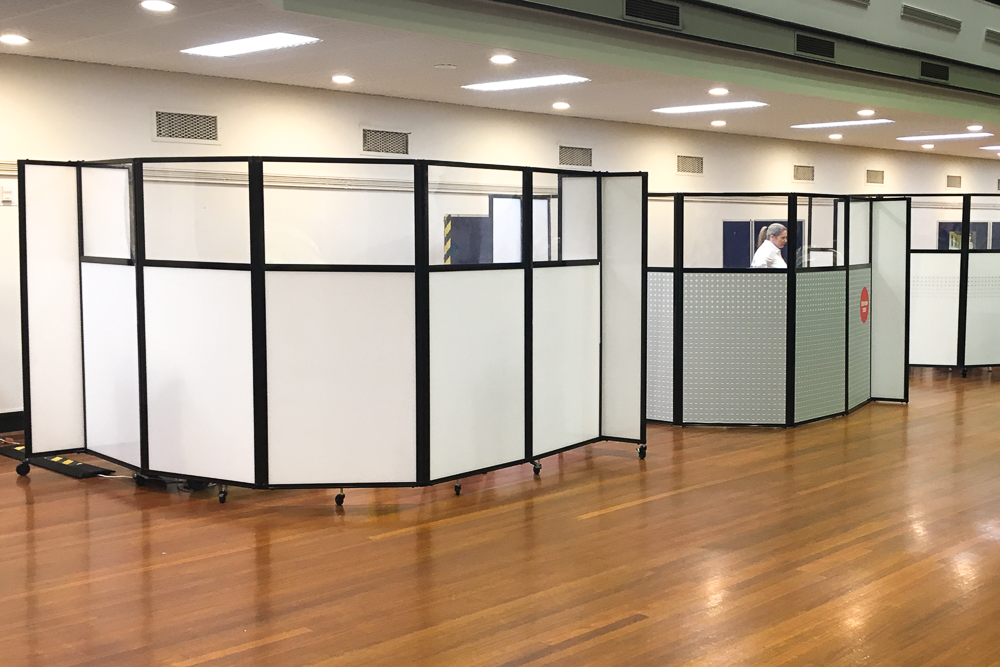 Approved Supplier for Australia's Health Sector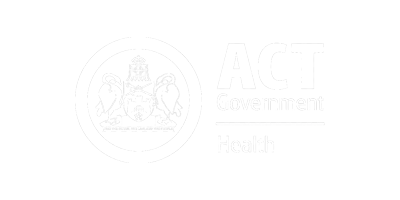 Why Australian Hospitals & Aged Care Centres Choose Us?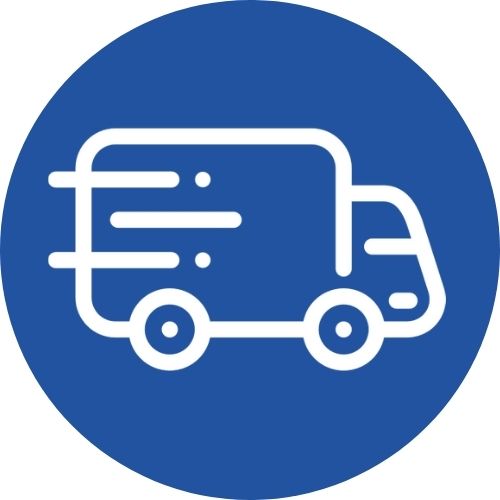 Fast & Reliable
Nobody beats us on time to dispatch,
quality construction or price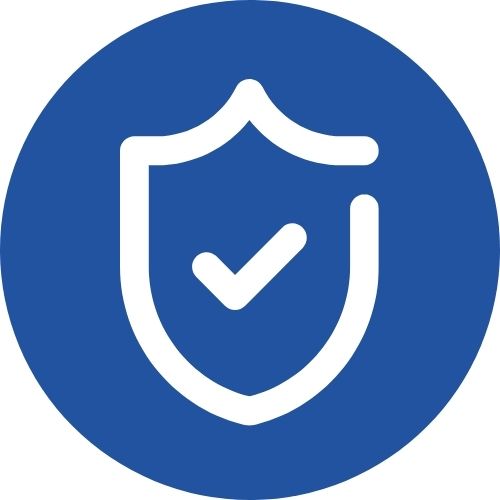 3 Year Warranty
Up to 3 year warranty on materials
and workmanship defects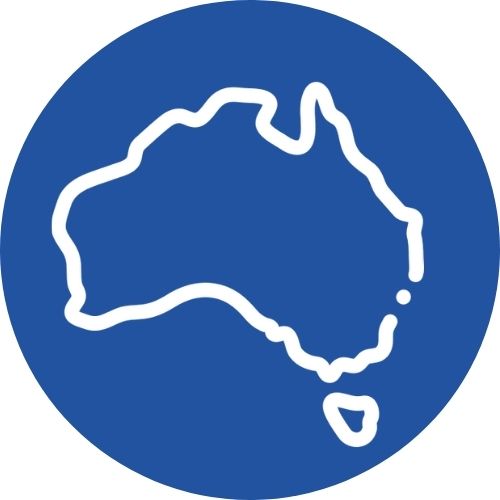 Aussie Quality
Manufactured and shipped
directly from our Sydney factory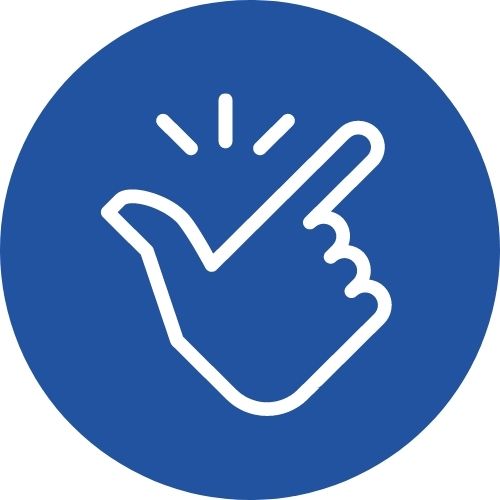 No Permits or Builders
Hassle free assembly. No builders,
permits or costly installations required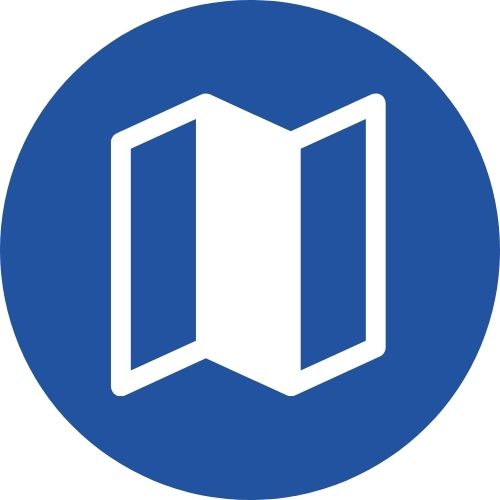 Ultimate Flexibility
Screens that are easy to move,
configure any way and store after use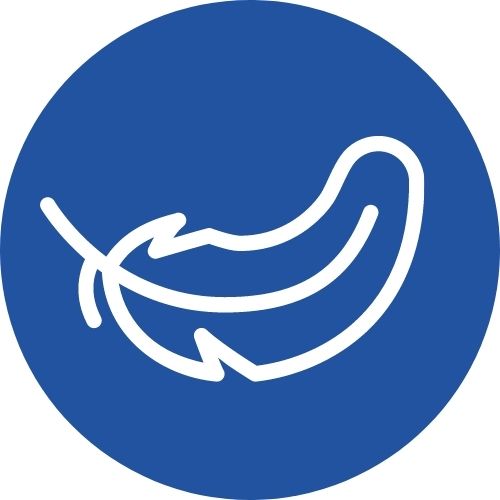 Safe, Light & Durable
Built with lightweight & strong
aluminium frames with round edges
and low wheels for ultimate safety
Portable Medical Room Dividers
For creating treatment rooms, dividing big areas and controlling noise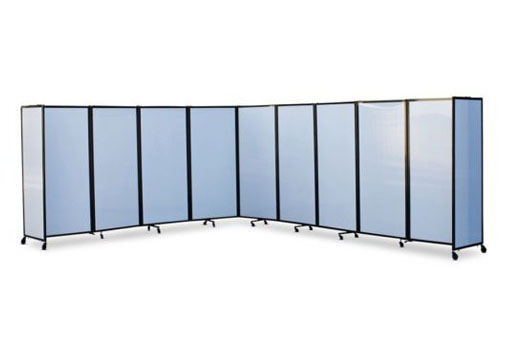 Portable or wall mountable
Easy to clean, waterproof polycarbonate surface
Configurable in any shape or straight line
Up to 2.3m high and 7.6m long
From $1195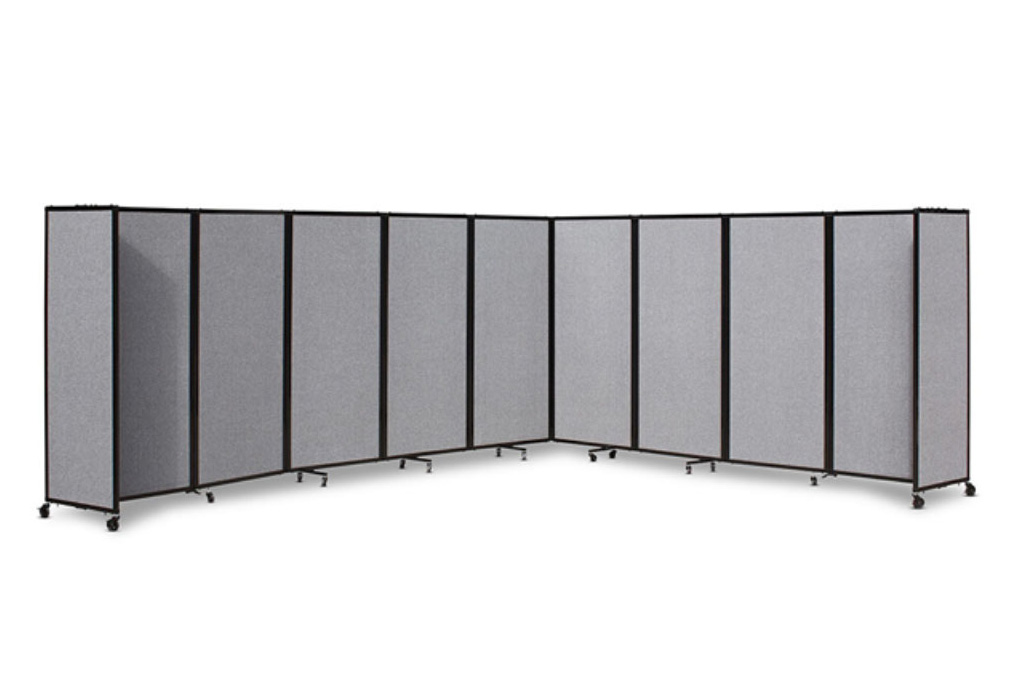 Portable or wall mountable
Pinnable sound dampening fabric surface
Configurable in any shape or straight line
Up to 2.3m high and 7.6m long
From $1195
Medical Privacy Screens on Wheels
For creating privacy in a small room or private treatment areas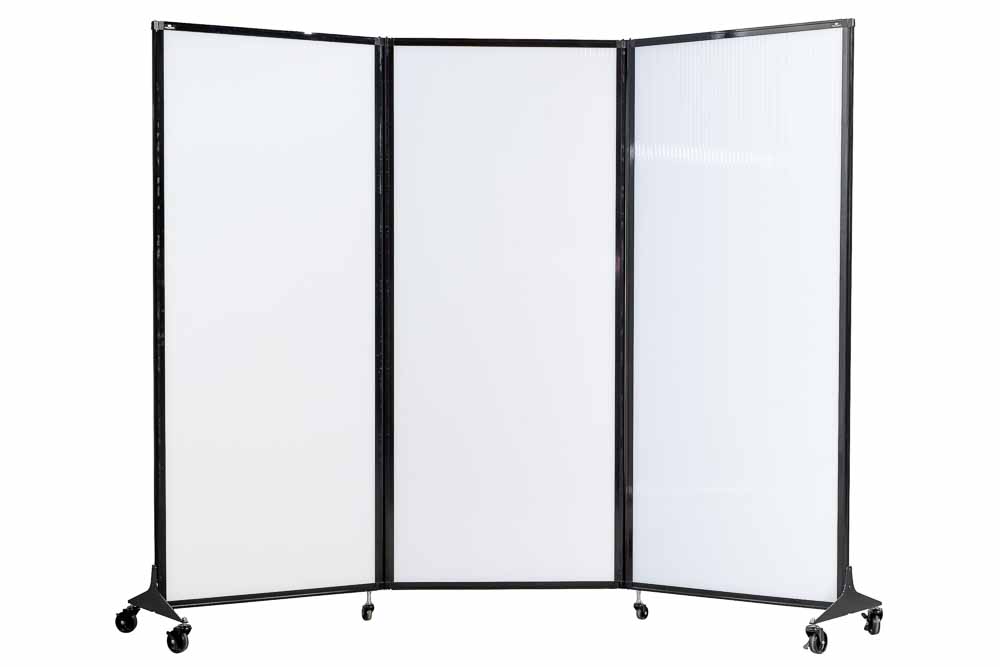 Easy to clean, folding privacy medical screen
Portable (on wheels) or on feet
Up to 2m high and 2.55m long
Medical-grade wipeable polycarbonate surface
Sound reflective surface
From $890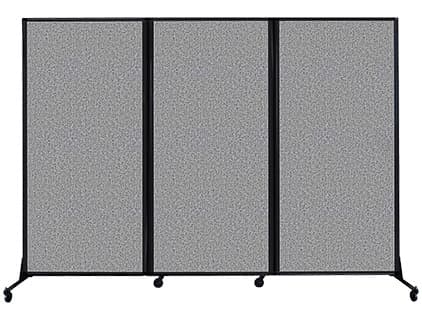 Pinnable fabric medical office room divider
Wheel, feet or no feet options available
Up to 2m high and 2.5m long
Sound dampening acoustic panel
From $890
Operable Wall Partitions for Big Rooms
For dividing big multi-purpose rooms with good noise control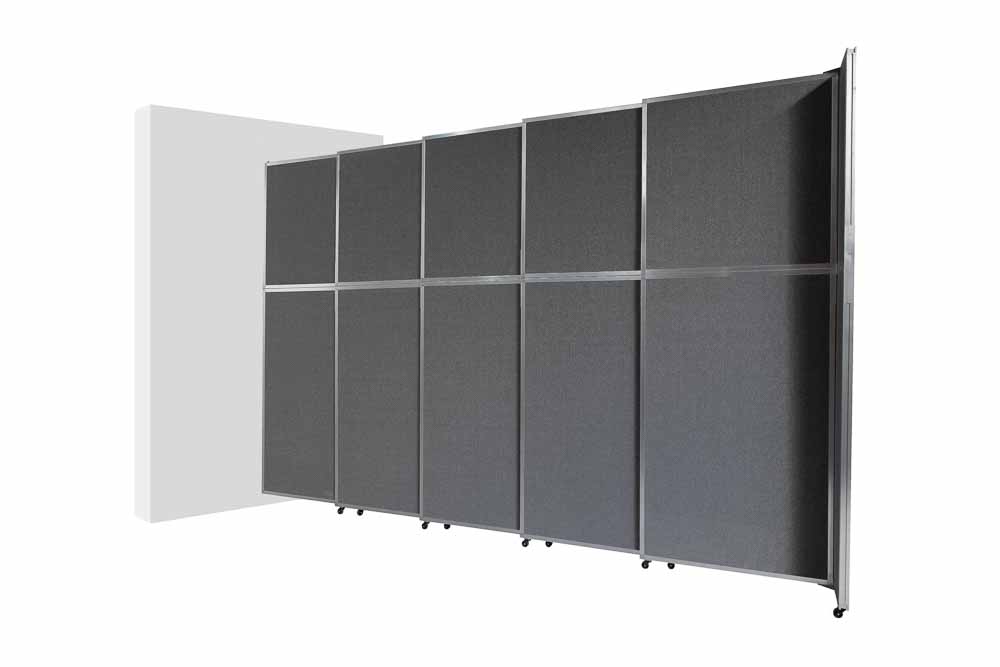 Wall mounted
Up to 3.7m high and 5.9m long
Configurable in any shape or straight line
Pinnable fabric is designed to dampen sound
From $2530
Vaccination Booths for Mass Vaccination Hubs
For creating a mass vaccination hub in a big space without existing walls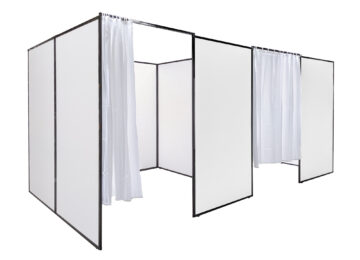 Portable and easy to configure
Wipeable panels and aluminium frames
Configurable in any shape
Create as many 2.4 x 2.4m booths as needed
From $5500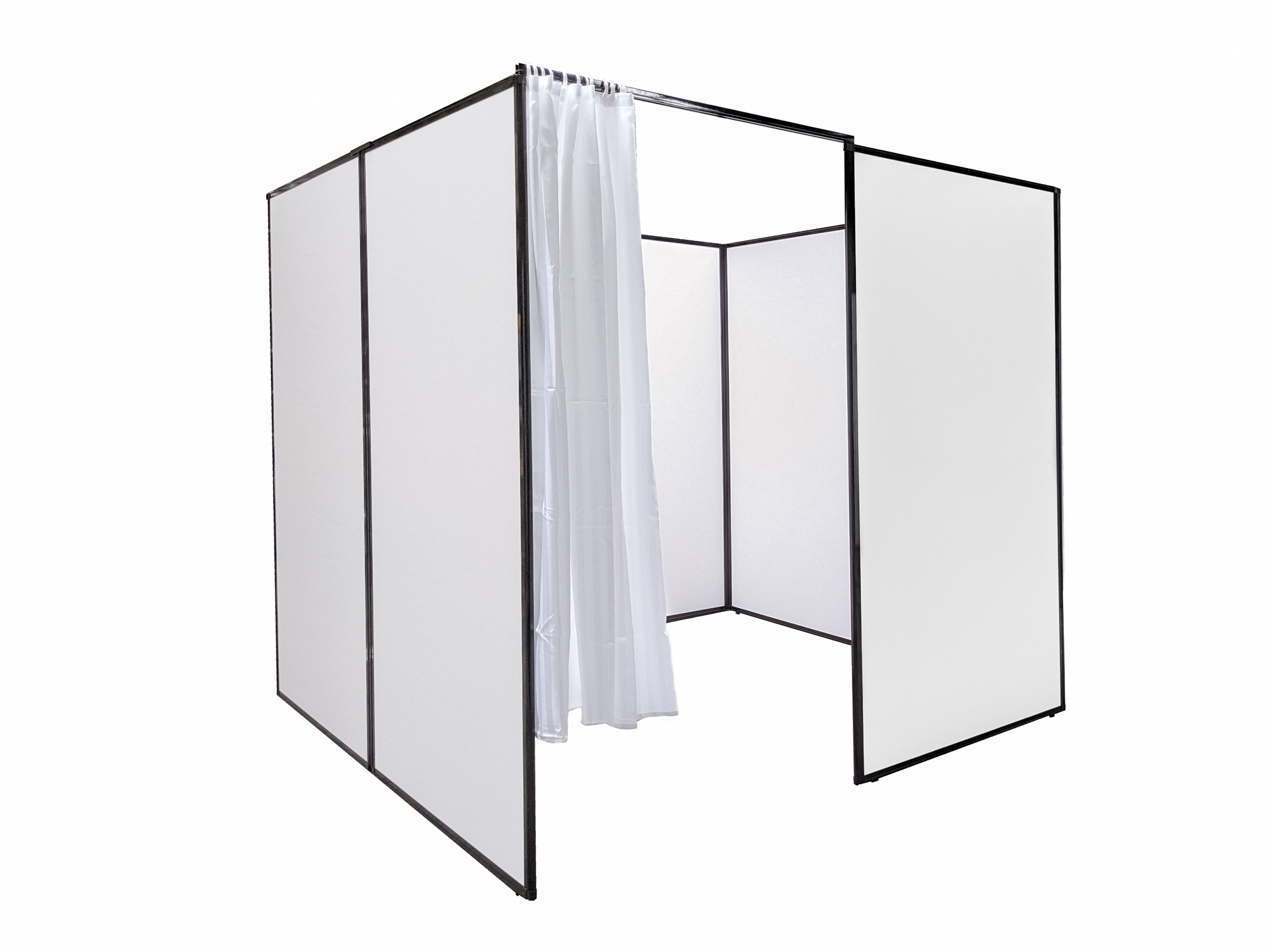 Portable and easy to configure
Wipeable panels and aluminium frames
Configurable in any shape
Easily create a single 2.4 x 2.4m booth
From $2300
Why Use Medical Privacy Screens & Room Dividers?
As the population of Australia ages, the demand for medical and aged care facilities grows. This can lead to overcrowding, less privacy for patients, and difficulty controlling the spread of illness
To deliver the best care, medical and aged care facilities need to be able to maximise their space while offering patients the comfort, privacy and dignity they deserve.
But patient influxes, space, and budget restrictions can all make permanent solutions an impractical option, and may even restrict the functionality of a space.

With the freedom to turn every room in your hospital or medical facility into exactly what it needs to be at any given moment, portable medical room dividers and medical privacy screens let you enhance privacy for patients, turn large spaces into multi-purpose rooms, and offer better facilities for staff and patients alike.
How to transform your health facility with medical privacy screens
Throughout their day, medical and aged care professionals need to wear many different hats to manage the needs of those under their care, and it's important that the facilities they work from are able to do the same.

From hospitals and medical clinics, to aged care facilities, our portable partitions and medical screen dividers allow you to transform your space at any time to suit the needs of your patients.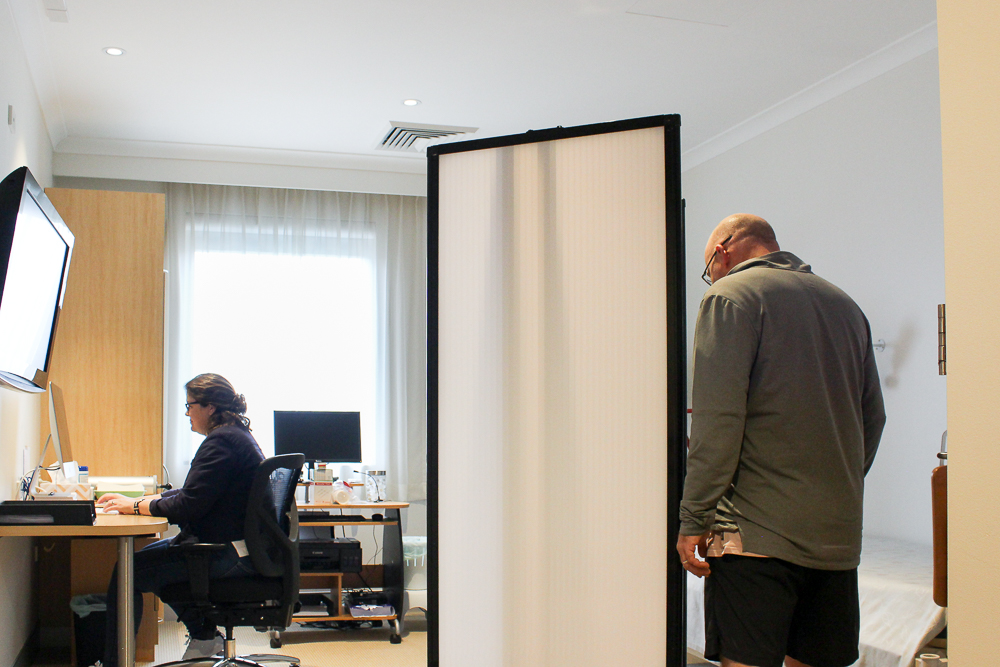 Enhance privacy for patients
Few people enjoy being placed in a room with other patients, but with so many people in need of care, multi-patient rooms have become the norm in most hospitals.

Freestanding and foldable, our Freestanding Room Dividers can be used to block the view between patient beds for enhanced privacy throughout the day, while sleeping, or during physical examinations. Delivering better sound dampening qualities than privacy curtains, medical privacy screens offer patients the respect, dignity, and comfort they deserve throughout their stay
Create extra rooms when there's an influx of patients
A sudden influx of patients can unexpectedly put a hospital at capacity. In these situations, patients either need to be moved to another facility, or housed in less private areas, such as the hallway. Not only can this feel undignified and uncomfortable for the sick patient, but it can also pose a hazard to people passing by.

In situations where your hospital has become overwhelmed, portable medical privacy screens can be set up in moments to create temporary rooms.

Folding medical privacy screens come in a range of shapes, sizes and colours. Boasting a very narrow footprint when folded down, these convenient folding screens can be packed away with ease without demanding too much storage space. That means they can be kept on-hand at all times.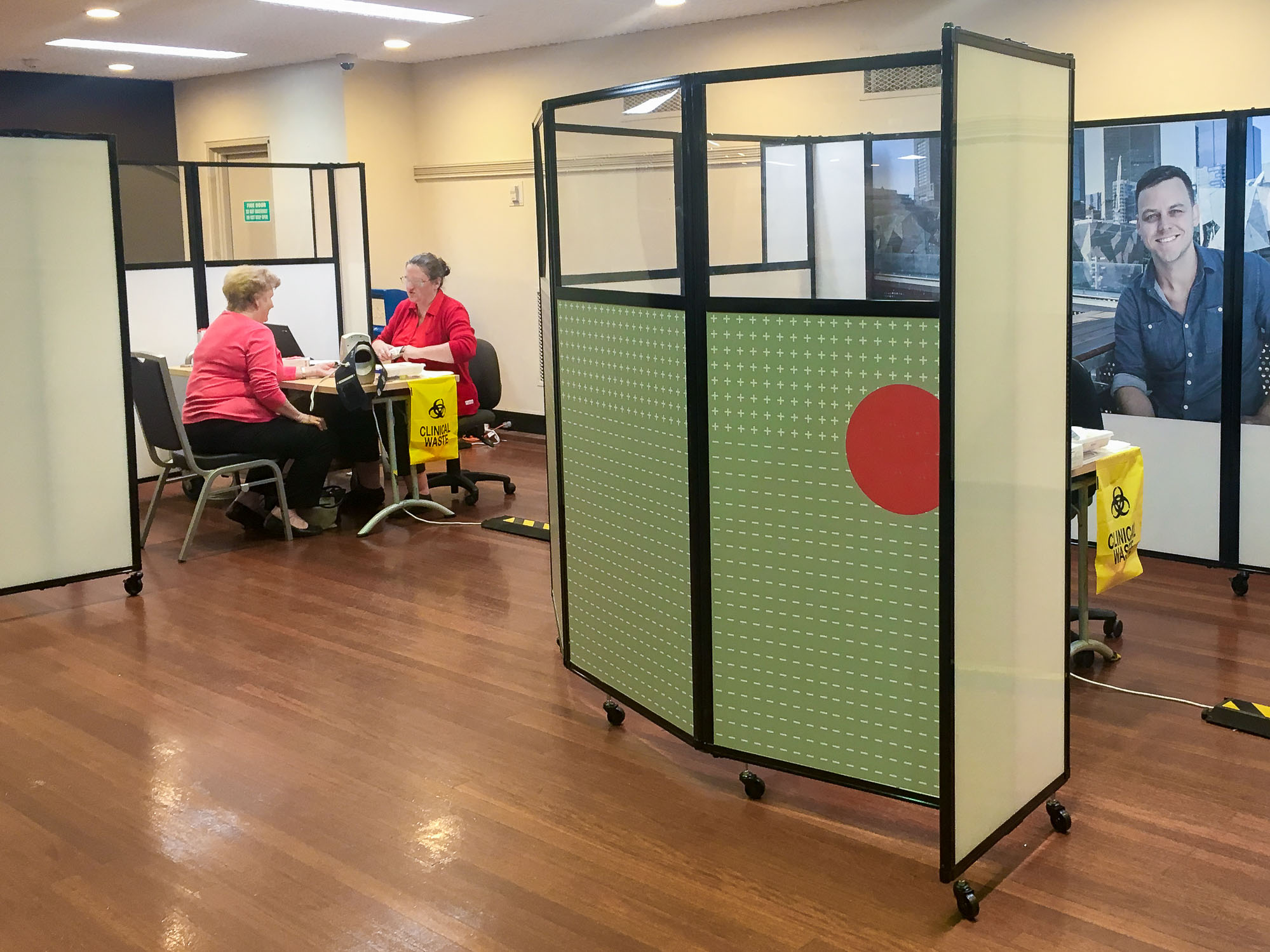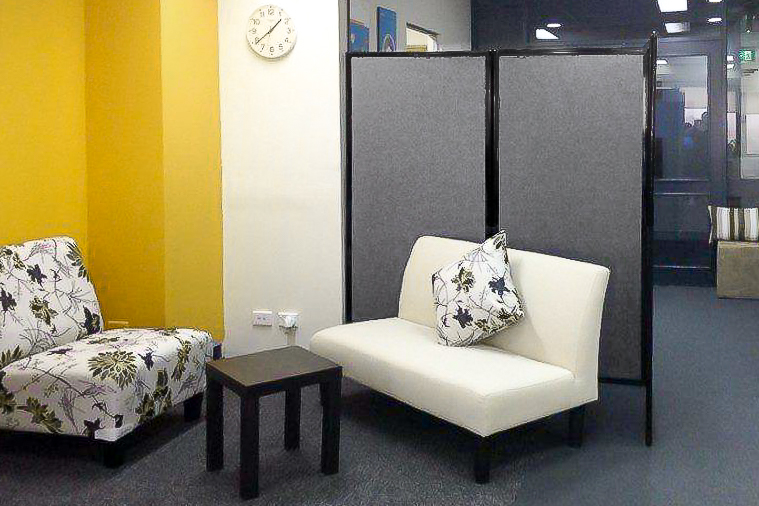 Creating private spaces for staff
Medical staff spend a lot of time on their feet, and sometimes they just need a break from the rush of the day. But with space and budgets tight, and restrictions on how much a rented space can be altered, not every hospital or clinic has the facilities available for a dedicated break room.

Soundproofing Portable Room Dividers are a simple, cost-effective and efficient way of setting up a private space for staff. Offering a variety of colours to suit your space, these freestanding partitions can be placed anywhere in your building and configured to whatever shape you desire. The pinnable fabric also allows staff to pin up photos, notes, and decorations for a more personalised space.
Create procedure rooms for dental and physiotherapy appointments
If you're a dentist or physiotherapist working from a rented building, you'll likely have already experienced the frustration of being unable to customise your space. In these situations, portable dental room dividers or privacy screens can offer the privacy your patients need during their appointments.

A Portable Medical Room Divider, for example, can be used to set up entire procedure rooms without permanently altering the space or requiring permission from your landlord.

Alternatively, Mobile Medical Screens can be used to block the view between other patients or people sitting in the waiting room. This provides greater privacy for your patients while allowing you to work in greater comfort, without feeling watched by those around you.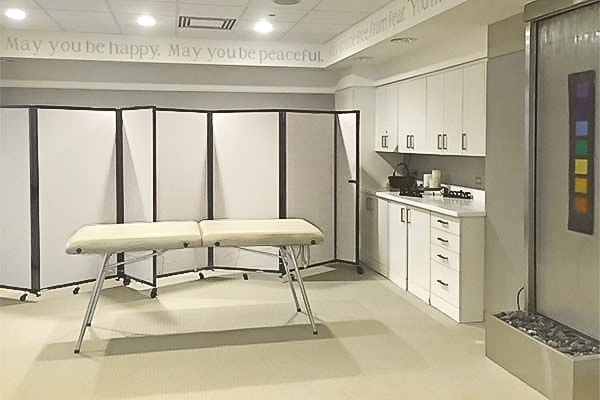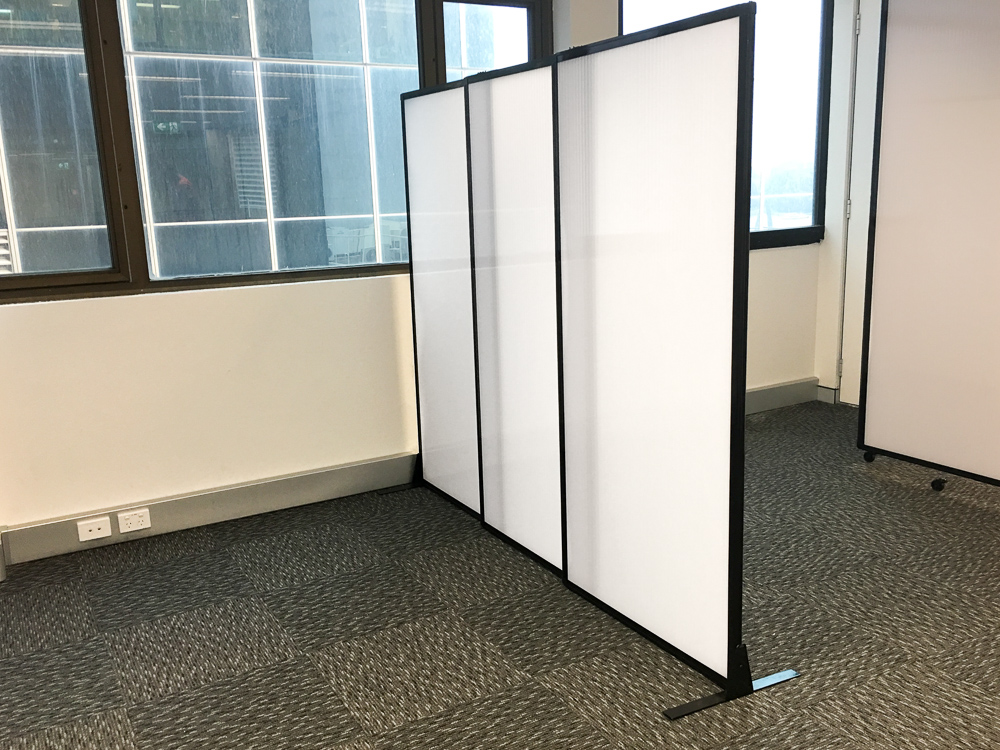 Control outbreaks of disease
Both medical and aged care facilities come with the inherent risk of disease, and an outbreak can be disastrous for a population already weakened by illness, injury, or age.

Polycarbonate Room Dividers can be used to help residential care facilities modify spaces, isolate areas, and block access to hallways in compliance with the Department of Health's recommendations for controlling outbreaks.

Portable medical room dividers can be set up in just seconds without any heavy lifting, while the polycarbonate panels are easy to spray and wipe down, making infection control easier on staff.
Protect staff working at reception desks
Whether they're working in a hospital, a medical clinic, or a dental care facility, your staff regularly come into contact with the general public. This can result in staff illness, increased sick days, and disease that spreads throughout the entire workplace.

When it comes to protecting the health of staff working at reception desks, Health Protection Screens can be easily mounted onto a desk to provide a barrier between staff and the public. These screens are made with clear perspex that won't block the view and can be easily wiped down between shifts.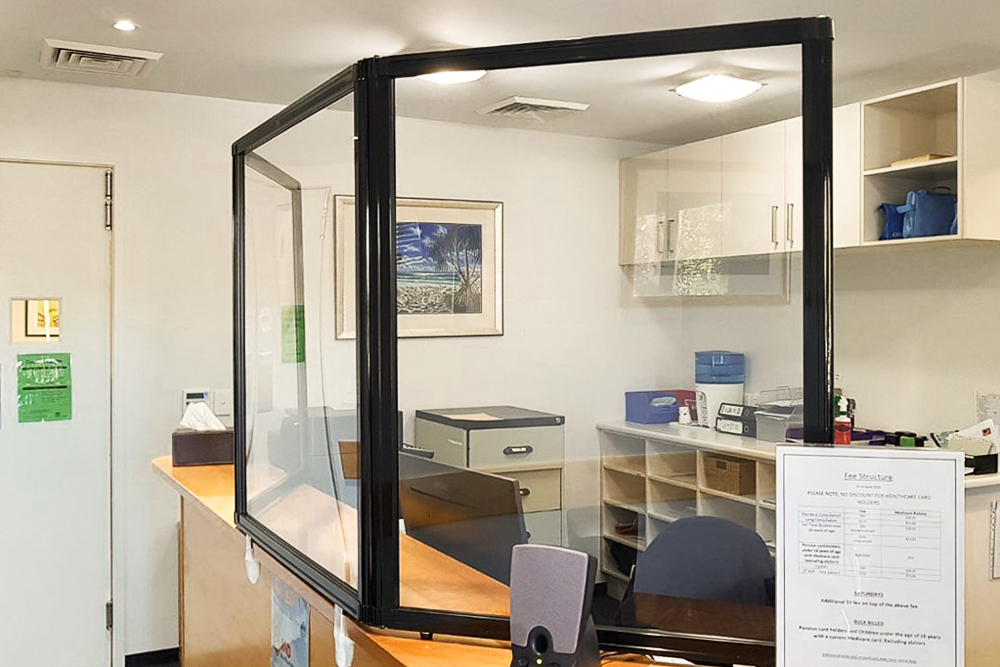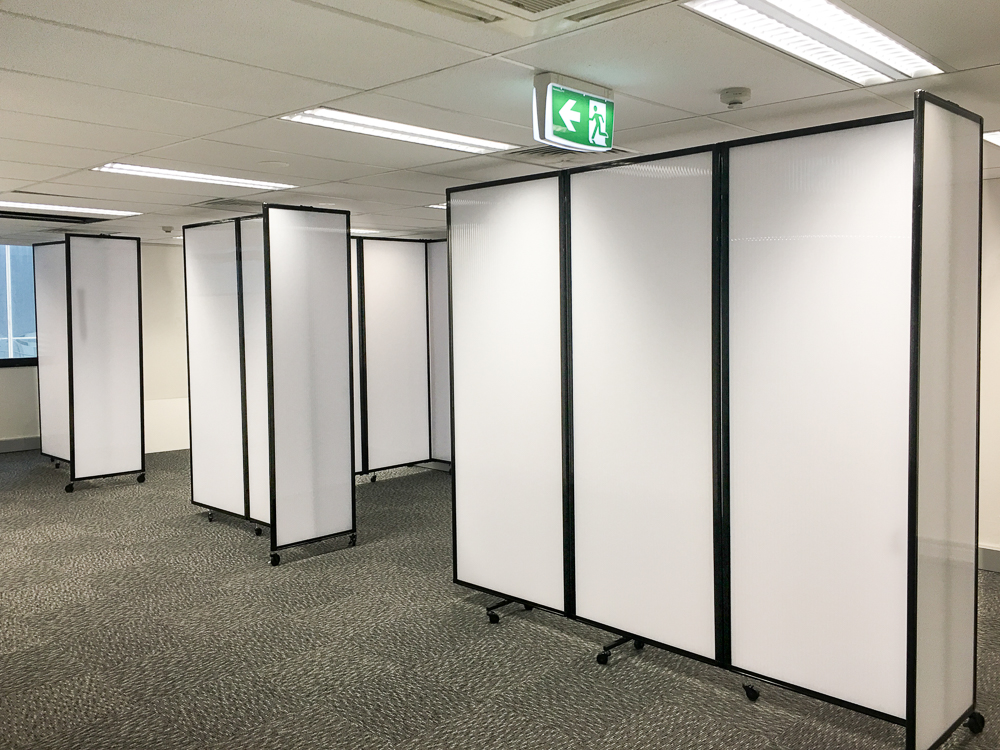 Create multi-purpose rooms
Many healthcare facilities have large rooms that are used as dining rooms, meeting areas, or event halls. But when these rooms are not in use, the space can easily go to waste.

Portable partitions allow you to maximise these large spaces by temporarily or permanently transforming them into multipurpose rooms. In an aged care facility, for example, 360 Degree Acoustic Portable Room Dividers can be used to create crafts, music, exercise, and bingo rooms, helping to enrich the lives of your residents. They can also be used to transform common areas into temporary treatment rooms for physiotherapy, dental, and doctor's appointments.

With options to customise the length and height of these room dividers, as well as fully articulating hinges and casters for high portability, you can create exactly the space you need in just seconds.
Control noise in your healthcare facility


Large, tiled rooms can result in a lot of noise as the sound reverberates off the hard surfaces.

While you can always expect some sound to make its way through, acoustic partitions fitted with fabric panels can help to dampen the noise in these larger areas. Acoustic partitions come in a variety of shapes, sizes, and heights to suit your needs.

Operable Walls, for example, can be wall-mounted at one end and easily unfolded to divide up your space. Due to their thick acoustic panels and the reduced gap between partition, floor, and ceiling, operable walls offer enhanced privacy and the best sound-dampening performance.

If mobility and flexibility are key, our 360 Degree Fabric Portable Room Dividers are freestanding, so they can be moved around the building and set up in any space and to any configuration without the need for wall mounting. The acoustic fabric panels also offer effective sound dampening qualities.

Alternatively, if reverberation is not an issue, our 360 Degree Polycarbonate Portable Room Dividers are designed to reflect noise, helping to prevent sound from making its way to the other side of the partition. Please note that polycarbonate screens do not dampen sound within the room.
If noise reduction is important in your space, consider getting dedicated sound absorbing panels for your walls and ceilings. By placing them at ear level and on reflection points, you will dramatically improve the acoustics of the room leading to a calmer environment for patients and staff.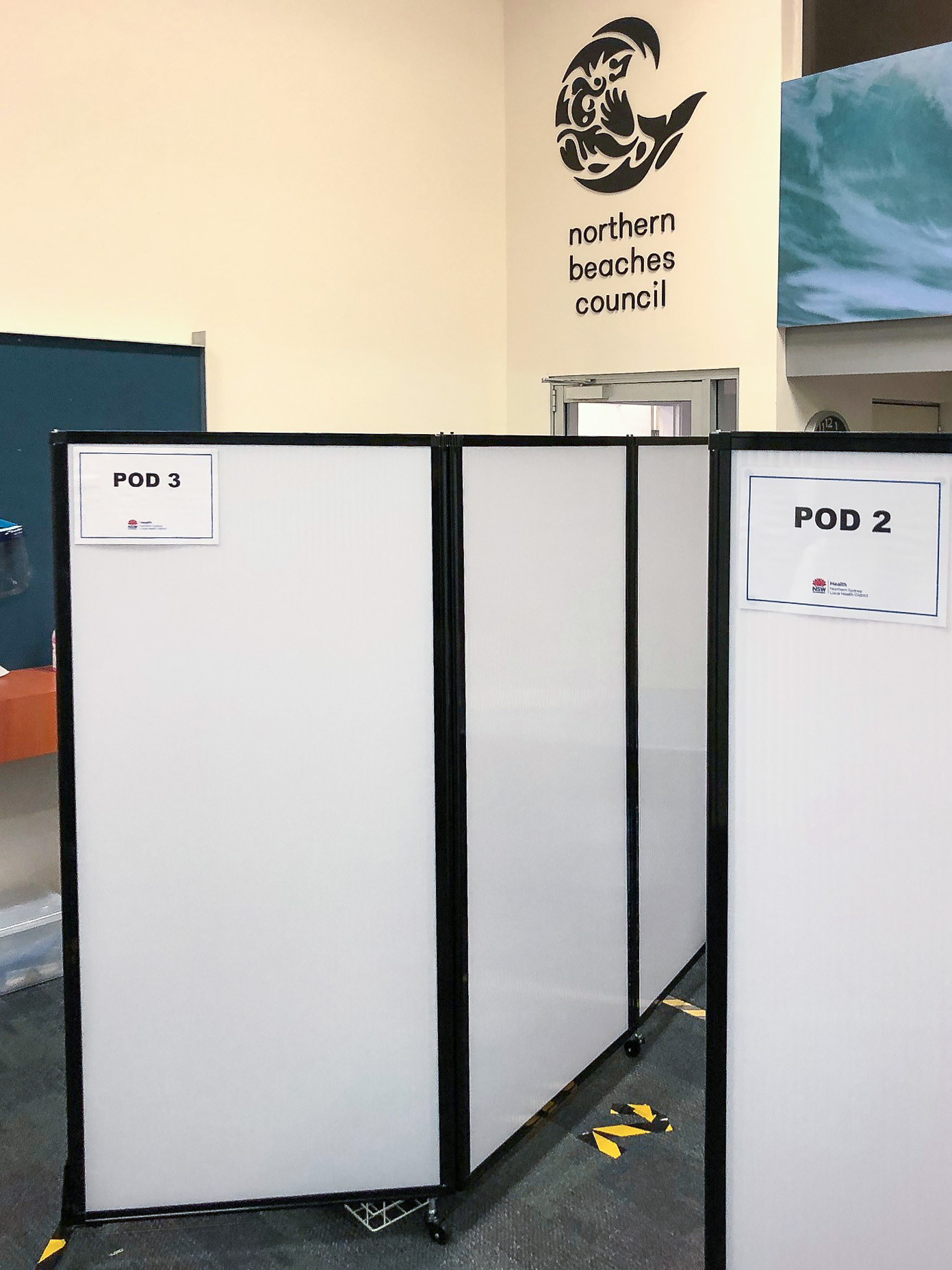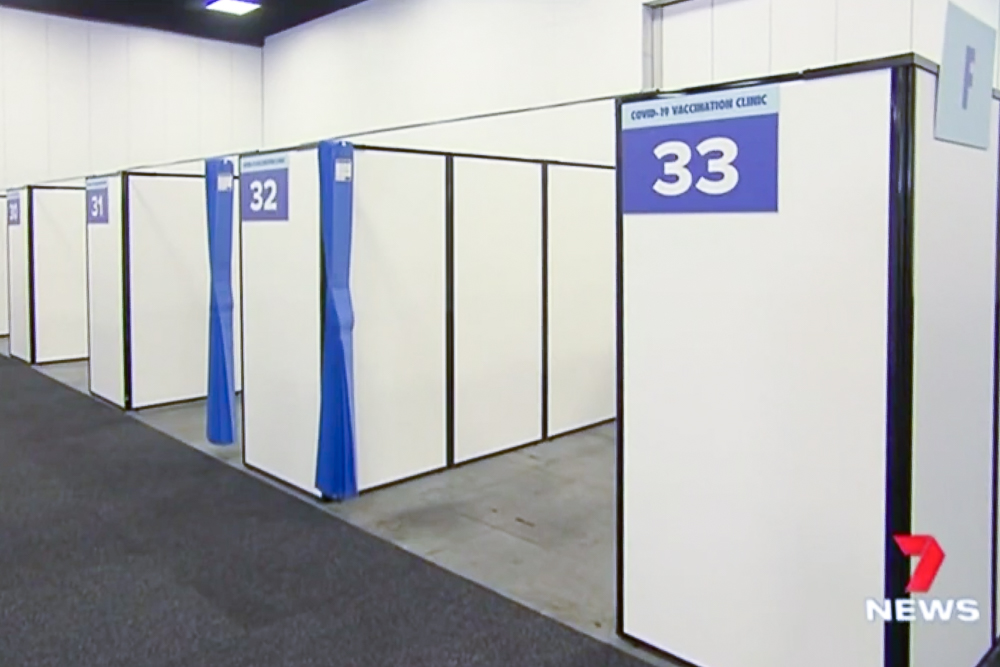 Set up vaccination booths
Many medical centres lack a dedicated vaccination space, meaning that standard procedure rooms must also serve as vaccination rooms. In times of increased illness, such as flu season, this can lead to long wait times, and worrying delays for patients who may need immediate medical care.

Freestanding, easy to set up, and offering the privacy your patients need while getting vaccinated, our Vaccination Booths are easy to wipe down and designed to turn any space into a vaccination room.

Vaccination booths can be set up in pharmacies or health clinics, or used to transform a large space into a vaccination centre. Highly customisable, these convenient screens can be designed to suit your specific needs and space requirements.
Transform common areas into meeting rooms without sacrificing space
For many medical and aged care facilities, space is a premium that's only growing sparser by the day. This can often leave facilities without the room for a permanent meeting area.

In these situations, large common areas, such as a dining room, can be fitted with Sliding Operable Walls which come on casters for easy sliding. This means you can create a meeting room in moments, and then slide the wall back again when needed. This allows you to set up a place where staff can gather without losing the functionality of the room throughout the day. Offering a little extra height than many other partitions, operable walls also come fitted with acoustic fabric panels for greater privacy and sound dampening qualities.

For a little more versatility, Folding Operable Walls offer the same height and sound dampening fabric, plus the versatility of fully articulating hinges for greater customisation.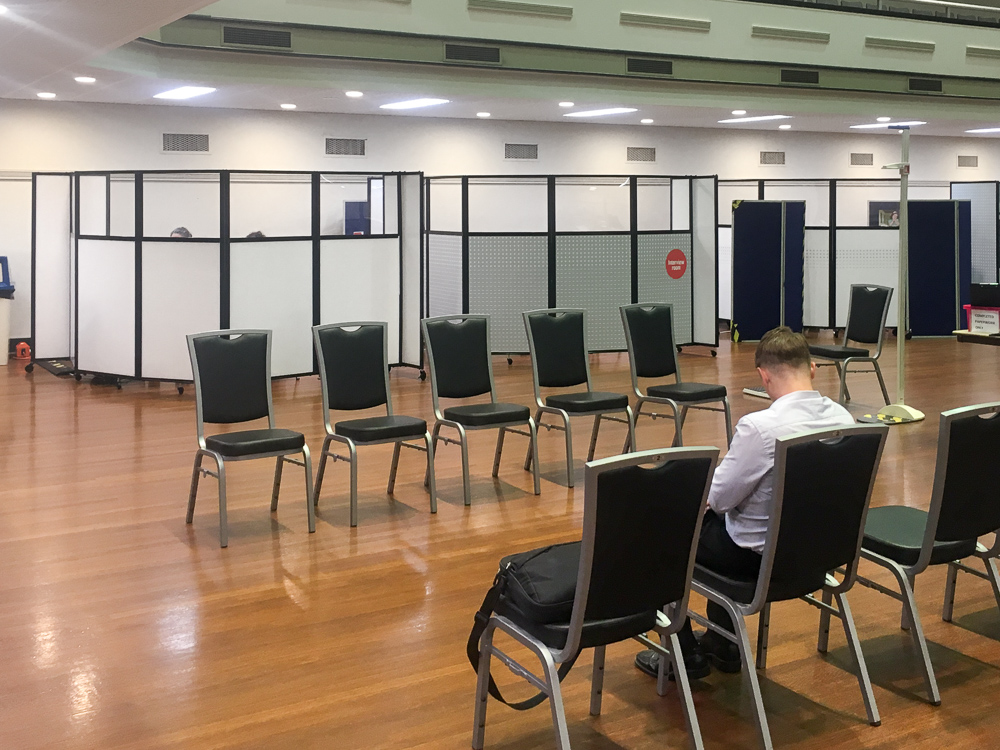 Need help finding the right medical screen dividers for your facility?
Here at Portable Partitions Australia, we're dedicated to helping you provide the best care and treatment for your patients. If you need help choosing the right medical room dividers or privacy screens for your hospital or medical clinic, simply give us a call or fill out the form below.

One of our friendly customer service team members will be happy to help
Need help choosing office partitions?
If you need guidance, help choosing or customising office partitions for your needs, give us a call or get in touch and our friendly customer service team will help