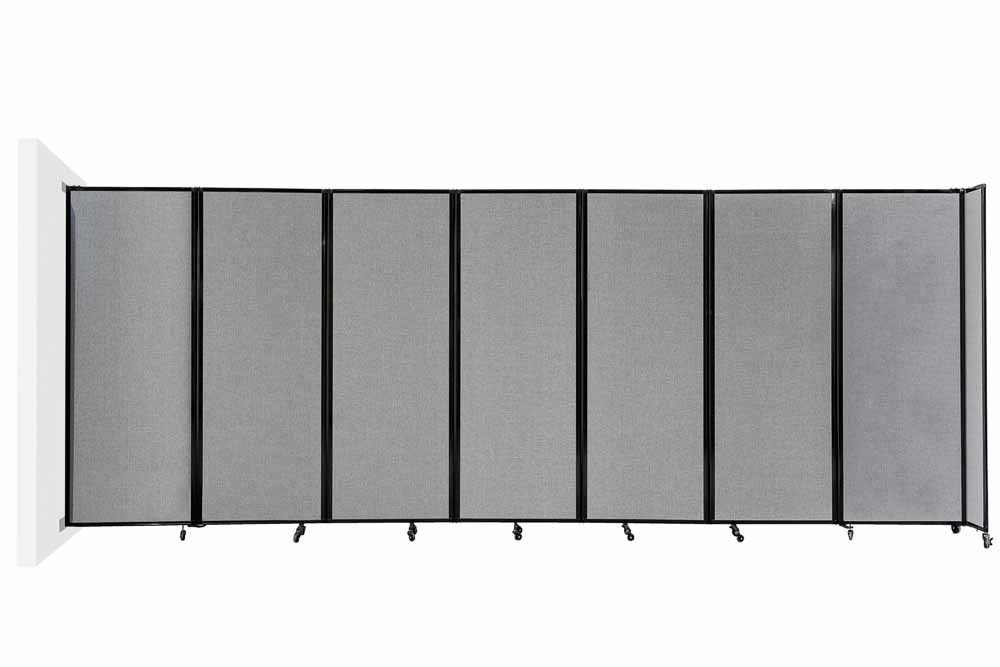 Wall Mounted Room Dividers
Wall mounted room dividers are fixed but retractable room dividers ideal for dividing or opening up a room as needed over time. Unlike portable walls, wall mounted room dividers have one end fixed to a wall with the help of two brackets. From that position they can fold or slide open whenever needed, but cannot be moved into different positions in the room or to other buildings without demounting them.
Frequently Asked Questions
How are wall mounted room dividers used?
Wall mounted retractable room dividers are mostly used as office partitions to create extra space or open up meeting rooms as needed. As other partitions they are also used whenever distractions or privacy is needed.
If the wall mounted room divider is retractable how does the partition stay in place?
All of the wheels and both ends of our wall mounted room dividers are lockable. This way the divider has one end locked and the other one fixed to a wall. It's important to know that our interior wheels can't be locked as they play a role in keeping stability of the room divider in the case of someone crashing into it.
Can you connect multiple units to achieve longer divisions?
An easy way to achieve longer divisions of a space is to connect more than one wall mounted room divider together. If you have one wall at either side of the room maybe using a wall mounted room divider at either end makes the trick. If longer distances are needed then this solution can be combined by connecting multiple portable walls between the wall mounted room dividers.
Are they easy to demount from the wall and take away for storage?
Yes, our wall mounted room dividers are fixed to the wall by only 2 wall brackets, so demounting the room divider si fast and easy. Once the room divider is demounted it can fully collapse to a small size of 85 x 85 x height cm for storage
When would you choose a wall mounted divider over a portable Room Divider?
If you are going to use the divider in the same place position over and over again without moving it to different locations within the space or building then you would consider using a wall mounted room divider.

If you are going to use the divider in different areas and want to have that ultimate flexibility then you would consider using a portable wall divider.

To make sure you can't go wrong we include wall brackets in all our portable wall products, so you can easily wall mount them if necessary.
Do Wall Mounted Room Dividers require a lease or building permit to be installed
No. Wall mounted room dividers only require to drill in a couple of wall brackets to the wall so no special permits are necessary. If you are allowed to hang a framed painting by drilling the wall then you are allowed to install both our wall mounted room dividers and our bigger operable walls.
Do your room dividers affect HVAC systems or airflow?
Most of our wall mounted room dividers don't reach exactly the height of the ceiling so airflow shouldn't be a problem. With our larger operable walls we usually reach up to 5cms from the ceiling and a have a 5cm gap from the floor at the bottom which usually gives enough room for air to flow from one side of the wall mounted divider to the other.
What's the difference between an operable wall and a smaller room divider?
Operable walls are bigger than room dividers and are mostly used in huge venues or spaces with very tall ceilings.
Do I need any structural modifications or a builder for a wall mounted room divider to be installed?
No, anybody can install and assemble our wall mounted room dividers or our operable walls. We've created simple instructions and an assembly video that walks you through the wall mounting process and assembly process step by step.
Are there any gaps left after installing a wall mounted room divider?
There always is a 10cm gap between the floor and the bottom of the walls (height of caster wheels) and a 5cm gap between the room divider and the wall. The other gaps depend on the size of the room divider you order, your ceiling height and the length of the gap you are covering.
How do you mount your room dividers to the wall?
You fix and mount the room divider by attaching two small wall brackets that you drill in place.
Do I need help to open or close the divider once installed?
No, anyone can open and close it on their own. They are lightweight and easy to move.