Closed only on Christmas day, the Powerhouse Museum is one of Sydney's most intriguing and exciting visits for all ages. With a strong focus on creativity and curiosity, and a range of 12 permanent exhibitions, the Powerhouse is complemented by a changing program of temporary exhibitions and displays. This is a very busy venue with very little allowance for scheduled downtime or stand building.
Portable Partitions were required for so many different purposes. The scope was more about the flexibility than the size. In reality, this is a venue that any number of walls to be moved from one part of the venue to the other, set up in moments to specific shape requirements, and often with only one staff member doing all this. Aesthetics is also very important in such a busy and famous venue. Temporary barricades stop the thoroughfare, but don't stop the visual access for onlookers. This is so important for a venue that is building and launching new exhibitions so frequently. After all…..nobody wants to see behind the curtain!!
But it's more than just hiding new exhibitions, the Powerhouse Museum found a number of bonus uses for their Portable Partitions room dividers.
Here are 5 ways Sydney's Powerhouse Museum used their mobile room dividers from Portable Partitions:
Hiding exhibit set up and change-over
Creating walls for function areas
Creating separate entry areas for functions and exhibitions
Providing a backdrop and forefront for a stage during fashion shows and events
For posting of signages and maps for events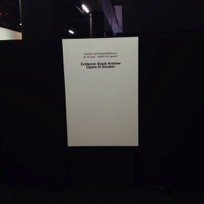 The Powerhouse Museum has a very large venue with frequent requirements for large walls. To date, we have supplied eight 9-panel 360 Degree Mobile Room Divider units. Each unit is 7.62m long. Our 9-panel 360 Degree mobile room divider sells for $2,195.