When it comes maximising limited working space, the Australian Child Care sector is under increasing pressure to do more with less.
With a chronic shortage of availability at most centres leading to long waiting lists, it's becoming increasingly important for all existing and new centres to ensure they are effectively utilising their available space.
We were recently approached by Paddington Children's Centre in Sydney to provide a solution to a growing space problem. With floor space at critical mass the childcare centre wanted to have the flexibility of creating 'rooms within rooms' to ensure they could run multiple activities simultaneously within one larger existing space. Room flexibility and adaptability was therefore key.
The selection of the 360 Degree Portable Folding Mobile Room Divider provided a cost effective solution to create temporary rooms and break out areas quickly and easily. When not in the use the room divider can be folded down and rolled away for easy storage. Lightweight and easy to use the mobile room divider offers multiple room configurations for the centre.
More recently the centre used the room divider as mobile art gallery to showcase children's artwork at an event. Having the capability to add artwork, illustrations or signage to personalise and customise the divider means that it becomes a much more subtle part of its surroundings.
Budget constraints also limit many childcare centres and it's important that any available money is spent wisely.
Natalie Cordukes, Director at Paddington Children's centre commented 'The portable room dividers supplied by PPA provide us with great way of making more of our current space, without the expense and inflexibility of permanent fixed dividers. The dividers are multi-purpose and we never run out ways to use them'.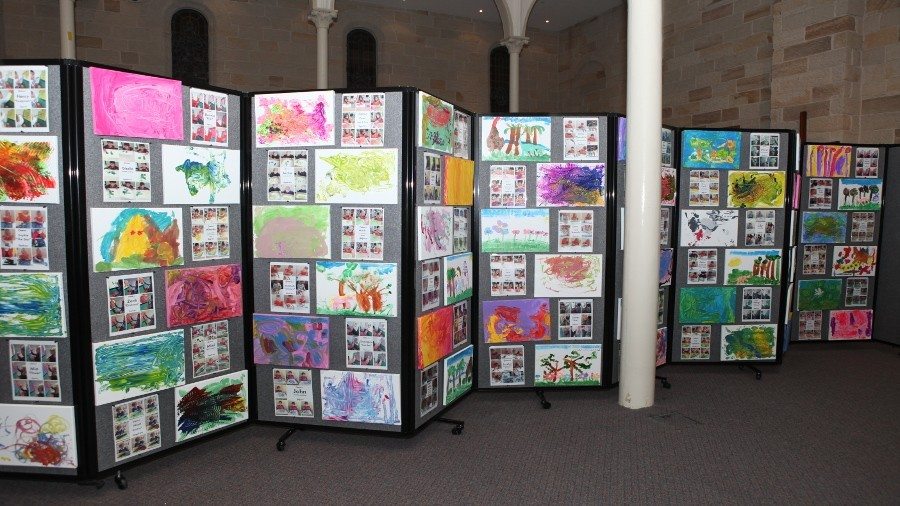 360 Degree Folding Portable Room Divider, Charcoal Fabric, used for kids artwork display, Paddington Children's Centre (NSW)
CLICK TO VIEW 360 Degree FOLDING PORTABLE ROOM DIVIDER (FABRIC)
OR