A portable partition system supplied by Portable Partitions Australia (PPA) has been recently used to create a temporary customer consultation booth within a Queensland based Pharmacy.
There is currently an ever increasing demand on pharmacies, from both consumers and government, to broaden their current service offering to include more in-store medical consultations, lifestyle consultations and in many cases to administer inoculations and vaccinations.
Many existing pharmacies simply do not have the appropriate private customer spaces required to provide these additional services and are often further hindered by both budget and time constraints.
Permanent building works and renovations required to create a new consultation spaces are often not an option, largely due to budget and store disruption. Temporary flexible solutions can often prove to be a viable alternative.
PPA's 360 Degree Acoustic Folding Portable Room Divider was selected by the Pharmacy store largely because of its acoustic performance, cost effectiveness and design flexibility and aesthetics.
The partition system is made from engineered acoustic polycarbonate panels that are lightweight but provide strong acoustic properties. The partition panels can also be easily cleaned and are therefore ideal for hygiene environments such as Pharmacies & Chemists.
It enables in-store consultation booths to be quickly and easily created, as and when required. When not in use the portable partition can quickly folded down and rolled away for easy storage.
The 360 Degree Acoustic Portable Room Divider utilises articulating hinges that allow full rotation of each panel to allow easy manipulation and infinite configurations including zig-zag, L-shape, curved, straight line or in this particular case a cube/booth shape.
The product arrives fully assembled and ready to use thus avoiding costly, lengthy and often disruptive permanent building works and renovations.
This particular portable partition has a sleek light grey finish and therefore easily blends into the existing pharmacy store layout.
Click to view more Pharmacy partition ideas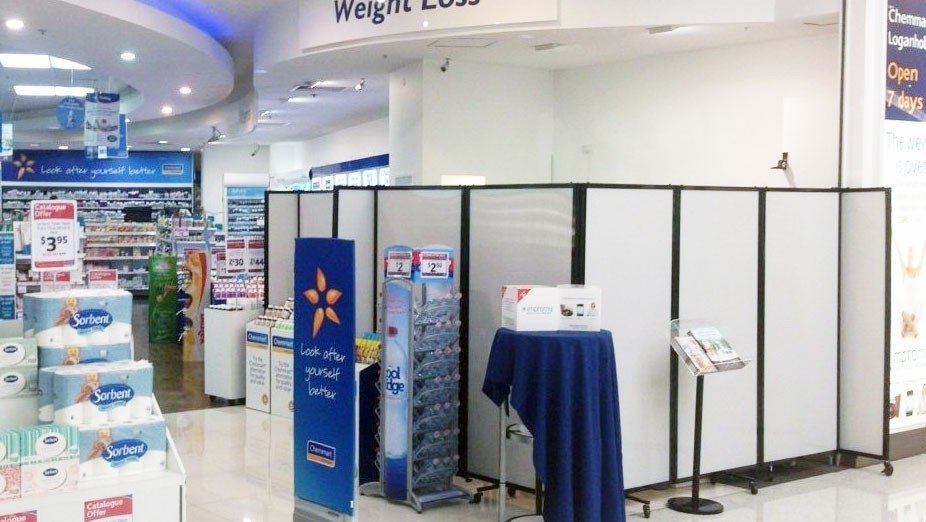 360 Degree Portable Room Divider, White Polycarbonate, Logan Pharmacy, QLD