On-site and mobile healthcare clinics are nowadays finding a crucial niche in intervening the importance of our health. Commercial and public sectors tend to embrace them upon seeing that it eliminates the need for their employees to travel to a medical center, and deal with long lines and bureaucracy. People working at jobs take less time to get treatment because these on site and mobile units come to them instead – allowing the employees to walk within their workplace's area, get their exam/treatment, and be right back at work. No time is lost for travel or waiting.
In most of these health care programs though, patients are receiving diagnoses and treatment in an open area and/ or with proximity to the medical staff. As in the cases of consulting in medical buildings, patients need privacy during treatment process. So how do these on-site and mobile health servicing companies deliver patient care with appropriate privacy?
Osteo2U, a health service company providing on-site clinics to offices and workplaces, recently got in touch with Portable Partitions Australia (PPA). They needed portable treat rooms that can be easily flat-packed for transport in the back of a van or station wagon, and can be easily set up on site – a flexible screen divider that should also provide sufficient privacy for the clients.
Being osteopaths, they understand the need for safe handling techniques. So the product that they were looking for needed to be lightweight – ideally under 20 kg. A professional looking, service-appropriate partition, and the ability to be set-up in different configurations, are also important factors in choosing the screen.
Among PPA's range of portable partitions, it was the Freestanding Portable Privacy Screen (Polycarbonate) product that they found as the perfect pick. It is a simple 3-panel acoustic folding privacy screen that can be positioned in any non-linear shape such as zig-zag, curved and L-shape. It meets the floor with no gaps at the bottom, apt for the patient's privacy during treatment.
Though lightweight, it is reliably sturdy, very portable, and can fit perfectly in a service vehicle. It can also be customized in terms of color, material used, and flexibility. Osteo2U picked two of these freestanding privacy screens. One screen with panels grey-white-grey and the other with white-grey-white. See the symmetry of colours in the photos below.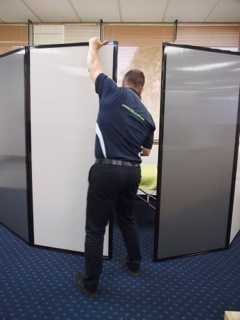 PPA privacy screens fit exactly to what Osteo2U was looking for. It is the ultimate in terms of portability, ease of use, and ease of on-site setup without the need for hard labour or special tools. Also, see how it is positioned enclosing an area for the treatment.
About this solution
Client: Osteo2U
Partitions Used: Freestanding Portable Privacy Screen (Polycarbonate)
Industry: Health, Clinics, Therapy