"(Merch) can be a great way to make money if done properly. But it's very much determined by how many shows a band does and what genre they're playing in. If you tour like crazy and have hardcore fans this can be an act's biggest income stream."

– Tom Harris
Selling merchandise after a performance is one of the best ways for bands to increase their income beyond appearance fees and ticket sales. In essence, they can create a mobile pop-up shop that travels from one concert venue to another. By choosing the right display options, bands can simplify and streamline their merchandising and put the focus on their performance.
A Local Australian Band Chooses Portable Partitions for Their Band Merchandising Displays
The Australian rock band, Lepers & Crooks, needed an easy-to-transport solution for displaying merchandise they sold on one of their recent tours. They wanted a stylish display that helped increase merchandise sales, yet folded easily and could fit in with their other band equipment as they travelled from gig to gig.
The band chose the Afford-A-Wall Folding Mobile Room Divider from Portable Partitions for their display. They opted for a divider in a vibrant red, which provided a solid contrast to their predominantly black merchandise and was easy to see across a crowded room. Their signage, in an equally vibrant red, ensured that everyone knew where the merchandise table was.
Lepers & Crooks customised the divider with just two panels in a shorter height to enable placement on top of a merchandise table. The divider's tackable fabric surface made it easy to create a pinnable display to showcase band merchandise — such as t-shirts, sweatshirts and hats — rather than leaving the items folded or placed on a flat table. Because merchandise display areas vary by venue, the partition's options provided flexibility for each unique space.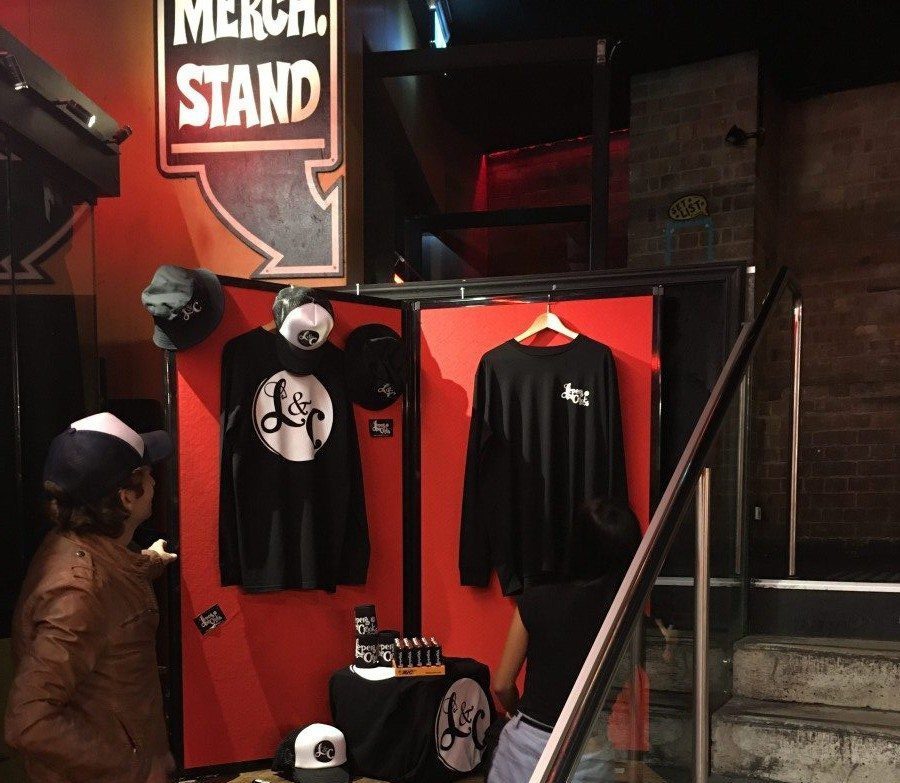 Mobile Room Dividers Simplify Band Merchandising Displays
Selling band merchandise is easier than ever as numerous companies now enable musicians to manufacture custom items on demand without specific design skills or technical knowledge. Bands can create clothing, mugs, caps, posters, calendars, bags and much more to bring with them and sell along with their CDs as they tour. The key is to display this merchandise successfully to increase after-concert sales.
Although placing the merchandise table in a high traffic location is the best option for sales, a venue might limit where bands can position their table. This makes it even more important to create a colorful, visually appealing display that fans can spot from a distance. Choosing a merchandise display with a pinnable surface to spotlight new or featured items, particularly clothing, is also important. Finally, touring performers need a solution that's easy to install, take down, store and transport.
The challenge, however, is that most bands are focussed on setting up stage equipment and their actual performance — not on their merchandise table. Choosing the right product display boards, however, is critical to selling merchandise. Mobile room dividers offer a popular solution for selling band merchandise that meets the needs of busy, on-the-go musicians while providing an optimal, flexible display for fans eager to buy a concert souvenir.