Australians love their sports. From Australian rules football, cricket, and rugby, to basketball, motor sports, and even horse racing, their sporting landscape is broad and disciplined, and has very well defined the country as a consistent sporting powerhouse.
On the international scene, there is the Australian Open and the Australian Grand Prix where the world is the stage. Who could ever forget the successful staging of the Sydney 2000 Olympics where the best and finest in sports converged to compete for that coveted gold?
On a local perspective, sports has made healthy rivalries and unparalleled fan support that has become a source of local pride and excitement all year round.
Overall, Australia's rich sporting culture continues to create a competitive pool of Olympic talent and world class athletes for the world to admire. And because of this ever-developing and improving sports culture, many local governments invest in sports facilities and stadiums. Other than for economic gain, such projects are initiated to serve local communities and address their desire for leisure, particularly in sports entertainment.
The city of Townsville is a good example. They have the Townsville RSL Stadium, a relatively new multipurpose and sports facility in Annandale, QLD that caters to indoor sporting events, particularly badminton, basketball, netball, futsal, volleyball. Everything in this venue is first class, from the architecture to the amenities. In fact, the venue is powered by a $2 Million solar project that sits on top of the roof, supplying two-thirds of the stadium's power requirements.
When you go inside, you will be greeted by a foyer with an open plan layout. Lounge chairs and tables are scattered sparsely. The area is wide and modern, so much so that they wanted modern room dividers to further define spaces for lounging and meeting spots.
Townsville RSL Stadium sought the help of Portable Partitions for the room dividers. From a number of possible choices, they got the 360 Degree Acoustic Portable Room Divider in fabric with black finish. It is a popular and versatile folding room divider because it is easy to setup, fold, move, and store when not in use.
Below is a nice photo sent by Nicole Edwards, the venue's Administration Officer (Sport Facilities).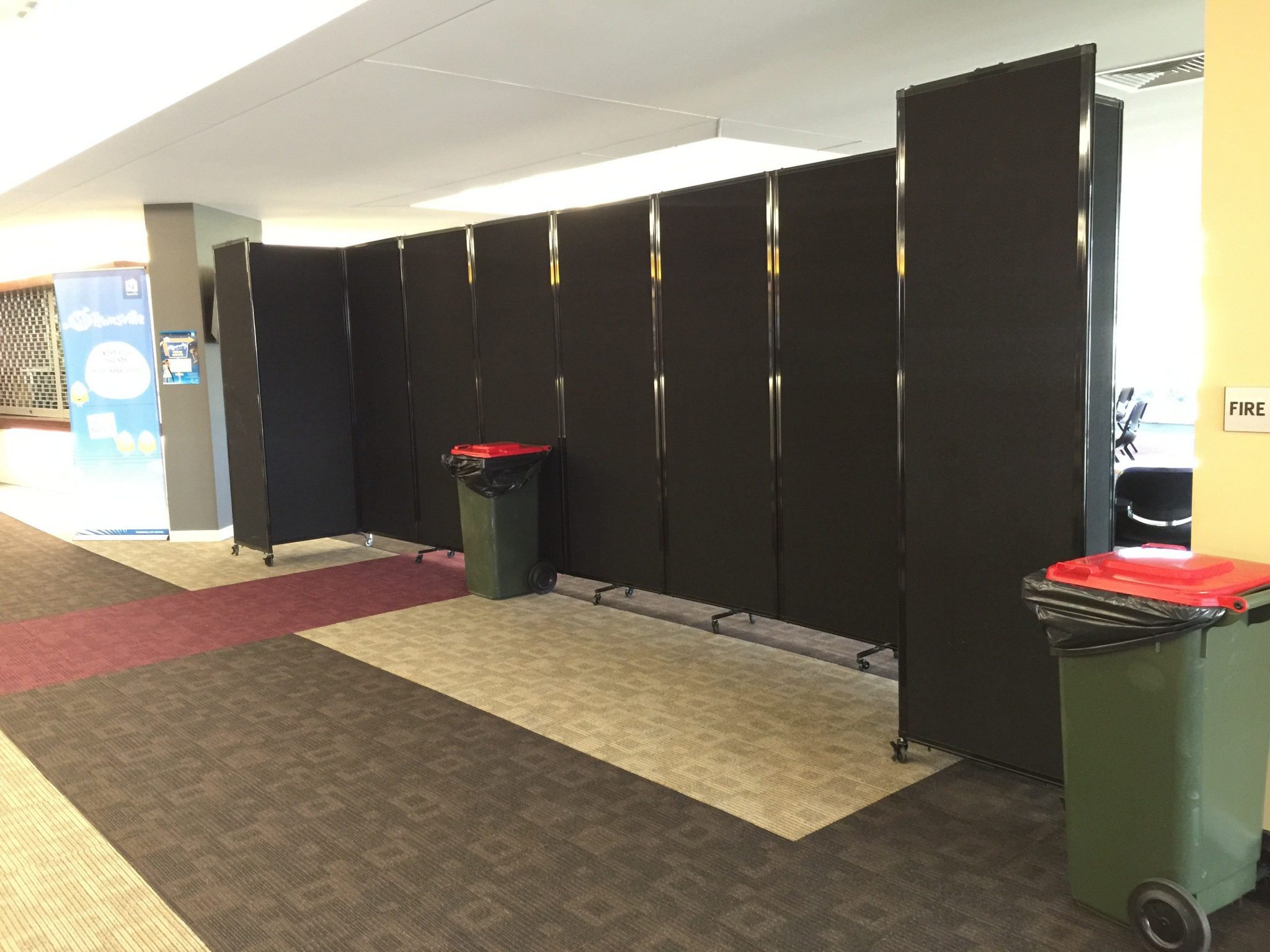 Townsville RSL Stadium is not just a sporting facility. It is a multipurpose facility that also houses a public gym, the stadium administration, the city council, and a host of other function rooms that can be used for expos, conventions, conferences, and dinners. This means the room dividers can be utilised for other uses other than a divider in the foyer.
The room dividers can cover gym equipment that are not in use. It can divide function rooms into smaller meeting areas. It can create temporary administrative offices. It can even help for crowd control purposes in events expecting a large attendance (like the July 27, 2011 event where 2,200 fans watched as the Australian Opals faced China in a women's international basketball game. In such situations, crowd control could be a nightmare! But not with this room divider).
What looks like a simple room divider turned out to be a great investment for Townsville RSL Stadium. The dividers have a modern look. The panels are also tackable and pinnable so while situated in the foyer (where all guests are bound to visit), the room divider can be used as a mobile display and information wall featuring upcoming events, announcements, people and team profiles – a smorgasbord of information!