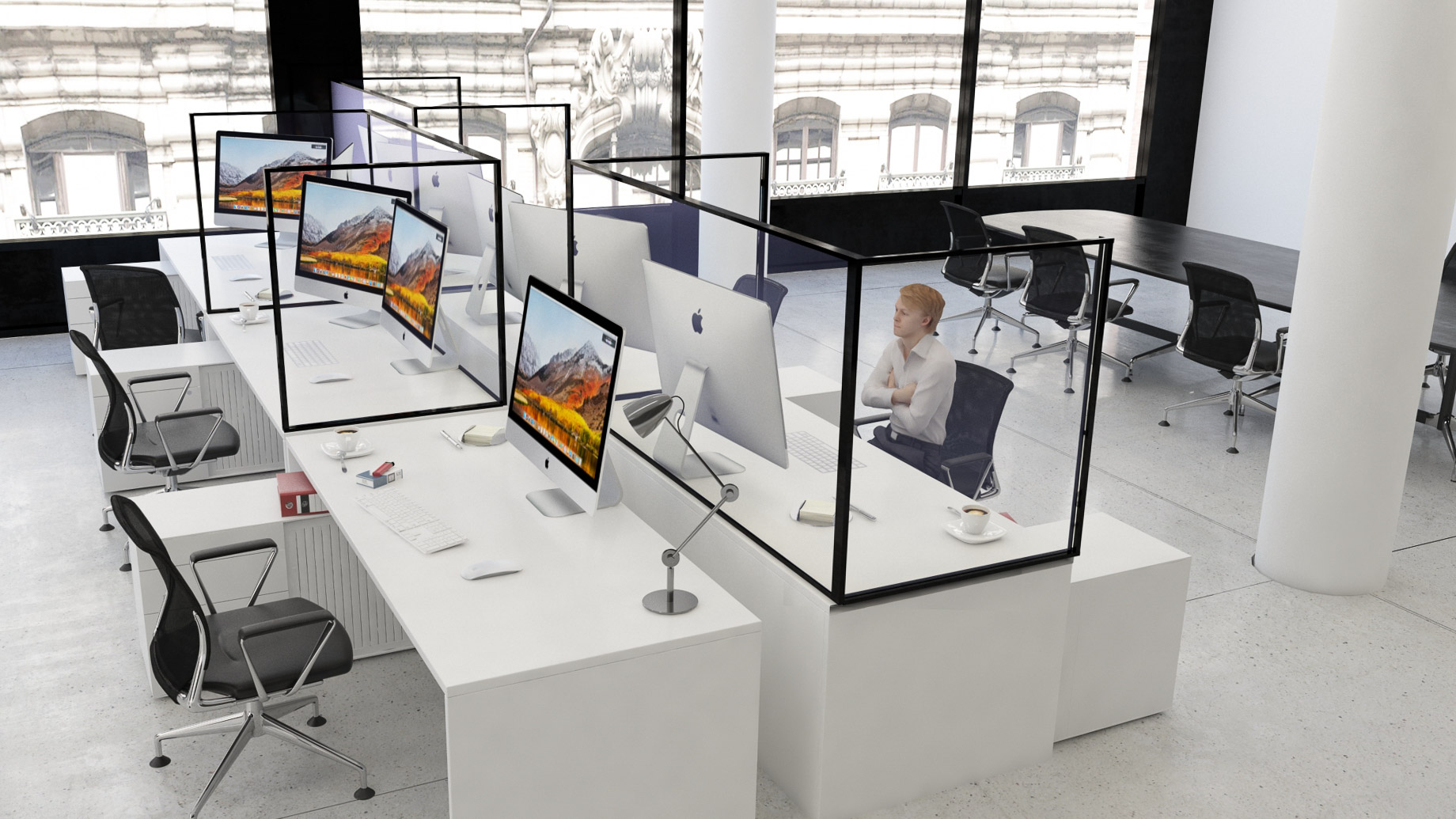 Office Desktop Protection Screens and Dividers
Changing the layout of an office implementing permanent solutions is painfully time consuming, costly and requires a lot of work. With semi permanent desktop screens that require no installation you can instantly reduce employee exposure and delineate spaces to ensure social distancing is complied. With them you can create focused work areas and empower collaboration, making employees be and feel safer in the workplace.
Daniel Cohen – Managing Director of Flare HR
"We gave our people the confidence that the workplace really was home"
Watch a short 2 minute video with insights from a CEO, HR Manager, Facility Manager and CRO with how screens help their business ensure social distancing is compiled and make their people stay and feel safe.
"Having everyone collaborating and working in one pod wouldn't have been possible before this solution"
Cam Kahler – Chief Revenue Officer at Flare HR
The trial process top tier corporate firms are using to plan their return to the office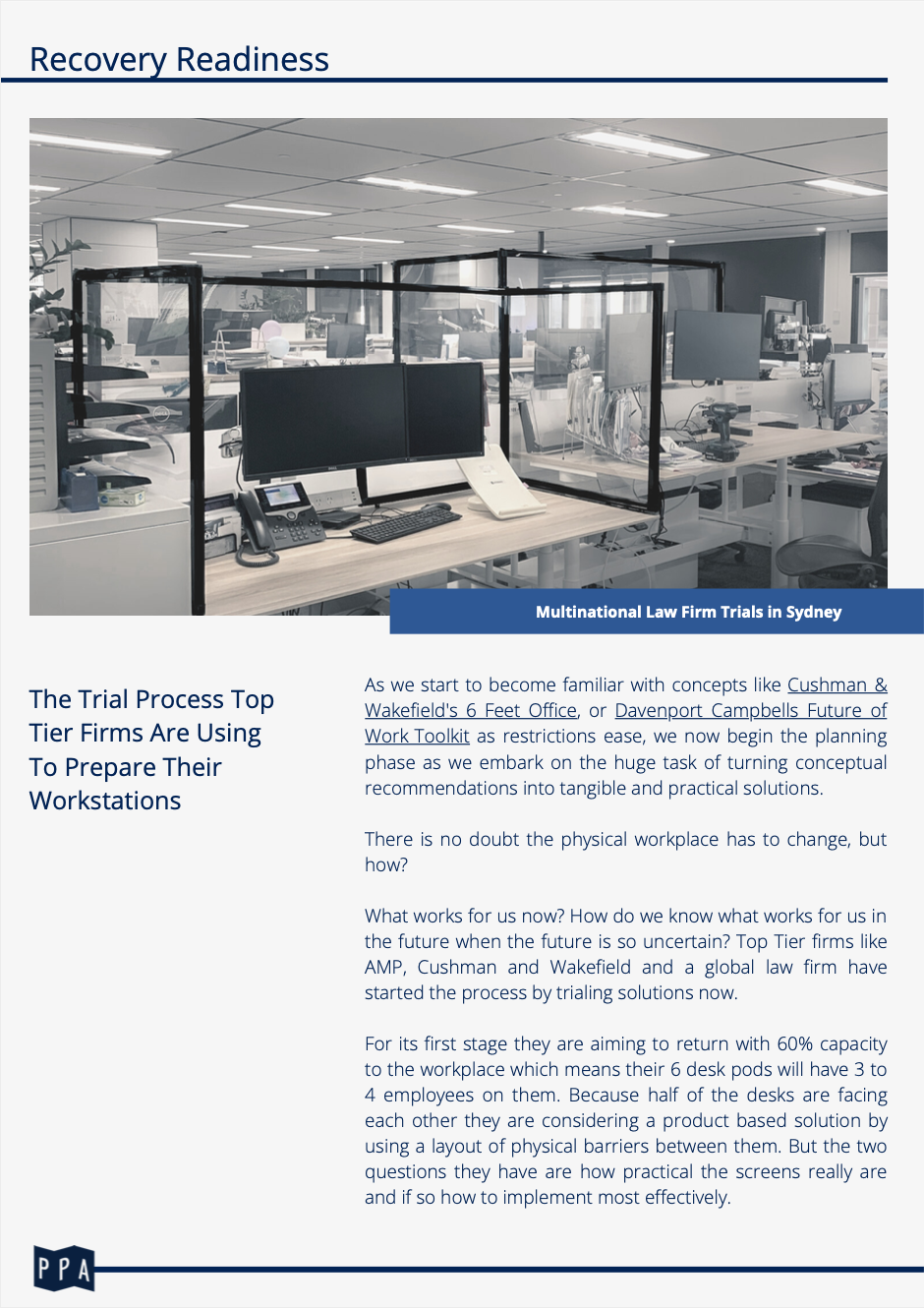 "It isn't just enough to have safety measures, the employees have to feel safe"
Gartner – Return to workplace guide for HR leaders
Employee Experience & Safety are now linked
We have all seen social distancing stickers on the floor and even though they help, outside of queuing instances they are mostly ignored. Sneeze guards and freestanding partitions help people feel safer wherever they are because they provide visual and physical separation between them and their surroundings. Because they can also delineate spaces, as an employer you can, ensure social distancing is complied (the most effective measure to date against the spread). What CHRO's are understanding is even though products don't create a risk free office by themselves they will help shift behaviour that does by giving a very visible and physical solution for employees to feel safe.
Products don't create a risk free office by themselves but they shift behaviour that does.
Making employees have a say is an effective way of building trust.
Increase Organisational Trust
One of CHRO's major challenges is to find ways of making employees feel the company cares about them. Making employees know they have a say in decisions that directly impact their safety and the way they feel at work is a very effective and straight forward way of showing empathy and building trust. By being transparent about what options you are considering and giving your employees the chance of testing solutions and give feedback is not only the most effective way to find the best solution for them but a way to send a message that you care.
Impact the Company Brand
According to Gartner research, the way your company reacts and takes care of their employees in these times of uncertainty will deeply impact the way talent thinks of the company and will be a shortcut to rank higher instantly in talents minds. Employers who adopt solutions that are empathetic will be perceived as forward thinking, collaborative and most importantly as a company that cares, organically increasing talent attraction and retention.
How you take care of your employees now will deeply impact the way talent thinks of the company in the future.
Cost Effective Approach
Without long term clarity, traditional office structure changes like fit out solutions are probably one of the most risky investments a company could make. In a constantly changing landscape semi permanent solutions that are good enough to stay long term that also could be removed in minutes if needed present themselves as a better fit. Relatively inexpensive and with the ability to effectively optimise a space with no installation costs or requirements, the cost of adapting a whole floor is easy to estimate.
A Chance to Overcome Uncertainty
We know it's hard to commit to a solution you have never tested and have no experience with and we believe everybody has the right of making an informed decision. To solve this challenge we have created a trial process that lets you test specific solutions and plan in advance, with no investment or future purchase commitment. We know it sounds too good to be true and it is and we are proud of it. So when the time comes if you want to have an employee and leadership validated office structure change plan, reach out to us and register for a trial experience.
"Understanding the future of work is about understanding the permanent workplace shifts post-COVID"
Gartner – Future of Work Tops HR Priorities for 2020-21
Made in Australia and dispatched from Sydney the next day
Manufactured in our Sydney facilities we work hard to keep our full range of products in stock so when you make an order they are scheduled for next day dispatch which helps you get your solution in your hands as soon as possible.
Need help choosing office partitions?
If you need guidance, help choosing or customising office partitions for your needs, give us a call or get in touch and our friendly customer service team will help