A successful Adelaide based real estate agent is faced with an ongoing challenge of managing some louder and more extroverted sales guns. They love the dollars they bring in but they also want to nurture a positive and focused environment for the quieter diligent workers. In fact, there are even times when the deal closers need a quiet corner to process some paperwork, do some research, and count their commissions.
Company culture is often in the forefront of leadership discussions, and this company is an upbeat, modern, forward thinking business. Beige was unlikely to be a colour to match the personality of the business. The company colours that were chosen were red, gray and white and with a modern fitout, it was decided that a mix of fabric and polycarbonate panel would give a varied texture and bright modern finish.
The red fabric panels also brought the added functionality to the office partition. Accepting pins, the unit now also serves as a mobile pinboard.
There are two schools of thought on office partitions, particularly of the portable variety. One is that you stay as neutral as you can, so as to pass almost as a wall. The other is to embrace the movable office partition. More like a feature wall that can hold ideas, be moved to where the ideas are, be as nimble as a business needs to be.
Tony (Portable Partitions Australia) and David (principal consultant for the client) worked together on the colour scheme that would balance the aesthetics and the functionality. Davis now has 2 of the 360 Degree Mobile Room Divider, 1 partition in each of his offices that follow the same company color scheme.
A quick shot before it leaves our warehouse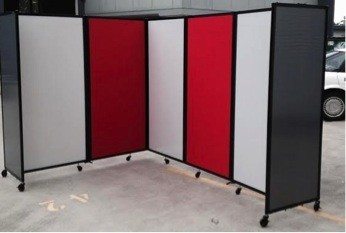 The 360 Degree Mobile Room Divider here is being utilised between a reception area and the office.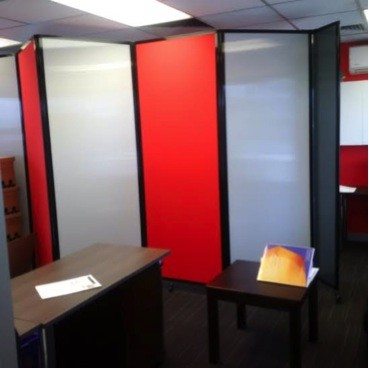 Not all office partitions have to be traditional in style. These are all standard colours and David did not need to pay for any customisation. Just a quick chat about the main colours, and the customised portable partitions where despatched within 2 days!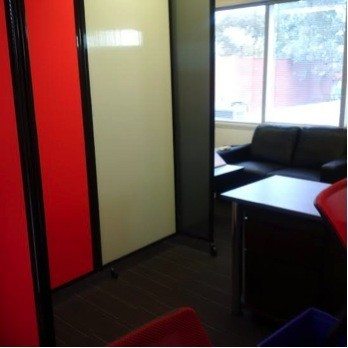 David was very pleased and gave us the following remarkable review:
"Made buying online easy. This was the best online transaction I have experienced!

From wondering if anyone made or sold a office partition to suit our needs to buying one took merely minutes. One moment I was googling "office partitions" with no understanding of size, specs, weight or cost to being and within minutes Tony had me educated informed and able to make a decision to purchase with confidence.

Tony introduced me to their website that thoughtfully features a video clearly explaining the produce and then talked me through the colour combinations and sizing that would suit our needs after asking me all the right questions.

He recommended that to save on freight I could do some assembly work. i hate doing things like this but with clear instructions I was able to save hundreds of dollars on delivery and within minutes have the divider operational and installed.

The ease of purchase was surprising and the service and advice invaluable.

I wholeheartedly recommend Tony and his team for excellent advice, prompt delivery and outstanding product!"

Dave Stockbridge, ADELAIDE
About this solution
Partitions Used: 360 Degree Acoustic Portable Room Divider (Fabric – Custom Corporate Colors)
Industry: Corporate/Office