Running a busy club with regular events, functions means that sometimes, the space you have doesn't quite match the needs of your patrons.
Cudgen Leagues Club were using a "tacky" curtain to hide their kitchen during functions and often found smaller functions were swimming in too much room and lacked atmosphere. They were looking a way to create flexibility in their function room.

At a glance
Who: Cudgen Leagues Club (http://www.cudgenleagues.com.au/)
Where: Cudgen, Tweed Coast, NSW
Business Type: Registered Club, Hospitality
Product Used: 360 Degree Acoustic Mobile Room Divider Cloud Grey Fabric

Solution Overview

Pushing that "tacky" curtain to the side, Cudgen leagues had two shiny new 360 Degree room dividers delivered to fix their space problems.

With the flexibility of 360-degree hinges and neutral, sound absorbing cloud grey fabric panels, Cudgen Leagues was able to unlock the potential of their function room.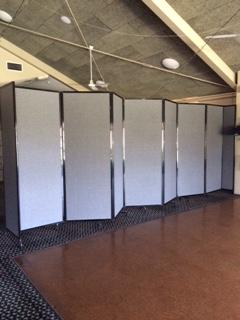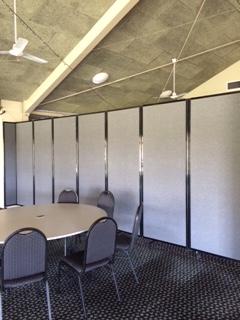 With these room dividers they were able to:
Cover the unsightly kitchen and significantly reduce kitchen clanging from distracting important function moments like wedding speeches.
Create smaller spaces for smaller functions, creating a warmer atmosphere
Accommodate two or more functions in the same while reducing sound bleed from one function to the other.
The solution was a stark difference from the old makeshift tablecloths contraptions they tried in the past which were hardly a barrier to regular kitchen clanging, meaning they no longer had to stop service when important speeches were being made.

The upgrade also didn't go un-noticed by patrons, with one member remarking:
"We couldn't be happier with the effect they have had on our function room."