On-site storage capacity for many Australian Pubs & Clubs can often be an issue. Large amounts of equipment and furniture are required to be stored within the venue and available for use at any given time.
Dedicated storage areas quickly reach capacity and the venue is often forced to make temporary storage areas within any available space they can find. This can lead to untidy areas that can be unsightly for customers and members.
Portable Partitions Australia (PPA), the market leading supplier of portable room dividers and mobile partitions, were recently approached by Narooma Sporting & Service Club (NSW) to help provide a temporary solution for creating a hidden storage area for their additional chairs and tables.
The client brief was to ensure the portable partition units were easy to move and store when not in use and versatile enough to create different size storage areas.
After some initial consultation, the 360 Degree Folding Portable Room Divider was selected for the project. This particular partition unit offers multiple configuration capabilities such as curved, zig-zag and L-shape so was a great solution for this particular problem. The fact that it's a lightweight folding unit with wheels for easy movement made it even more appealing.
Brendan Matters, Operations Manager at Narooma Sporting & Service Club, commented 'We were keen on temporary privacy screen system that we could use to hide spare chairs and tables when not in use. The 360 Degree Room Divider not only looks great but is highly versatile in terms of how we can make it smaller and bigger as required. We also intend to purchase additional units in the near future as we can see these systems being used all across our venue for a variety of applications, such as dividing existing rooms into smaller rooms and also as mobile information boards'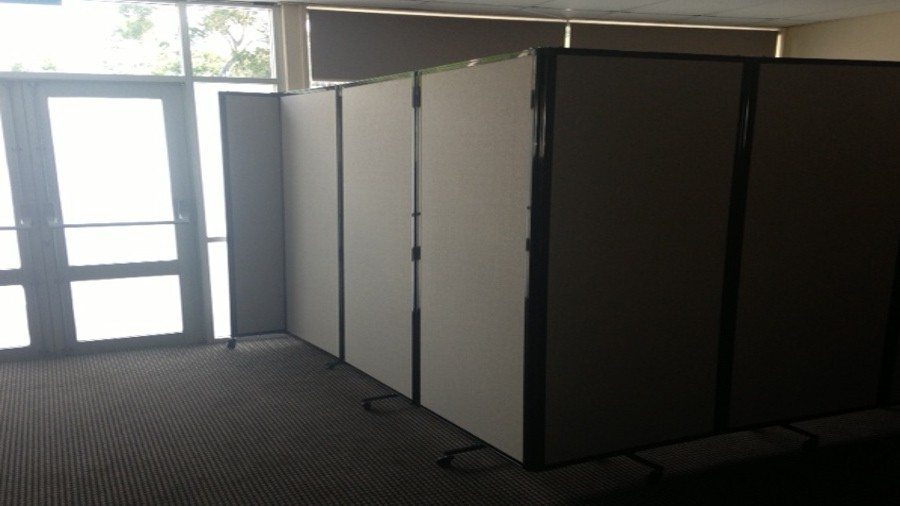 360 Degree Folding Portable Room Divider, Beige Fabric Panels, 2.02m H x 5.94m L