Many companies that move into new office premises are under pressure to ensure they are fully utilising all available floor space.
Often it's difficult to fully visualise how a new office layout will look and work until you have actually move in. It's often at this point you realise that the initial floor plan worked fine on paper, but does not necessarily translate as well in reality.
Easy adaptability of space is therefore critical, as often an extra meeting room, training space or break out is required. If unplanned in the original design it can create major headaches and costs trying to rectify at a later stage.
Portable Partitions Australia (PPA), the market leading supplier of portable room dividers and mobile partitions, were recently approached by Acacia Law in Redbank (QLD) to help provide semi-permanent solutions for adding additional meeting rooms within their new office premises.
The client brief was to create an office partitioning system that would allow for the available working space to expand or shrink as required, without the expense and disruption of permanent building works.
The client selected a combination of acoustic polycarbonate and fabric finishes in their multiple room dividers. The selection of the Telescoping Sliding Acoustic Portable Room Divider in particular was used to ensure natural light could penetrate through the dividers and space, whilst still ensuring privacy requirements were maintained.
Made from an acoustic fluted polycarbonate finish for noise dampening purposes, the partition is ideal for splitting spaces for multiple functions. Its lightweight construction means it's also easy to fold, move and store when not in use.
With three different partition units available to Acacia Law at any one time it allowed an almost limitless choice of room configurations, ensuring every available square foot of space was fully maximised.
Mark Warburton, Partner at Acacia Law commented 'We were keen on maximising the flexibility of our new office space and worked with PPA to ensure we selected the correct combination of mobile room dividers to meet our requirements. Predominantly we were looking for a cost effective system that would enable us to expand and shrink our office as and when required to create additional meeting rooms or too fully open up the space. It was important the space was dynamic and that any system we selected would be easy to fold and collapse quickly. We feel we have achieved this outcome with the PPA partitions that we recently acquired.'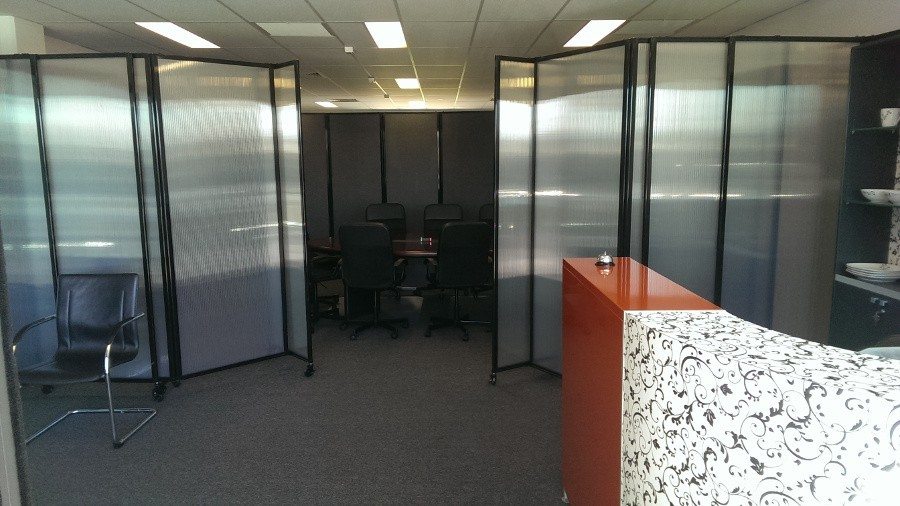 Telescoping Sliding Acoustic Portable Room Divider, Clear Polycarbonate Panels, 2.29m H x 4.72m L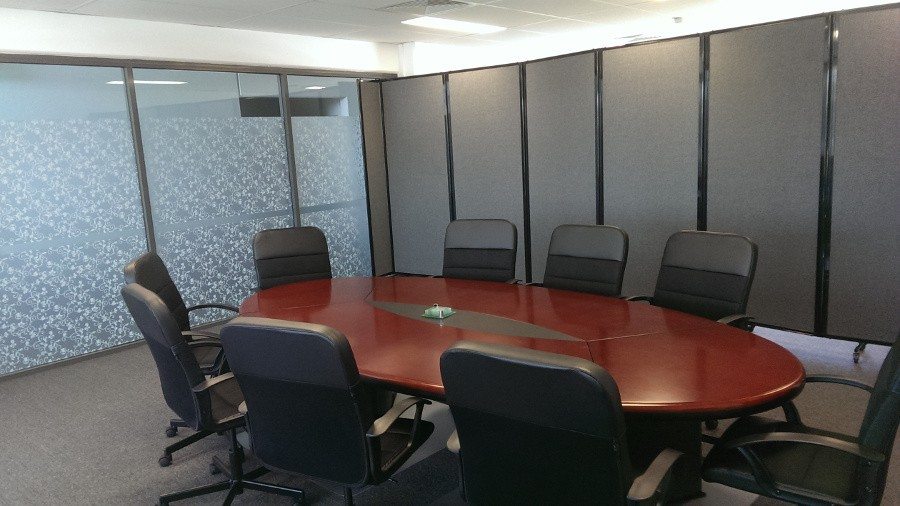 360 Degree Folding Acoustic Portable Room Divider, Charcoal Fabric Panels, 2.29m H x 5.94m L