As the COVID-19 pandemic continues, Australia is beginning to slowly reopen its communities and businesses. Many are ready to welcome the changes, since it means they can start getting back to the things they love.
With guidance from the Australian Government Department of Health, restrictions are expected to ease differently between the states and territories. This staggered reopening will be based on local conditions in each area. As restrictions are gradually lifted, progress will be reviewed regularly by the National Cabinet.
This is big news for gyms across Australia, all of which have been temporarily closed—many since late March! But as gyms do finally start to reopen, there will be new guidelines for business owners follow. These regulations will vary depending on location and stage of reopening. Your gym may also choose to enforce additional guidelines, or use special tools and strategies to help keep their staff and members safe. But no matter what will be implemented at your gym or studio, there's one thing for sure:
Gyms in Australia are not going to look the same.
How Gyms Will Reopen in Australia
Currently, workplace guidelines do exist that help clarify how gyms will reopen in Australia. As with other businesses, gyms are going to be reopened in a series of steps:
Step 1
Most states and territories in Australia are currently in what's known as Step 1 (alternatively, Phase 1 or Stage 1) of the reopening process. This means indoor gym use is not allowed. Some outdoor activities are okay, including non-contact community sports, personal training, and bootcamps of up to 10 people. These outdoor activities can only be done if 1.5 metres of space are maintained between all people, and if equipment isn't shared.
Step 2
Soon, Australian communities will transition to Step 2 of the reopening. This is tentatively scheduled for early- to mid-June in most areas. Some areas, such as Western Australia, are already in this stage. Additional businesses permitted to reopen in Stage 2 of the reopening phase include cinemas, amusement parks, museums, galleries, and salons.
In Step 2, outdoor non-contact sports, personal training, and bootcamps can continue—now with up to 20 people. This phase also permits indoor gym use for up to 20 people at a time. But there'll need to be at least 1.5 metres between people and at least 4 square metres per person while inside.
In some territories, gym owners will be required to create a COVID-19 Sport and Active Recreation Organisation Checklist or COVID-SAFE Plan that must be approved by health authorities. This ensures gyms stay in compliance with reopening guidelines.
Stage 3
We're not there yet, but eventually Step 3 will occur. The plan for the third stage of reopening is that all Australians return to work and all businesses reopen, with gatherings of up to 100 people permissible. And throughout every stage, physical distancing and hygiene will be maintained.
Will It Be Safe at the Gym? 10 Things To Expect At Fitness Facilities in the Wake of COVID-19
Now that you have a general idea of what's required of gyms during the Stage 2 of reopening, here are a few things you can expect at your gym, studio, or fitness centre when they finally re-open their doors. These are all intended to keep you and your fellow gym-goers safe: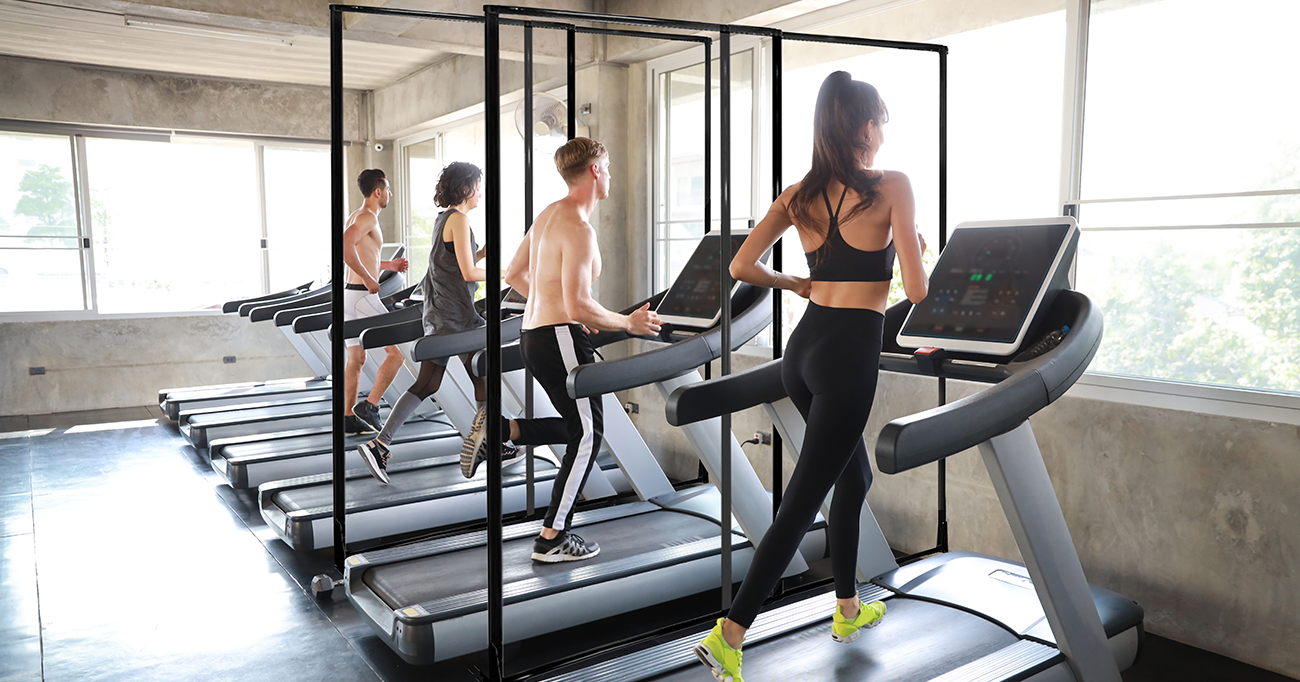 1.Machines will be spaced out to help maintain physical distancing (at least 1.5 metres between people). Gyms may do this by re-arranging equipment, removing some equipment, or shutting off every other machine.
2. To further maintain safe distancing, clear telescoping perspex screens may be installed between machines. These perspex screens are easy to clean and sanitise, and can protect members without taking up excessive floor space.
3. Certain equipment will not be allowed to be shared during classes or training sessions. This includes dumbbells, kettlebells, barbells, skipping ropes, benches, exercise bikes, rowing machines, Pilates reformers, and treadmills. Some of these items may be temporarily removed from workout areas.
4. Staff will be implementing strict cleaning and disinfecting routines—likely even more strict than their usual protocols. Non-shareable equipment will need to be fully cleaned between all classes and sessions. Staff and members will also be encouraged to sanitise their hands regularly.
5. Drinking fountains and bubblers may be closed.
6. Staff members may be required to wear masks. They will also need to stay at least 1.5 metres away from their clients during training sessions and group classes. As you can imagine, this may require personal trainers to make modifications to the way they interact with and help their clients!
7. Personal equipment like mats, chalk, and mobility bands will not be provided. You might be able to bring your own, but you won't be able to share them with other people.
8. Gym members will be asked to limit their time in facilities for up to two hours.
9. Countertop protection screens will be installed in certain areas of the gym, including front counters and reception areas. These screens protect front-of-house staff members. They also serve as visual reminders of the importance of distancing. Expect to see a lot more signage, too, such as notices that discourage congregating in certain areas.
10. Gyms may redirect or restrict the flow of traffic within their facility in order to enhance crowd management and maintain distancing. For instance, gyms may designate certain areas for warm-ups and cool-down activities. Gyms may also designate entrance-only and exit-only points to the gym. Long protection screens can be valuable here, as it provides a physical (and cleanable) barrier to help direct traffic.
Bottom Line: From Perspex Screens to Spaced Out Machines, Gyms Are Changing to Keep People Safe
Going to the gym is more than a leisure activity—it's an important way for Australians to stay physically and mentally healthy. Under the direction of state and territory regulations, gyms will finally be re-opening soon. And it's important to know that gym owners will definitely making some big changes to keep you safer.