GoVets Greenwood is a full service veterinary hospital that provides consultations, vaccinations, laboratory services, ultrasound, surgical theatre, radiography and a mobile veterinary service for patients who need in-home care. In addition to the standard veterinary service, GoVets Greenwood also provides hydrobath and grooming services, doggy daycare, and pet boarding facilities to cats and dogs.
They have a loyal client base made up of many return customers. Client trust and comfort is very important for their business model, and as a medical provider for animals, they offer an essential service to their community even during COVID-19. It's very difficult for GoVets Greenwood to eliminate in-person interactions because pets must arrive accompanied by their owners. However, GoVets knew they could do more to enhance customer and staff safety during COVID-19.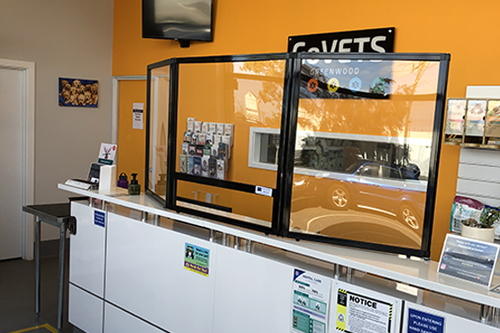 The payment counter was an area that could be improved to help stop the spread of coronavirus. Before installing a sneeze guard, the only structure between the staff member and the customer was the counter itself, which was not a sufficient barrier to stop the spread of germs. The countertop protection screen from Portable Partitions Australia (PPA) is a structure that enables counter staff and customers to see one another, talk to one another and share information while enjoying some protection from COVID-19.
The workplace protection screen covers the width of the counter. At the base of the window, an opening allows the customer and staff person to exchange payment and papers if needed. In addition to stopping the spread of germs, the perspex screen provides comfort to staff who bravely come to work each day, and to customers seeking necessary services for their pets. Both sides feel better knowing that GoVets cares to protect the people and pets who make their business what it is.
After installation, they reported to PPA: "The partitions look great, they were easy to install and our staff feel safer already being able to use them. I also think our customers appreciate the effort we are putting in to keep everyone safe and that is building some nice trust with our already loyal client base."