A critical part of learning is ensuring a good ratio between educator and students. Having this privilege means educators will have more time and focus on their students' individual learning needs.
This dedicated attention can spell the difference in a child's learning especially in their early developmental stages. As a result, a better learning environment is formed, allowing students to be more engaged, becoming confident learners and communicators while building solid relationships along the way.
The advantages of having the right educator-to-student ratio are tightly regulated. But the challenge is where to get extra classrooms when classroom space is slowly becoming a depleting resource. Our education industry is already facing a shortage of classrooms due to overcrowding and a growing population.
New regulations regarding the educator-to-student ratios are listed below by state. A complete guide can be found under former Labour government's National Quality Framework: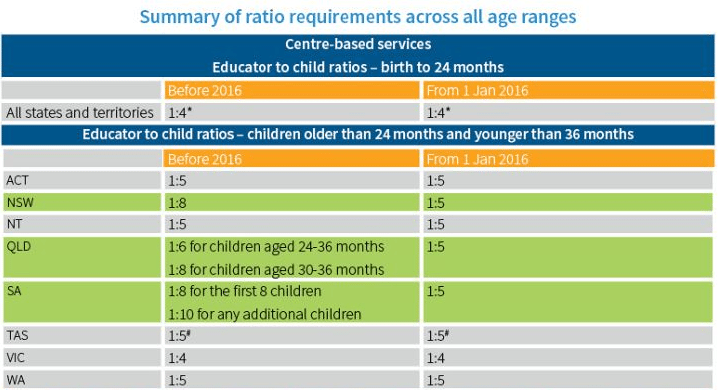 Whilst the ratio impacts staff numbers directly, it indirectly impacts learning areas within a facility. Flexibly space allows for different sized areas depending the the group sizes for each particular day. To address this, Penrith Early Learning Centre needs to have the option of splitting their rooms into 2 or 3 learning areas to accommodate different age groups of varying sizes.
Another concern that they needed to address was that the mobile room dividers should be low enough for them to monitor in one place what all the kids are doing, and be high enough to prevent kids from reaching and pulling onto each other while in their respective areas.
After agreeing they didn't see the need for new infrastructures, Penrith Early Learning Centre decided to go for mobile room dividers from Portable Partitions Australia, particularly the 360 Degree Acoustic Room Divider (Polycarbonate) in black. This would allow for movement and reconfiguration depending on the group sized for that day. It also allows for a completely open space when required.
The panel selection was for polycarbonate rather than fabric in the divider. This is to allow for blu tacked artwork rather than pinned for obvious safety reasons.
The mobile room divider can be positioned in different configurations including zigzag, L-shape, curved, or straight line, which the school particularly liked. The mobile room divider panels are also engineered with fluted polycarbonate panels to offer sound insulation and reduce noise from adjacent areas, and is made with a no-pinch hinges for safety, perfect for a learning setup.
What's best is that Portable Partitions was able to customise the mobile room divider to 1.3 meters in height, as required by the client.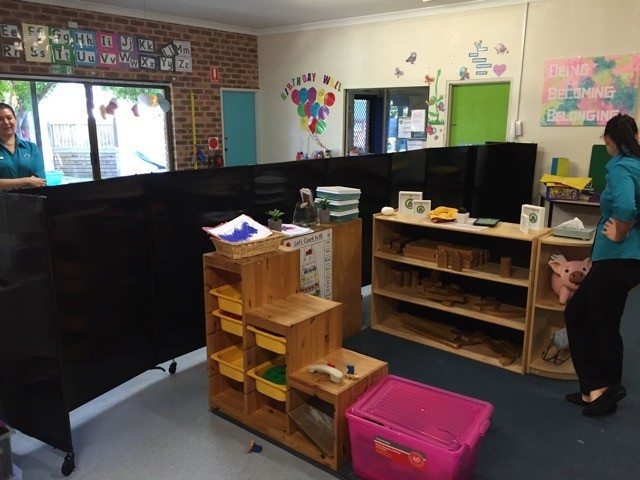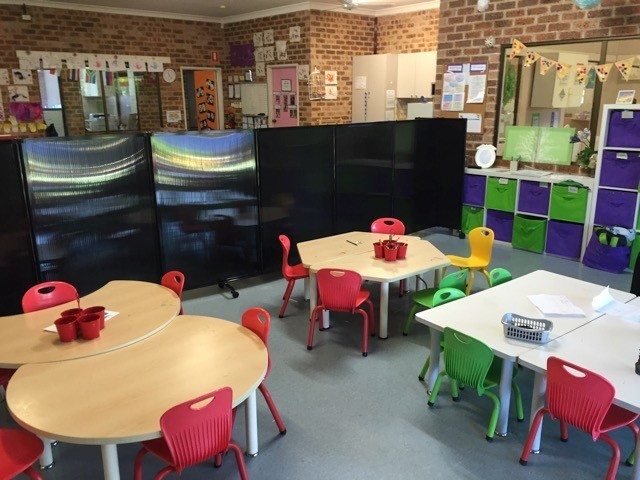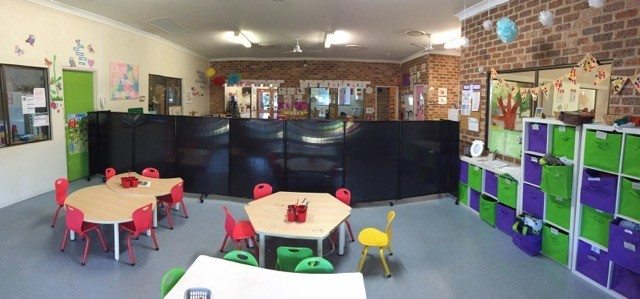 About this solution:
Client: Penrith Early Learning Centre
Partitions Used: 360 Degree Acoustic Room Divider (Polycarbonate)
Industry: Schools & Education
State: NSW