Small Dental Clinic Reception Design – Making Every Patient Feel Welcome
A trip to the dentist can be a stressful and frightening time, particularly for patients who have a history of dental issues, or anxiety surrounding dental procedures. But did you know that the design of your waiting room can play a major role in helping patients feel more at ease the moment they walk through the door?

A good design can make a dental clinic more comfortable, welcoming, and relaxing, which is great for reducing anxiety in the leadup to an appointment. This not only makes the experience better for your clients, it's also easier for a dental team to work on a relaxed patient.

But creating a great reception area can be particularly challenging for smaller dental clinics. Today, let's explore some dental clinic design tips for getting the most out of your waiting room while enhancing the customer experience.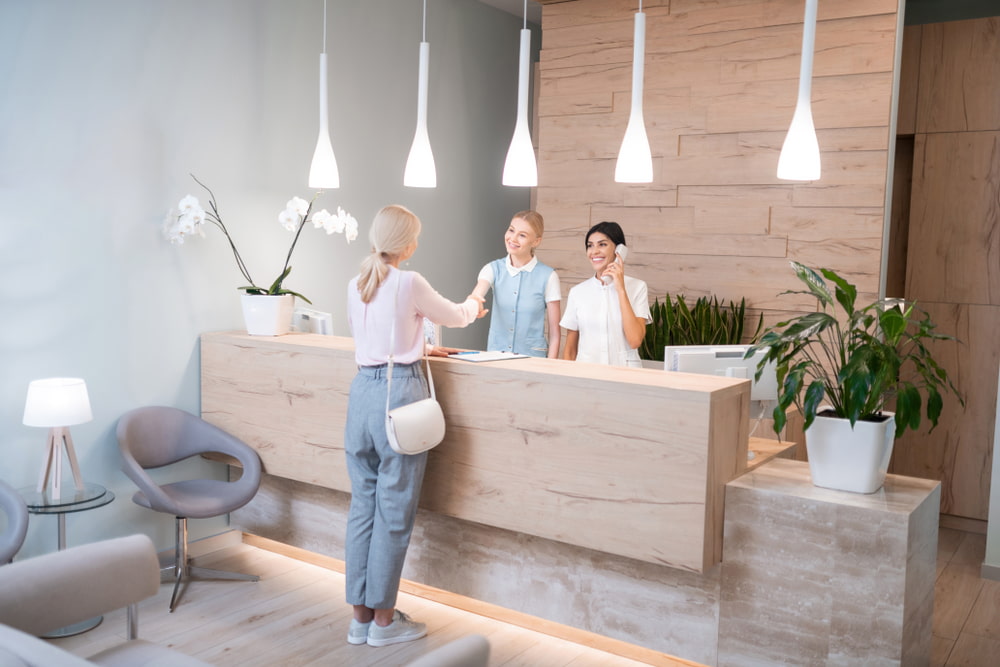 Dental Clinic Reception Area
Dental clinic interior design is about much more than just aesthetics. Design features such as the decorations, colours, and furniture can all have a huge impact on the comfort and mood of your visitors, so it's essential that you plan out these spaces carefully to maximise patient enjoyment.
The Right Colour Palette
To create a welcoming environment where visitors feel at ease, we recommend starting by considering your colour palette. Warm, pastel colours, for example, can help make your dental practice feel more inviting. Utilising a soft pink, orange, yellow, or even a warm blue in your dental clinic design can leave patients feeling more relaxed, calm, and comfortable.

Your waiting area should also be well lit using warm lighting. Try to avoid harsh, white-toned lights which can seem cold and unwelcoming.
A Warm Welcome
Dental clinic interior design can also help reception staff greet patients warmly the moment they step through the door.

Be careful not to place any barriers between the doorway and the reception desk. Placing the desk around a corner, for example, will break line of sight, impeding your employees' ability to greet new guests as they walk in. By ensuring that there are no obstacles in the way, your team can make eye contact and smile as patients enter the clinic.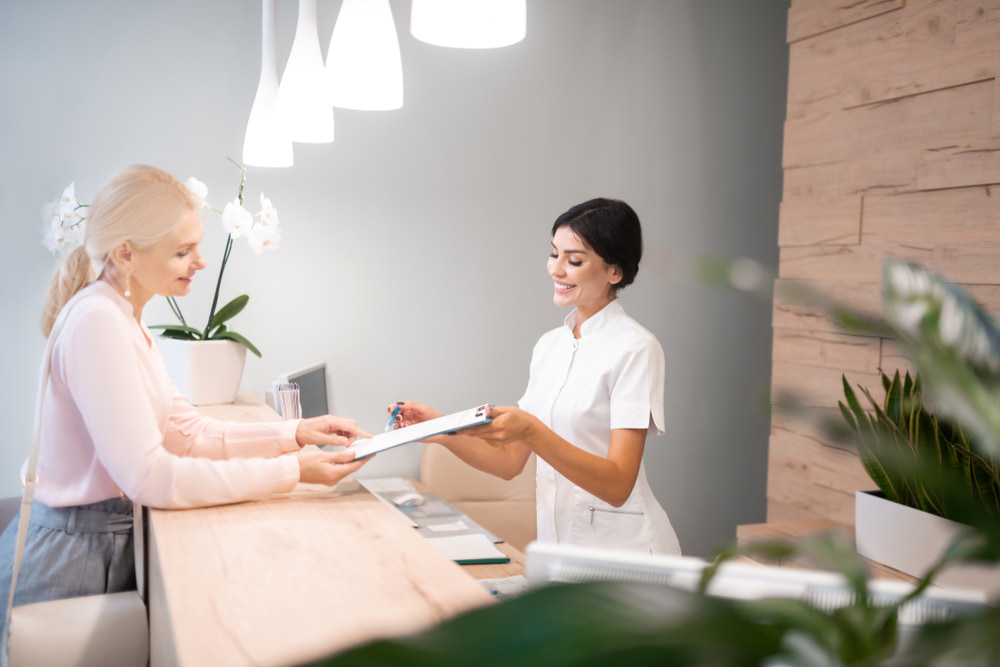 Furniture in your reception area
Clients can spend a lot of time in the waiting area, so it's best to prioritise patient comfort by selecting the right furniture. In most cases, offering a mixture of seating options allows people to choose how they spend their time waiting in your dental practice.

Helping people feel more comfortable and at ease in the waiting area is a great way of showing that your dental clinic cares about patient health, wellbeing, and comfort. After all, if a clinic cares about you in the waiting room, then surely the dentist will care about you in the consultation room too.

Chairs and couches should be comfortable, supportive, and positioned in such a way that your clients can keep an eye out for their dentist.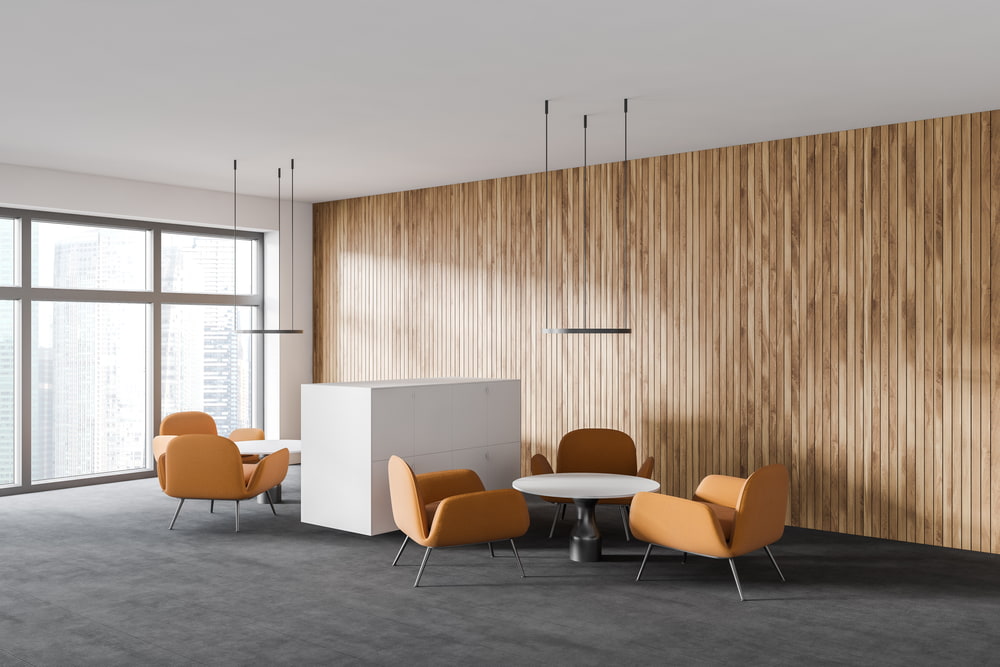 Don't Forget Your Team
While patient comfort is a priority for dental clinic interior design, take care not to lose sight of staff comfort either.

We recommend a supportive and ergonomic office chair that doesn't place undue stress on the body so it's suited to long hours of sitting. A rolling chair is an even better option, as it offers a little more flexibility to move between the reception desk, filing cabinets, printers, and other important resources in your clinic.

To ensure that all reception staff can sit comfortably, an adjustable chair is a great option, as it can be tailored to virtually any body type.
Patient Entertainment
Boredom can really make the time drag as your patients wait for their appointment. Help them pass the time by integrating an assortment of entertainment options into your dental clinic design.

A generous supply of reading materials such as books and magazines is a great place to start, but these days, there's all kinds of technology you can use to keep clients entertained. A television is a popular choice, though many practices are starting to utilise other forms of technology in their dental clinic design. This includes free Wi-Fi, iPads, and charging ports for charging up mobile devices.

For family dentists who work with a lot of children, creating a dedicated play area can help reduce boredom and maintain a calm environment as kids wait for their appointment.
Space Requirements for a Dental Clinic Reception Area
For maximum comfort in waiting areas, you want to ensure that several patients can sit in the space without feeling cramped or uncomfortable. Your layout should also facilitate easy patient movement, so visitors can reach the reception, their chair, and the consultation room with ease.

When it comes to how much space is needed in a dental clinic waiting room, the answer really is 'how much can you give? This, of course, can be quite a difficult question for a small dental clinic. Minimum recommendations vary anywhere from 110 sq. ft. and 240 sq. ft. depending on how many dentists you have, and how many chairs you have operating at any one time.
The Illusion of Space
Don't forget, clever dental clinic interior design can also help give the illusion of a larger room. Strategically-placed mirrors, as well as windows that let in natural light can help make a space seem bigger than it is. Glass doors and walls can also help 'open up' the dental clinic to make it look bigger. Clear or semi-transparent dividers also won't block out natural light sources, allowing you to brighten up the space.

Another way of making efficient use of your space is minimising internal walls, oversized furniture, and unnecessary decorations. This allows you to squeeze every square foot of floor space out of your dental clinic.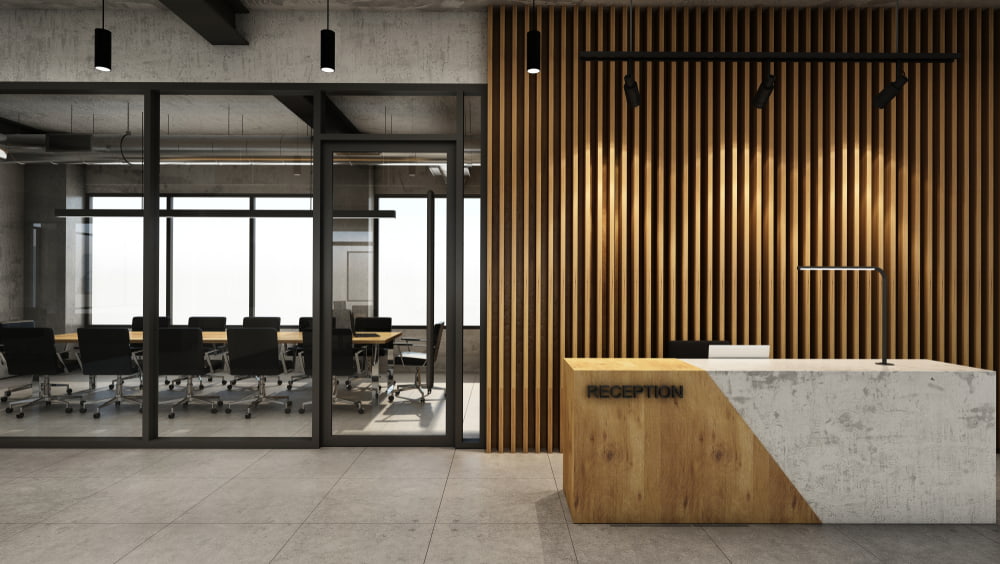 The Best Reception Desk Design for a Dental Clinic
As the centrepiece of your reception area – and the first thing people see when stepping into a dental clinic – your reception desk can have a big impact on a patient's perception of your practice. In a smaller clinic, this effect is even more obvious, as the desk can really dominate the space.

Here are some things to consider when selecting the best reception desk for your dental clinic.
The Reception Desk: Design and Style Ideas
The style of your desk will be dictated by the rest of your dental clinic interior design. If you've chosen an earthy colour palette, for example, a wooden desk can look particularly striking while tying the rest of the look together.

A more modern dental clinic interior design, on the other hand, may be better served by a neutral-coloured desk in a more minimalist style.

From there, you can customise the desk further with extra features such as the name of your dental clinic, branded pencils, toothbrushes, and more to add a little personality and an air of professionalism to the space.
Making a Connection
As the first point of contact with your clinic, how your patients are greeted at reception can really affect their perception of your practice. For this reason, the design of your desk is of particular importance in communicating a sense of welcome.

Many clinics choose desks with high walls or raised sides which can look stylish, but create a huge divide between your patients and your staff. It can also make it difficult to make eye contact.

However, removing the wall entirely can result in a lack of privacy for staff, which can potentially cause stress and anxiety. You may instead wish to consider a desk with a raised edge on just one side. This would allow your team to roll their chair out so they can communicate face-to-face with clients, while still enjoying the freedom to duck back behind the wall when they need to focus on their work.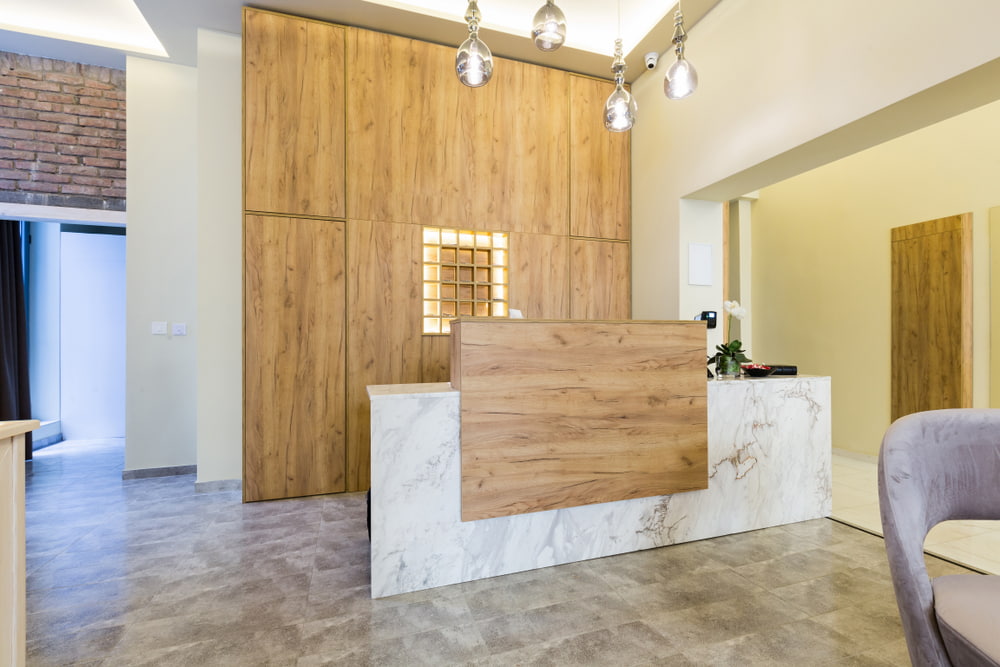 Your Desk's Footprint
Space comes at a premium in small dental clinics so you'll need to take extra care to consider the footprint of your desk.

A desk should be designed with functionality and practicality in mind, offering ample storage while enabling an efficient workflow for staff. It should be large enough for your team to work comfortably, but not so big as to be a waste of space that makes the rest of the layout seem cramped.
Decorating Your Reception Desk
When it comes to dental clinic interior design, the look of your desk can make all the difference. A messy desk can be seen to reflect a messy and disorganised practice, so be sure to keep it clean and uncluttered.

Utility is the name of the game in a small dental practice, so try to be efficient with your decorations by making every object on your desk count. Try to stick to pens or pencils, business cards, and other useful objects. For a more personal touch, consider also placing a jar of free toothbrushes, floss, or some other tooth-healthy gift that looks great on your desk while serving as a special thank you to your patients.

At special times of the year, such as Christmas, you may even want to have a little fun by stringing up Christmas decorations, lights, and other festive goodies. Just be sure these don't get in the way or impede staff efficiency.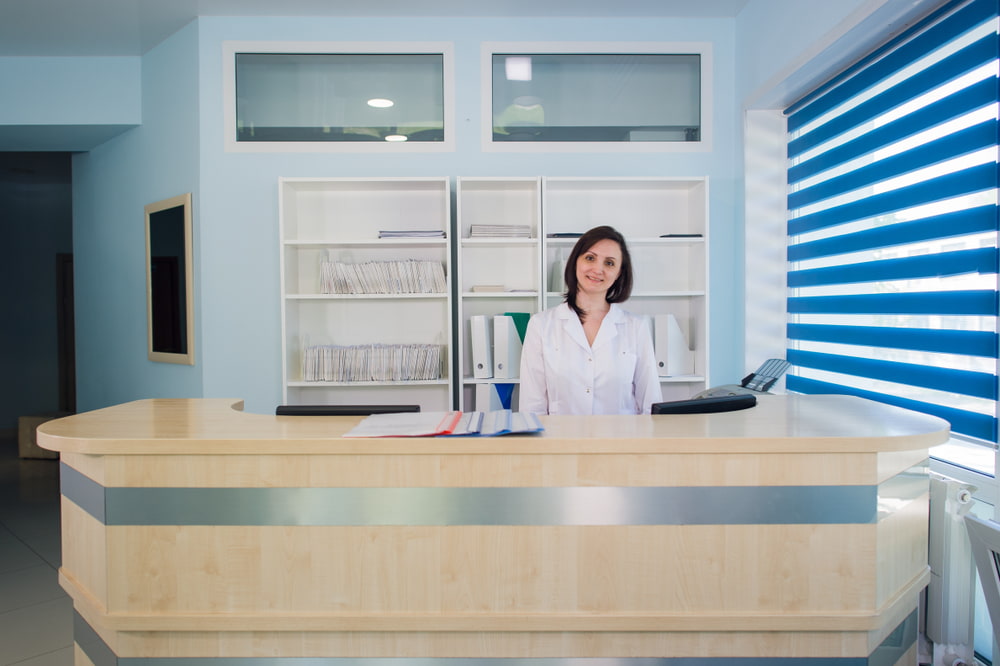 Make a great impression with a striking reception area
Your reception area is typically the first – and last – thing your patients will see when attending a dental appointment, so it's best to devote some time to making the best impression possible.

Here's a quick rundown of the dental clinic interior design ideas we explored today:
Create a warm, welcoming environment
Select a style and colour palette that remains consistent throughout your dental clinic design
Consider your colours carefully. E.g Blue can promote a sense of calm, while orange is a much more energetic colour
Make a great first impression with a functional yet stylish reception desk
Minimise obstacles between the door and the reception desk
Make patients feel welcome the moment they step through the door
Decorate the walls and even the roof rather than wasting floor space
Consider the layout of your clinic and how you can facilitate efficient movement throughout the space
Choose comfortable and stylish furniture that matches the design of your clinic
Integrate technology into your dental clinic design to help clients pass the time
Avoid clutter and mess – ensure no food, rubbish, or dental equipment is visible