Beaudesert Road Surgery, a frontline healthcare service provider, has been working hard to provide staff safety during COVID-19 as well as a safe environment for the patients that require their services. The practice provides a number of healthcare services for adults, children, and the elderly as well as prenatal care, women's health services, chronic disease management, cancer checks, and occupational health to the residents in the Queensland area.
While proper coronavirus precautions such as sanitisation, social distancing, and screenings are essential components of COVID-19 management, the practice decided to provide further protection for both staff and patients by choosing to install a 3-panel countertop protection screen. The screen is designed to block the transmission of the virus through the air, while still allowing the face-to-face interaction needed in a medical practice.
The workplace protection screen surrounds the registration counter, preventing respiratory droplets from transmitting between patients and staff during the check-in and checkout process. The bench top counter screen can provide staff with added protection against the contraction of the coronavirus from patients who may pass screenings due to being asymptomatic. This helps to make them feel more confident coming into work knowing that their safety is a top priority in the practice.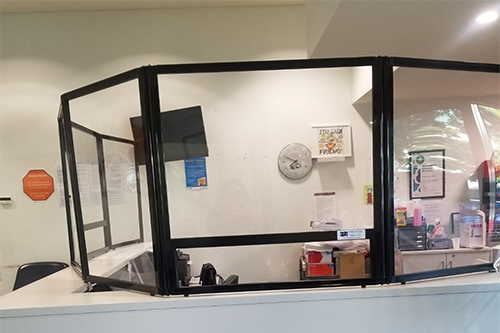 Not only does the screen provide a sense of well-being for the staff, but it also helps the practice to build trust with their patients, who may already be concerned about entering into a health care facility for fear of being exposed to the virus. By taking the extra steps to ensure patient safety, patients are more likely to seek out treatment when they experience a problem or illness, knowing that precautions are being taken seriously.
The 3-panel countertop screen is just one of the many products offered by Portable Partitions Australia to help protect both employees and the general public during the COVID-19 pandemic. Portable Partitions Australia (PPA) has created protection solutions for all types of industries as they begin to navigate the new normal for business operations during the pandemic. Whether your business needs a sneeze guard, perspex screen, or temperature check divider, PPA is focused on getting people the protection they need to allow them to obtain the essential services necessary to daily life.
Practice Manager Eva Williams discusses the way that the 3-panel countertop protection screen has improved the safety of the practice and provided peace of mind to both staff and customers. "Thank you, Portable Partition Australia. Beaudesert Road Surgery staff and patients love the screens. They feel safe and protected. The screens merge with our environment very well," states Williams.
Countertop protection screens and other partition equipment from Portable Partitions Australia can help tackle the challenges that many businesses experience in the wake of the COVID-19 pandemic, providing a safer environment for both staff members and consumers.