Medical centres and workers are on the front lines of the COVID-19 crisis, and even though numbers have been slowly declining, preventing a resurgence is critical. The ease with which the virus spreads makes ensuring staff safety during COVID-19 the utmost importance for medical centres across the globe, like at Weyba Medical Centre. Weyba Medical Centre provides consultations, diagnostics, and treatment for patients in the Queensland area seeking medical treatment for routine and urgent conditions.
With the coronavirus presenting like a cold in the early stage of the illness, the frontline staff at Weyba Medical Centre knew that they would be faced with the possibility of encountering infected patients, many who may not realise they have contracted the virus. Even with proper social distancing measures and proper PPE, the medical centre knew that their staff would be at a higher risk for transmission than workers in other industries. Therefore they decided to provide their workers with added protection by installing a countertop protection screen to create a barrier between frontline staff and patients preventing virus transmission, while still allowing for face-to-face interaction needed to provide patients with the proper care they need. The screen can provide the protection needed against transmission of the virus when proper social distancing cannot take place, such as during patient registration and checkout.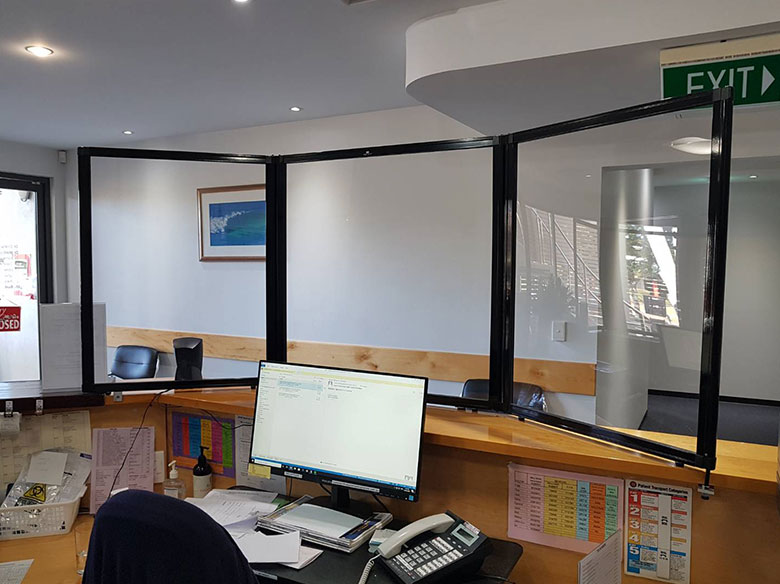 The countertop protection screen does not only provide greater peace-of-mind for the staff, allowing them to feel comfortable returning to a work environment, knowing that the centre has taken the extra steps to ensure their safety, but also can help to build trust with patients.
Patients are already wary of entering medical facilities for fear of contracting the virus while being seen for something less severe, causing many people to fail to seek necessary treatment to help them get better. By adding additional protection equipment like the countertop protection screen, following santiising protocols, and screenings, patients seeking medical care at Weyba Medical Centre can feel more confident that the necessary steps are being taken to significantly reduce their chances of contracting the virus, while getting the treatment they need.
Weyba Medical Centre purchased their screen from Portable Partitions Australia (PPA), a company determined to help reduce the transmission of COVID-19 and other airborne viruses by providing industries with the safety equipment they need to open their business to the public safely and responsibly.
PPA has become a go-to company for protective equipment during the coronavirus pandemic. Whether your business is in need of a perspex screen, a temperature check screen, or other form of barrier protection Portable Paritions Australia has what you are looking for.
Practice manager at Weyba Medical Centre, Rebekah Macek discusses how PPA helped them to provide proper protection for both patients and staff.
"From the moment I started the Live chat, the customer service experience was incredible. The salesperson, was prompt, knowledgeable and very helpful. We purchased the partition because we needed something stable that could be fixed to our desk without causing damage in case we want to remove the partition at a later date," she said.
"The partition also fits in well with the 'office look' rather than a cheap looking and flimsy perspex screen," she stated.
When asked how the new countertop protection screen impacted the centre, she responded, "We've had the screens installed for a week now and so far no problems at all. We chose to have our screens manufactured with no trade slot as it would be directly at face level when the receptionist is sitting. We purchased two screens and installed them at each workstation. Our reception desk is big enough to have an area with no screen where the eftpos machine and anything else is accessed."