Gyms are beginning to reopen across the country and for those who have been suffering the mental health effects of the COVID-19 pandemic such as stress the reopening could not have come at a better time. While it means that gym-goers can get back in shape and improve their mental health, the reopenings are coming with many restrictions to prevent a resurgence of the coronavirus. Protocols include regular sanitisations, the need to bring personal items such as towels, adjustment of machine location, social distancing, and unfortunately a reduction in the number of people that can be in the building or attend various classes.
While gyms are excited to get back to business, facilities like F45 gym in Sydney are feeling the pressure to provide for their patrons amidst the new guidelines. F45 is one of the largest players around the globe when it comes to team and class training and they were concerned about how the limitations on class size, due to distancing measures would affect their ability to functions as they should. They were only allowed 10 people in one classroom, limiting the number of people that they could train at one time.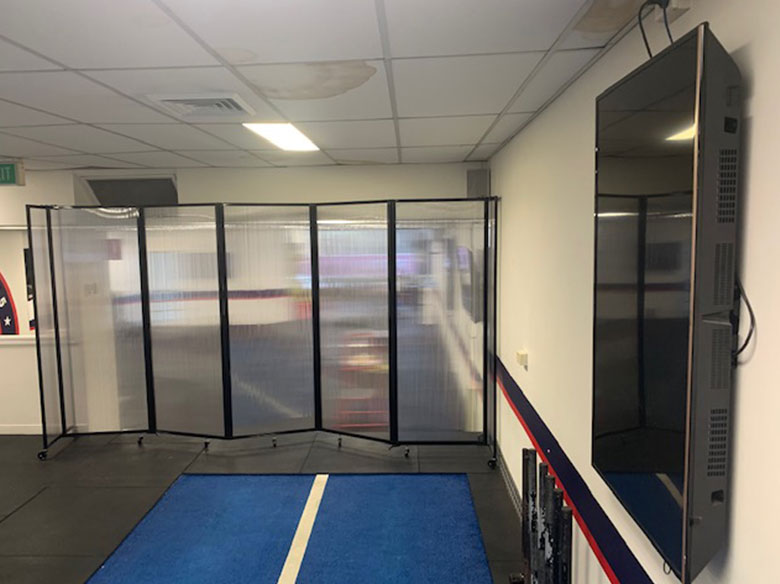 F45 was not deterred they instead came up with a solution to allow them to accommodate twice the amount of gym members while still keeping protective distancing measures in place. So how did they accomplish this goal? By installing mobile germ protection screens.
These room dividers allowed them to create additional classrooms in their facilities while preventing the transmission of the virus between them, ensuring both staff and member safety.
This addition has allowed them to maintain trust with both their staff members and patrons, showing them that they take both the protective measures needed to prevent the virus resurgence and their need to get in shape to become mentally and physically healthy.
F45 secured their room divider from Portable Partitions Australia who provide businesses in all industries with the protective equipment that they need to get their business back open safely.
Whether business are looking for a perspex screen or temperature check station, PPA has the equipment needed for virus and germ protection. PPA knows how hard the fitness industry has been hit during the COVID-19 pandemic and have come up with the solutions gyms need to be able to provide their services to as many members as they can safely.
Mark Richardson, of F45 Willoughby, describes how the room divider has helped their gym to serve more people. "The portable room divider is perfect for our needs to optimise our space and adhere to current restrictions – it's flexible and doesn't require any installation so I can also use it in a range of applications in the future."