Tens of millions of dollars were output by the Australian government to help more than 260 childcare centres in the country stay open during the COVID-19 pandemic when they did not qualify for other federal funding. With this new mandate, childcare centres, including Only About Children have remained open to provide care for frontline staff who still need to report to their employment while others have been encouraged to stay at home.
Only About Children are one of the most well-known and respected early learning organisations in Australiaand takes a holistic approach to the higher education of children so that they are not only learning but are continuing to grow as healthy individuals. The centres, that provide care for children up to the age of six, have faced some unique challenges during the recent pandemic, trying to ensure staff safety during COVID-19 while ensuring the children are protected as well.
Staying open during these challenging times has created a new normal for the childcare centre, requiring constant sanitization, handwashing, and social distancing, which can be extremely difficult to explain and manage with young children. To create a safer environment for staff members and children,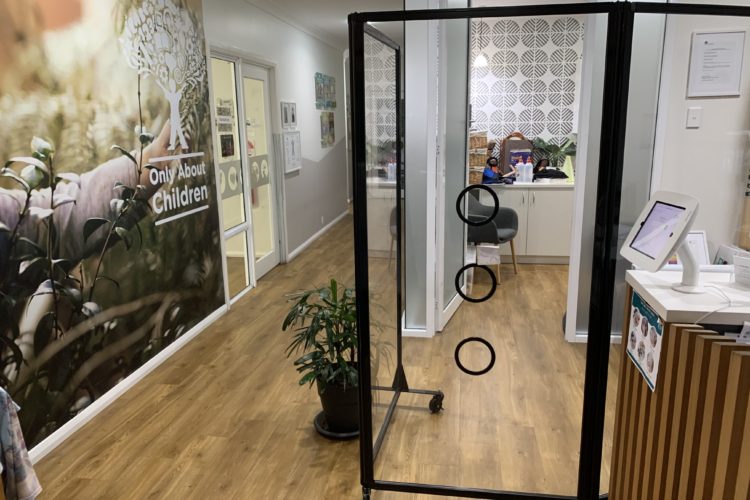 Only About Children childcare centre in Freshwater, Sydney has taken precautions even further by installing a temperature check screen from Portable Partitions Australia (PPA).
The temperature check screen creates a protected area where children, parents, and staff member can be screened before entering the building, without risking contamination to the other students and staff inside. The full-length screen protects against the transmission of germs and follows the proper social distancing requirements needed to reduce the spread of the coronavirus.
The new screen not only helps to protect staff members, working in a high-risk environment, but it also helps to build trust with the families entrusting the centre with their child's care, during these uncertain, and somewhat frightening times.
Portable Partitions Australia offers businesses a complete line of products to help protect workers and patrons from the transmission of the virus so that businesses can have the proper precautions in place to keep staff and customers safe as businesses across the globe are beginning to reopen. They offer a wide range of products to suit any industry whether you are looking for a temperature check screen, a perspex screen, or a 3-panel counter top screen, PPA has the equipment you need to create a safe environment during the current pandemic. Assistant Campus Director at Only About Children Freshwater Campus, Sunita Shah, describes how the new temperature check screen has provided additional protection for their facility. "There has been plenty of positive feedback from the families, and the customised three temperature checking holes have made it easy to use for the different age groups. Initially, some team members thought it may be intimidating for the children, but in fact the children adjusted quickly to it. The team appreciate the added protection to their own health and safety while working on the frontlines during this pandemic."