Northern Beaches Christian School
Creating Ample Functional Space to Accommodate a Flexible Classroom is a Common Conundrum in Schools Today
Modern educators face a seemingly non-stop barrage of challenges in reaching their impressionable students, thanks to an ever-flourishing deluge of technology and other distractions. Teachers also deal with varying degrees of parental involvement, along with the pressure they face in striving to design and deliver a 21st century curriculum. Educational administrators are increasingly beginning to adopt the concept of the flexible classroom.
The primary issue administrators face in exploring this innovative teaching concept is finding the appropriate space to create and foster a healthy flexible classroom, which also needs to adequately facilitate the necessary supplies such as moveable whiteboards. The Tarrant Institute for Innovative Education confirms current educational notions that developing these flexible classrooms leads to flexible learning in an engaging environment.
With such a cutting-edge learning environment, educators and students do not feel hemmed in by the traditional classroom set-up, which often involves sitting face forward in restrictive desks that do not allow for each student's optimal interaction, understanding, questions, and personal expression. For such a learning scenario to succeed, educational administrators and teachers need to use ingenuity to create these highly effective personalized learning environments with limited space and while staying within their allotted budget.
Schools are not the only organizations that face limited space, unique needs, and financial resource issues. These organizations often use larger, alternative spaces, such as vacant cafeterias or large conference rooms, to suit their specific needs to design smaller and more specialized areas. By using something akin to a school room divider or other school partitions, organizations can create the specialized environment they need.
Northern Beaches Christian School – Vibrant, Dynamic and Student-Centred
Northern Beaches Christian School, located in the Sydney suburb of Terrey Hills, is a co-educational, independent, and non-denominational Christian day school that focuses on vibrant, dynamic, and student-centered education from kindergarten through year 12.
Featuring a spirit that embraces innovation, technology, paradigm shifts in learning design, and bold creativity to optimize learning potential, it is no surprise that Northern Beaches Christian School considers the flexible classroom concept an ideal way to empower their students.
The Spatial Challenges That Northern Beaches Christian School Faces in Developing a Flexible Classroom
Like many schools that work to implement a flexible classroom learning program, Northern Beaches faces spatial challenges. Since many of these classrooms are "floating learning areas," meaning they do not permanently belong to any one teacher or subject, it is important to find and use larger spaces that have times when not in use.
The next issue that the school faces involves creating multiple separate flexible classrooms for various subjects and learning objectives. These distinct areas need something similar to a school room divider that both eliminates any noise from other flexible classrooms and fosters easy interaction among students and teachers within each space. It is also important to have the capability of setting up moveable whiteboards and projection screens or viewing monitors for presentations.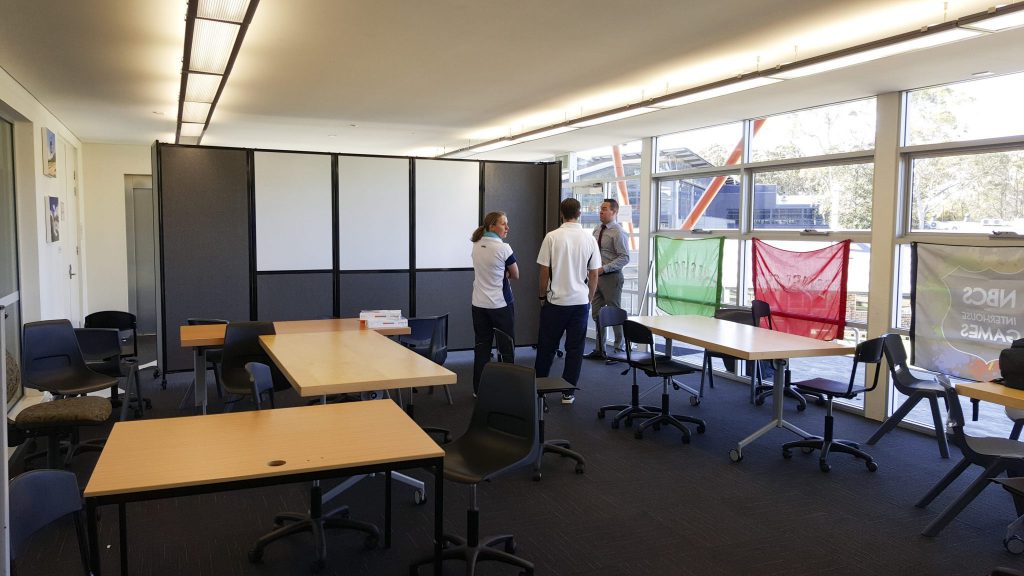 .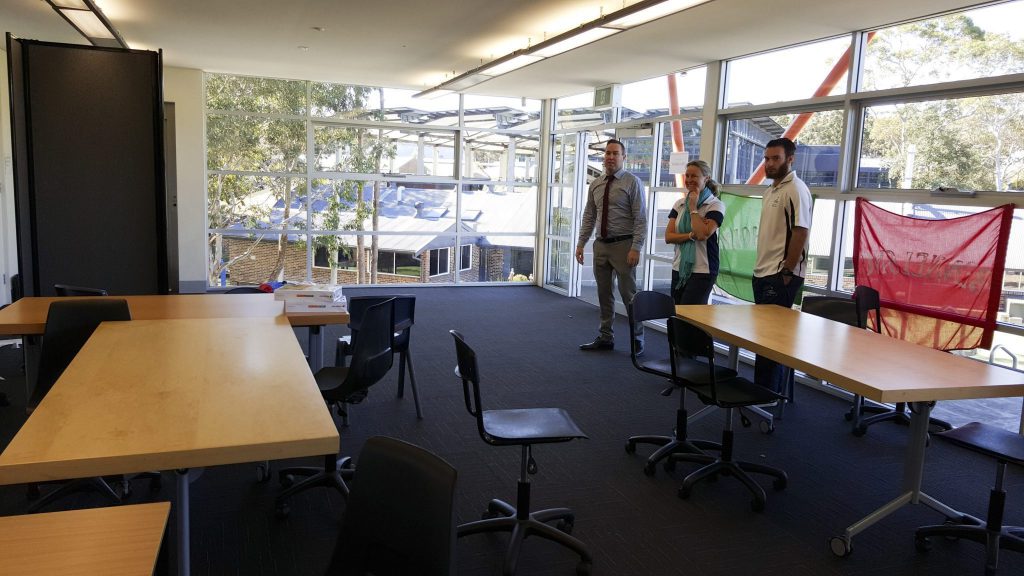 Flexible Classroom Solutions Are Simpler Than Educational Administrators May Realize With School Partitions and Similar Classroom Divider Solutions
Many schools choose to use their gymnasium to create their flexible classroom. Using school partitions, a classroom divider, or another type of school room divider to separate each of the unique learning areas, these administrators can easily provide an environment that fosters educational enrichment that often exceeds that of a traditional classroom.
By using room dividers and panels, school administrators often manage to use their gymnasium to simultaneously hold a physical education class and a health education class to maximize space. Such solutions also create a more insular and engaging space for students while staying well within the school district's budget. Edutopia reports that flexible classrooms do nurture positive effects among students, citing improved grades, satisfied teachers, and perhaps best of all, happy and engaged students.
Sources
http://www.edutopia.org/practice/flexible-classrooms-providing-learning-environment-kids-need\
http://www.edutopia.org/blog/creating-wow-worthy-learning-spaces-todd-finley