Modern Real Estate Office Design – Ultimate Guide
Not only do real estate companies need to keep up-to-date on the property market, they need to be able to prove they're up-to-date on all the latest design trends as well. After all, if your brand doesn't have their finger on the pulse about 'what's hot and what's not' in interior design, how can your clients trust you to steer them in the right direction when buying or selling their property?
Today, we'll be exploring the real estate agency design tips and trends of 2022. Use these as inspiration for your own design so you can present your real estate business as the professional and experienced brand you know it to be.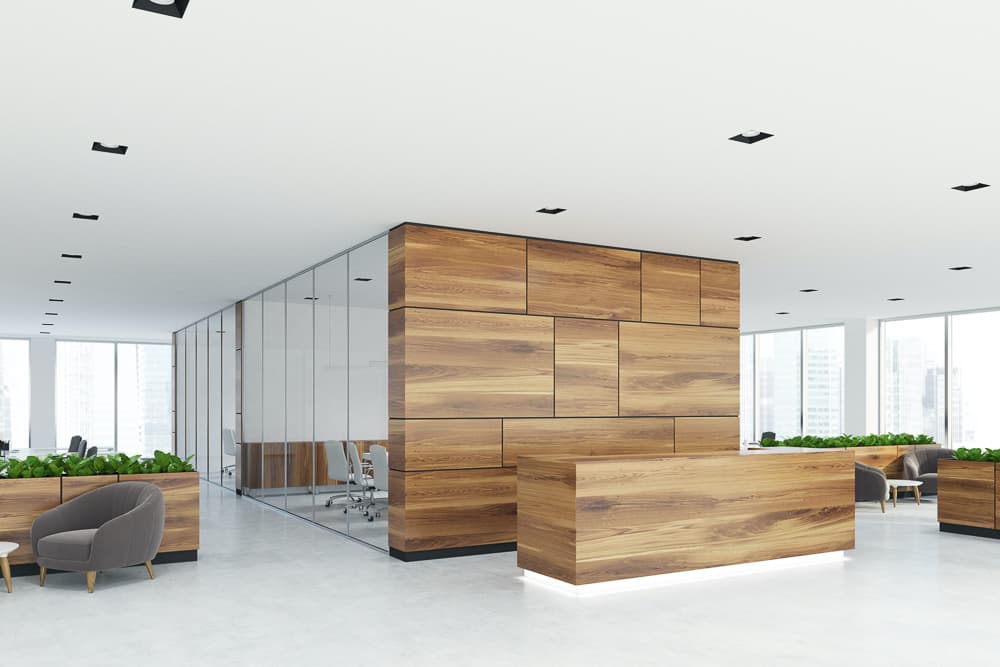 Real Estate Office Design Ideas
When planning out an office space, the most important thing to consider is how you want your clients to see your business. This is where modern office design principles can help you make the right decisions. Once you know your brand, you can then go about capturing it in your office decor. If you specialise in the residential property space, for example, this should be reflected in the office interior. Plants, warm colours, a comfy sofa, and other 'homey' elements can help a space feel more friendly and inviting. Take care not to add too many elements to the space, as it's a fine line between 'casual' and 'cluttered', and too many objects can leave a room feeling disorganised.
Alternatively, if you specialise in the corporate property market, your office will need to reflect an additional level of professionalism. A minimalist design, a well-organised layout, elegant furniture, and a more neutral colour palette can help your company appear more professional to those visiting.
Real Estate Office Design Trends
Real estate is a fast-paced industry where the latest and greatest trends of today can be all but forgotten tomorrow. This can make it challenging for offices to keep up with the latest styles. But don't worry, you won't need to enlist the help of an interior designer to keep your office looking fresh and modern.
Here are some modern real estate office interior design trends to inspire you.
Open Plan Designs
Real estate is a fast-paced industry where the latest and greatest trends of today can be all but forgotten tomorrow. This can make it challenging for offices to keep up with the latest styles. But don't worry, you won't need to enlist the help of an interior designer to keep your office looking fresh and modern.
Biophilic Elements
Not only do biophilic elements (such as plants) bring much-needed colour to offices, they've also been linked to all sorts of benefits, including greater productivity, better acoustics, and even less sick days for staff.
You can even spruce up the place – if you'll pardon the pun – by creating visually striking barriers out of plants. These offer extra privacy while guiding people around the room, making them an attractive alternative to traditional walls or cubicles.
Remember to take lighting into consideration when integrating live plants into a room. Your team may not appreciate working in the office if you fill it with wilting plants.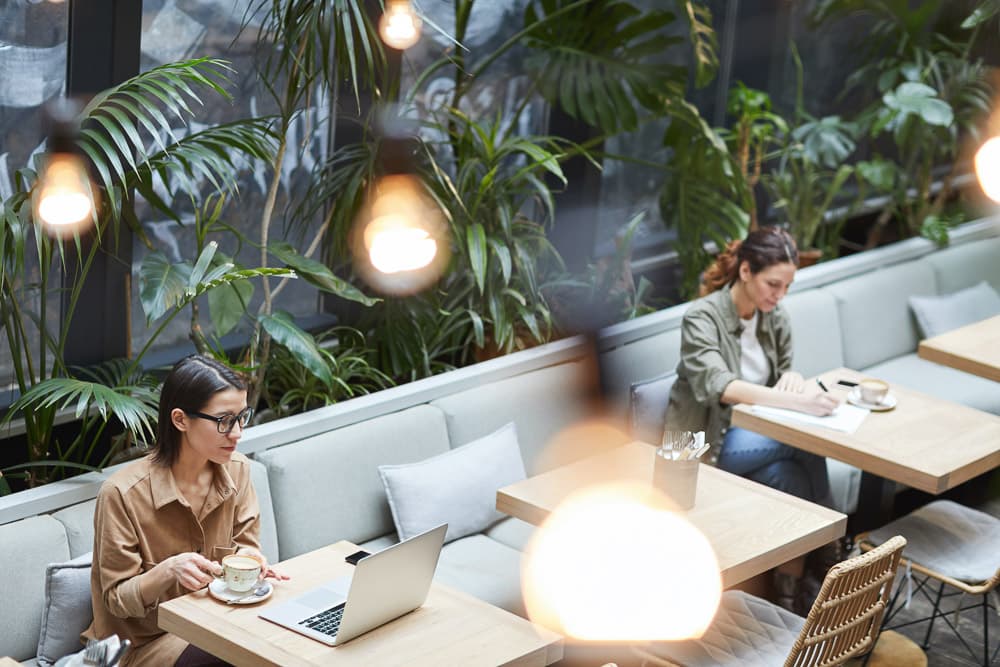 Collaborative Spaces
A large, shared table doesn't just serve as a place where teammates can discuss and collaborate, it's also an outstanding space for hosting meetings with your clients. It's important for a collaborative space or conference room to be as comfortable as it is practical. Search for comfortable chairs and tables, and be sure to arrange the room in a way that allows everyone to see and hear one another, contribute to the conversation, and view presentations. Most importantly collaborative spaces are not exclusive to the Real Estate industry, for example the concept is widely seen in modern law office design and other commercial office space verticals.

If you often host remote meetings, make sure the room is updated with all the latest video conferencing tools so that every meeting goes off without a hitch.
Integrated Technology
From visual presentations to phone calls and remote meetings, the modern real estate agency needs to be a place where technology has been seamlessly integrated into the interior design. In this digital world, your office will need to be fitted out with all the high-tech security systems, high-speed internet, and presentation tools that teams need to work productively.
Incorporating tech, such as TV screens, into a reception area can also add a bit of sophisticated flare to the environment, helping project an air of professionalism.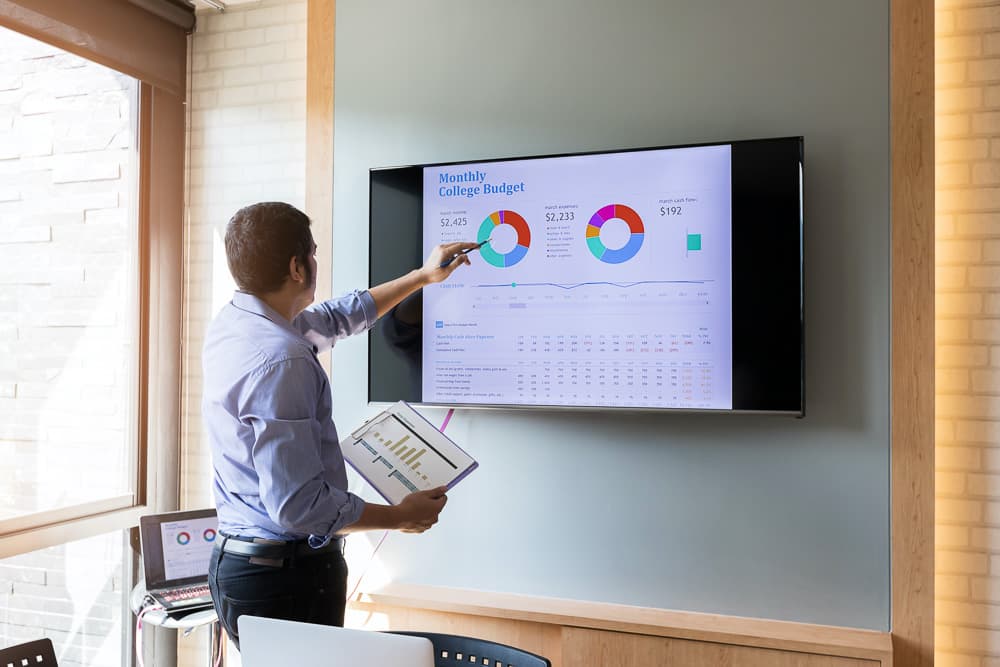 Capture Your Brand Identity
Competition is particularly fierce in the real estate industry, meaning the need for curbside appeal couldn't be any higher.
Brand identity is the key to differentiating yourself from the competition so you can connect with your customers and attract them to your real estate agency. Your brand's identity needs to flow through every aspect of your company, from websites, logos, and business cards, right down to your interior design.
Before decorating the room, it's best to sit down and consider your brand identity and how you can represent this in your office design.
Flexible Layouts
Hosting a range of different clients and supporting a variety of projects and work styles, the design of a modern real estate office needs to be ready for anything. You can build flexibility into your office by giving teams greater autonomy, purchasing adjustable seating, and creating areas that are dedicated to different styles of work.
One way of making the office more adaptable is fitting out the room with mobile room dividers. Not only do freestanding partitions let you customise the layout of an open workspace, they're also much more cost-effective compared to installing permanent walls.
Check out how Raine and Horne Werribee were able to transform their real estate office using portable partitions.
Real Estate Office Furniture
The furniture you choose to put in your real estate office can have a big impact on the productivity of your team, as well as the opinions of your customers.
You should start by choosing furniture that reflects the style of your brand. A modern real estate office should be fitted with sleek and contemporary-style chairs, while more 'edgy' companies may be better served by something with a more angular form. Similarly, minimalist office spaces should be furnished with simple yet highly functional tables, chairs, and desks. Choosing the wrong pieces will make the space look inconsistent, so be sure to search for something that's comfortable, functional, and in-line with the rest of the interior design.
Mobile, adjustable, and ergonomic seating is a good way of introducing an element of flexibility to your design. Specifically designed to deliver ultimate comfort and support for the human body, ergonomic seating allows staff to adjust their chairs for greater comfort throughout the day.
Be sure to measure the space before making any purchases. If a chair is so large your staff can't even pull it under their desk, they'll be forced to lean forward and work at an uncomfortable angle, potentially impacting focus and productivity.
Real Estate Office Wall Decor
Too many bare walls can make an office seem lifeless and boring, but with the right decor you can reinvigorate the workplace with a splash of colour. Here are some ideas for the kinds of wall decor you can use to bring your real estate office back to life.

Artwork and photographs capturing your brand identity and brand colours
Photos of staff
Seasonal decorations
Sweets and treats for staff and visitors
Indoor plants
Company mission statement
Brand name and logo
Mirrors
Feature wall
Bookshelves
Real Estate Office Set Up
Setting up your real estate office can seem like a daunting project. Below, we've included a simple step-by-step guide to help you navigate the process.
Step 1. Establish Your Brand Identity
The first step to setting up a modern real estate office interior design may not start in the office at all. Establishing your brand identity and how you wish to capture this in the physical space is essential to the final layout and look of the room.
Step 2. Choose Your Colour Scheme
During the branding process, you'll likely have chosen the colours that will feature in your logo, website, and marketing material. These brand colours should also be incorporated into the physical design of your office.
Please note, if your colours are very warm, bright, and energetic – such as orange or yellow – they may not be the best option for an entire feature wall. You can still use these vibrant colours as accent colours on smaller objects such as pens and wall art.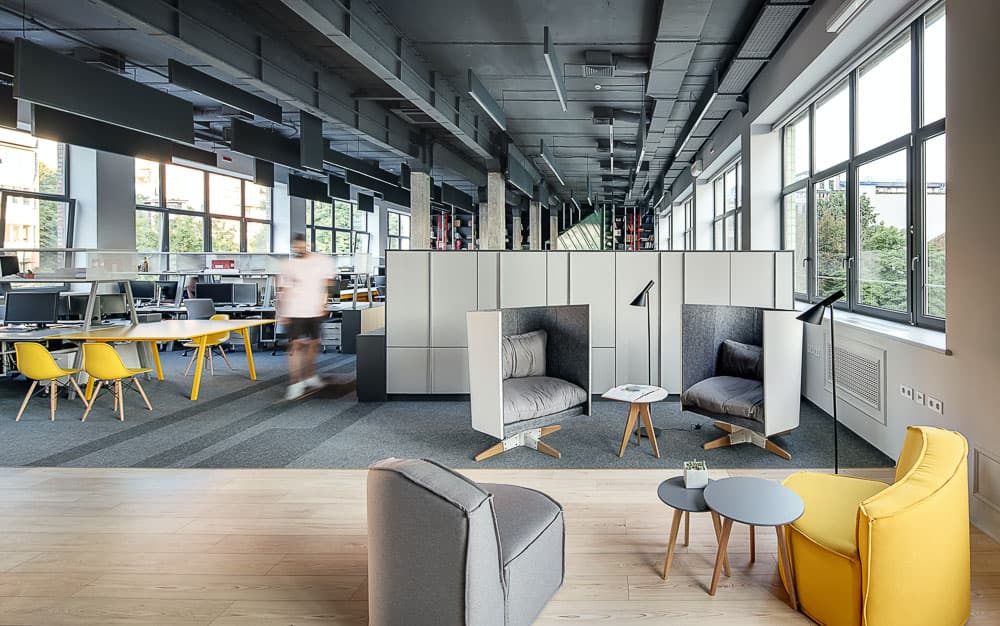 Step 3. Consider the Needs of Your Employees and Clients
The most important thing to consider when designing an office is the people who'll be using it. Note down important factors including how the office space is going to be used, as well as any physical requirements or limitations that may impact how you design the area. The modern office needs to be comfortable and welcoming for all, so it's best to plan ahead and come up with a design that caters to all ages, genders, work styles, and physical capabilities.
Staff and clients are sure to appreciate any company that's gone out of its way to design an inclusive office.
Step 4. Map Out Your Floor Plan
Once you've worked out how people will be using your office, it's time to make a floor plan that best facilitates this. Map out the layout of your space and begin marking down where everything will go in the room. Feel free to get a little creative here. This is the safest time for businesses to experiment, make mistakes, and try new things without sinking a lot of money into the process.
Step 5. Dress Up Your Walls
Now that you know what colours you want for your interior, it's time to get painting. Too much colour on the walls can be annoying and distracting, so interior designers recommend sticking to light or white coloured walls with one accent colour.
A feature wall is an excellent way of livening up a boring room without overwhelming the senses. Remember, a feature wall can be created with more than just paint. Some designers, for example, install uniquely textured feature walls, or even create a 'live wall' that's covered in living plants.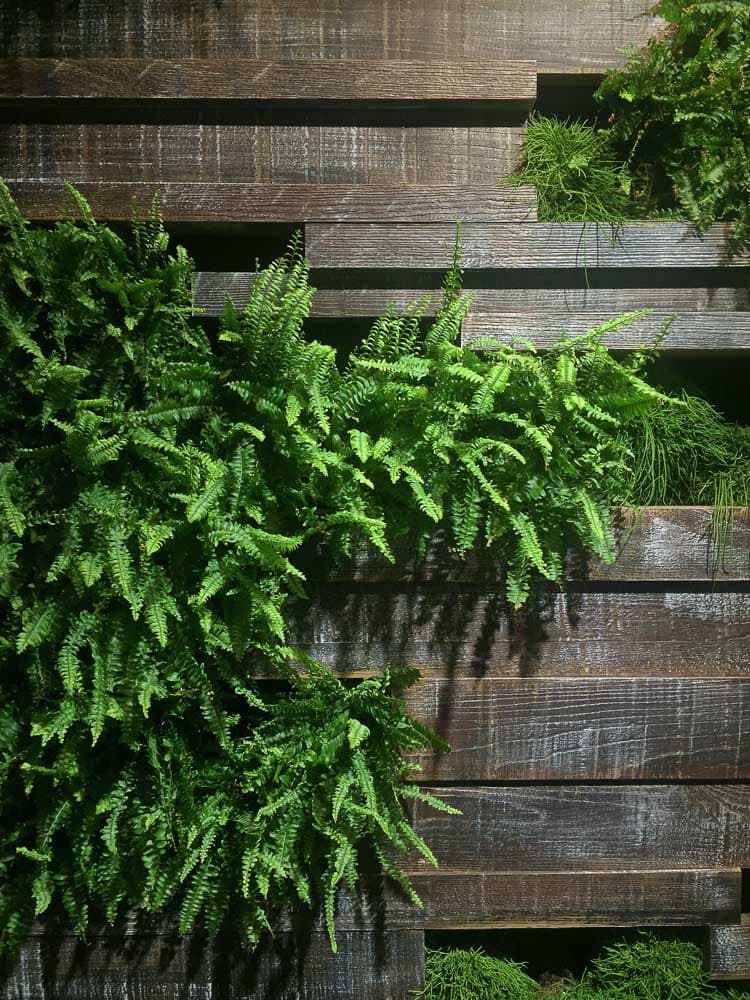 Step 6. Measure Twice, Cut Once
Now, it's time to start measuring. Not just the interior of the building, but also all the tables, chairs, decorations, and wall decor you intend to install in the office. Also make sure to measure the width of doors and narrow hallways so you can be certain you can get everything into the building.
It's best to select ergonomic and adjustable seating which can cater to a broader range of body types. Not only will this improve staff comfort, it can also be a future-ready and budget-friendly solution for when staff leave and new people take their place.
Step 7. Write a Shopping List
Now that you've got all your needs and preferences listed down, and you've measured every possible angle of your office, it's time to make a shopping list. At this point it can be very easy to forget things, so we suggest breaking down your list into different categories such as decorations, office supplies, seating, and more.
Next to each item on the list, you may wish to jot down any needs and wants, as well as important measurements. This will give you something to refer back to during purchasing to make sure each item has all the key features you're looking for.
Step 8. The Finishing Touches
Once all the major pieces have been installed, it's time to start decorating. This is where you can start hanging paintings and photos on the wall, putting decorations on the desks, and placing plants and other objects throughout the room to complete the look. Consider seeking input from your staff. Encouraging your teams to be a part of the design process can help create a greater sense of ownership over the space while showing that you value your employees' ideas and opinions.
Be careful not to add so much to the office that it starts looking messy or cluttered. Interior design elements tend to pop when they're not having to compete for attention. Less is more, as they say
Step 9. Make Adjustments
Sometimes you can't know something will work until you see it in real life. Be flexible about your interior design, and be prepared to make adjustments if there's something you don't like. Seek feedback from your teams and make sure they're happy with the room.
Your employees will be spending a lot of time in the office, so it's important to identify any problems before they become a serious issue.