On-site and mobile healthcare clinics are nowadays finding a lucrative niche in providing on-site health care services for employees. The commercial and public sectors are increasingly seeing the value in providing on-site healthcare as it improves employee morale and reduces downtime due to medical appointments and illnesses. For people sitting at a desk all day, back problems can become common.

Osteo2U has built a business helping address lumbar and back problems of Australian employees and corporate clients by providing on-site osteopathic treatment. Usually, an in-office health service like Osteo2U would use an existing meeting room in an office as the treatment room, or designate a corner in an open area, but is not really an appropriate set-up when getting intimate treatment like osteopathy. As with any professional treatment to cure back pain, patients need privacy during the treatment process. So how do these on-site and mobile health servicing companies deliver patient care with appropriate privacy?

Osteo2U needed portable treatment rooms that could be easily flat-packed for transport in the back of a van or station wagon, and can be quickly and easily set up on site. But
most of all the screen should also provide sufficient privacy for the clients.

Being osteopaths, they also understand the need for safe handling techniques. So the product that they were looking for needed to be lightweight – ideally under 20 kg. Nobody wants treatment from an osteopath with a bad back!

It was also important for them that they had professional-looking, service-appropriate solution, and the ability to be set-up in different configurations as they understand every office they have serviced and will be visiting are a little different.

After a short phone consultation, it was the Freestanding Portable Privacy Screen (Polycarbonate) product that they found as the perfect pick. It is a simple 3-panel acoustic folding privacy screen that can be positioned in any non-linear shape such as zig-zag, curved, and L-shape.

The bottom framing of the partitions meets the floor with no gaps at all in between, perfect for ensuring the patient's privacy during treatment, and significant for reducing sound levels for a comfortable and relaxing treatment procedure.

Though lightweight, the partitions are reliably sturdy, very portable, and can fit perfectly in a service vehicle.

The Freestanding Privacy Screen can also be customised in terms of color, material used, and flexibility.

Osteo2U picked two of these freestanding privacy screens. One screen with panels grey-white-grey and the other with white-grey-white.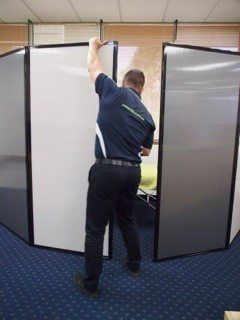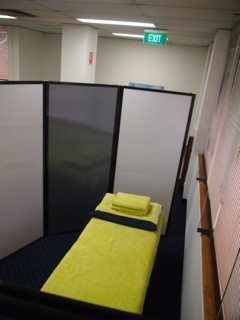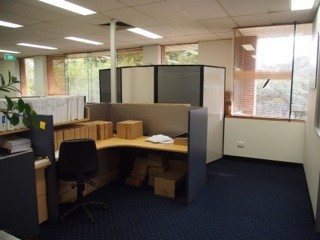 Portable Partitions privacy screens fit exactly to what Osteo2U was looking for. It is the perfect solution that addresses the need for portability, ease of use, and ease of on-site setup without the need for hard labour or special tools.