Kindergarten is an important milestone in a child's education. It is when children develop their social skills, get exposed to new ideas and concepts, and appreciate the joy of learning with group activities and interaction, such as communicating, drawing, and making things together with other children their age.
Teachers and carers look for every opportunity for the young students to get to know each other better, including designing seating arrangements that encourage interaction and sharing. However, it's a different scenario when two age groups of young students are in the same room. Kindergarten often have multiple groups (of varying ages) using the same space – causing mayhem and chaos. Imagine the challenge that the teachers go through in educating and playing with tots, not to mention how the noise and rowdiness intervenes with the children's learning. So how do different kindergarten programs go about this?
Happy Kids Kindergarten, a long day care centre at Lane Cove, recently got in touch with Portable Partitions Australia (PPA). They asked PPA to assist them in making a movable wall to separate two age groups in a main room. They wanted a room divider where supervisors should still be able to see the children on both sides of the screen; hence, the height of the room partition had to be customised.
After consultation with Portable Partitions Australia, Happy Kids Kindergarten selected the 360 Degree Acoustic Portable Room Divider (Fabric), modified to only 5ft in height, enough to separate the two kids group – while the teachers can still monitor the children from both sides of the room.
The portable room divider that Happy Kids chose is made of a fabric panel that can accept pins and Velcro – allowing hanging objects such as artworks, posters, photos and other commonly used kindergarten essentials. It is also engineered with acoustic panels manufactured from a honeycomb cell core, fiberglass sheets on both sides, and specialist acoustic fabric – so it helps to dampen noise coming from the separate age groups. It is lightweight but sturdy (a must when it needs to be safe for kids) and easy to move around. When not in use it is simply rolled away for quick and easy storage.
Looking at the photo below – the chosen portable room divider was able to create two separate areas in a main room. This set up made it possible for the two different age groups to be separated from each other while allowing the supervisors to be able to see over the partition, enabling easy monitoring of the children on both sides of the screen.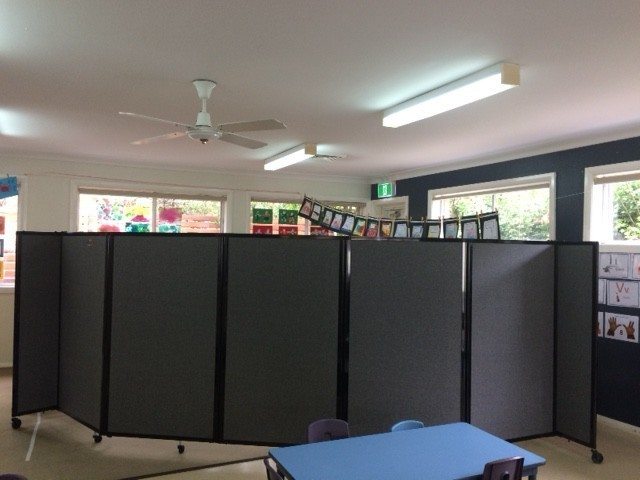 About this solution
Company: Happy Kids Kindergarten
State: NSW
Partitions used: