School and college libraries are often used for a variety of functions beyond simply information sourcing and study. There is often a requirement to create additional temporary break out spaces or 'rooms within rooms' to accommodate multiple uses such as group meetings, training sessions or work areas.
Flexibility and adaptability of existing space is therefore critical, with minimum distractions and disruptions to the surrounding areas of the library.
Portable Partitions Australia (PPA), the market leading supplier of portable room dividers and mobile partitions, were recently approached by Mark Oliphant College in Adelaide to help provide a solution to offer temporary spaces within the library that could be booked out by both teachers and students for multiple uses.
The client brief was to ensure separate and defined areas could be easily created within the larger open plan library space. They required a versatile solution for separating space that could be easily moved around the library when required. Noise dampening was also a key requirement, as was a modern look and finish.
The product selection of the 360 Degree Acoustic Portable Partition incorporating fluted acoustic polycarbonate panels (white and clear) provided a simple and highly cost effective solution to their problem. At 1.83m in height and 7.62m long, the portable partition can easily create large defined spaces as and when required. Its lightweight construction means it can be easily folded, moved and stored when not in use.
Dean Clark, Deputy Principle at Mark Oliphant College commented 'The portable partitions have proven really useful for helping to create spaces within spaces that can be extended and used by larger groups throughout the day. One of the partitions has been used to facilitate a space for meetings and Training & Development. A screen and projector is in the area, but seating and tables have been added as needed allowing meetings etc to go ahead while the remainder of the library is being used by other teachers and students. The screen and space can be opened up as needed.'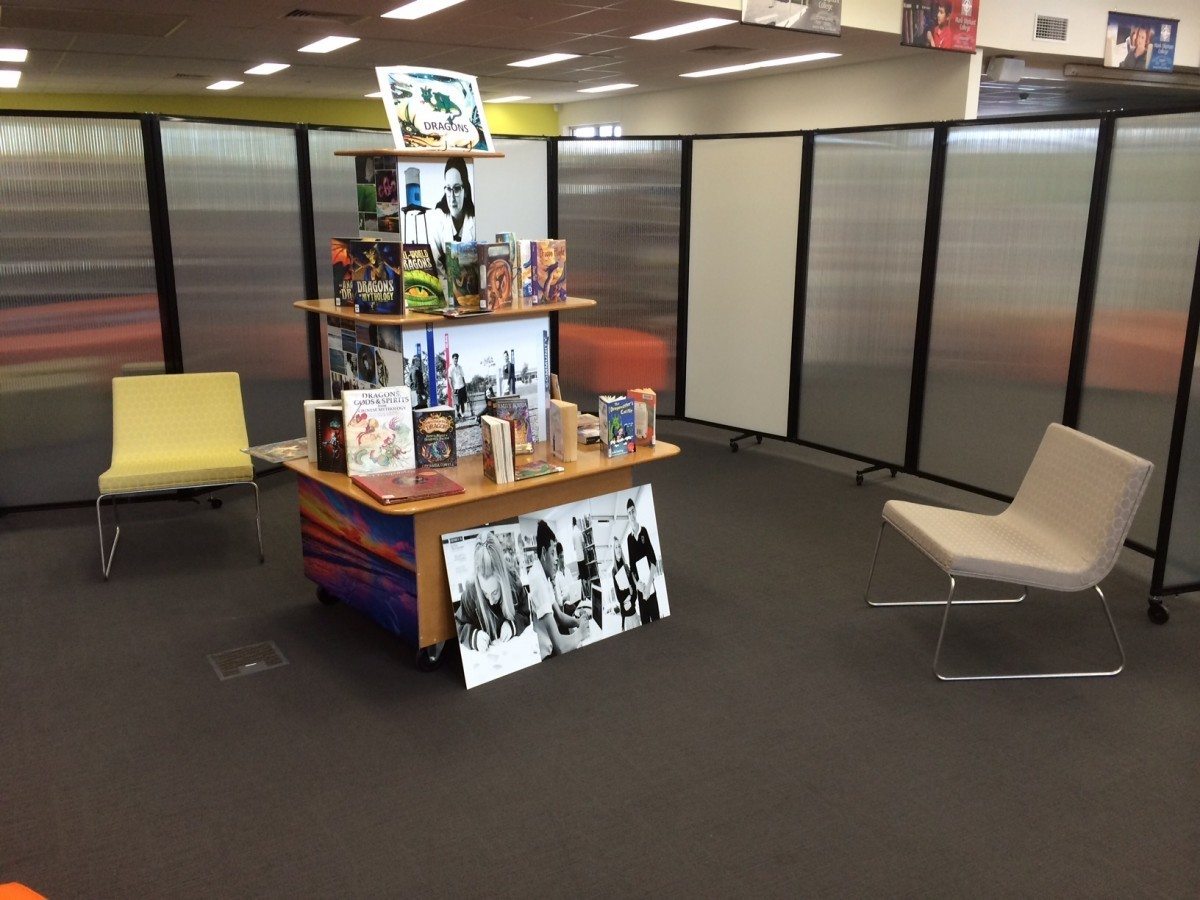 9-Panel Folding Acoustic Polycarbonate Portable Partition, Clear and White Polycarbonate mixed panels, on wheels, 1.83mm H x 7.62m L
VIEW 360 Degree ACOUSTIC PORTABLE PARTITION