Commercial Office Space Design – Revolutionising the Workplace
The average working week in Australia is 38 hours long: a sizeable portion of an employee's waking life. With so much time spent within the same four walls, how you design your commercial office space can have a big impact on employee health and wellbeing. A poor office design, for example, may impact your team's ability to do their job, potentially making it harder to complete tasks, achieve goals, and meet key deadlines.
Conversely, a good modern office design can mean happier, healthier staff, and a stronger, more successful business.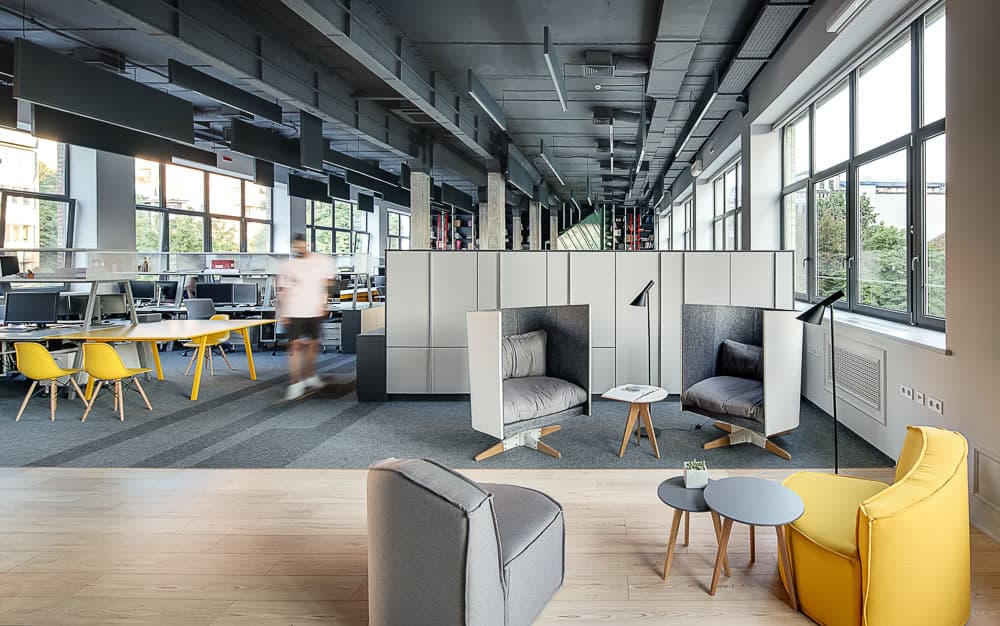 Commercial Office Design Trends 2022
Economic changes, shifting priorities, and the challenges of the Covid pandemic have all played a guiding role in the commercial office design trends of 2022. Here's some things to look out for:
Corporate Office Interior Design
Millennials are expected to make up the bulk of the workforce by 2025, bringing many new ideals, expectations, priorities, and work styles with them. Corporate offices are going to have to think hard about how they can cater to the needs of the younger generations.
Companies need to be able to offer a human-centric, comfortable, and healthy environment that leaves employees feeling valued while enabling teams to choose how and where they work. These modern offices will be better positioned to attract top talent while retaining existing staff for longer.
Here are some interior design elements you can use to future-proof your corporate office while meeting the needs, values, and expectations of a younger workforce.
Ethically and Sustainably Sourced Materials
From constructing your office out of annually-renewable resources to using greener cleaning products, people are becoming more aware of their environmental footprint, as well as the footprint of the businesses they work and buy from.
Taking steps to minimise your environmental footprint can be a win for your teams, a win for your business, and a win for the planet as well.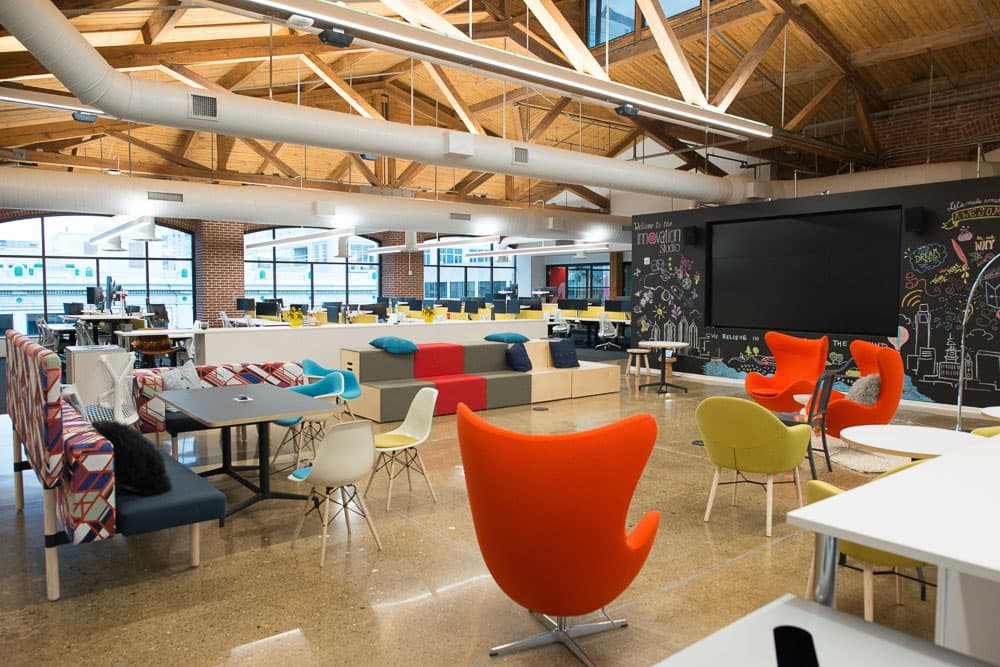 Dynamic Office Spaces
Rigid layouts and cubicle farms are out, and flexible spaces are in!
Having spent the last two years disconnected from their family, friends, and workmates, many employees are looking to reconnect with those around them. The workplace needs to be a more flexible space that enables greater freedom while creating an atmosphere of teamwork by supporting collaboration and interaction.
Give Your Office a New Lease on Life
Help your people reconnect with nature by bringing biophilic elements into the building. Natural elements such as plants, art depicting nature, and windows looking out onto green environments are big in the corporate offices of 2022.
Many companies are also finding innovative ways of incorporating natural materials into the workplace. An aesthetically pleasing feature wall made from natural wood or bamboo, for example, can spark interest while adding a modern and stylish look to the building.
There are many benefits to a biophilic design, such as improving air quality, inspiring creativity, boosting productivity, and relieving stress.
A Home Away From Home
After two years working from home, many employees have found it difficult to transition back to a traditional office space. One interior design trend that's really taking off in 2022 is the home-inspired office. Such offices balance functionality with comfort to make teams feel more welcome and at ease.
Many offices are trying to create a more relaxed atmosphere by bringing elements of home, such as comfy couches, into the workplace. This may help employees feel more at home while easing frustrations for those who are struggling with the return to the workplace.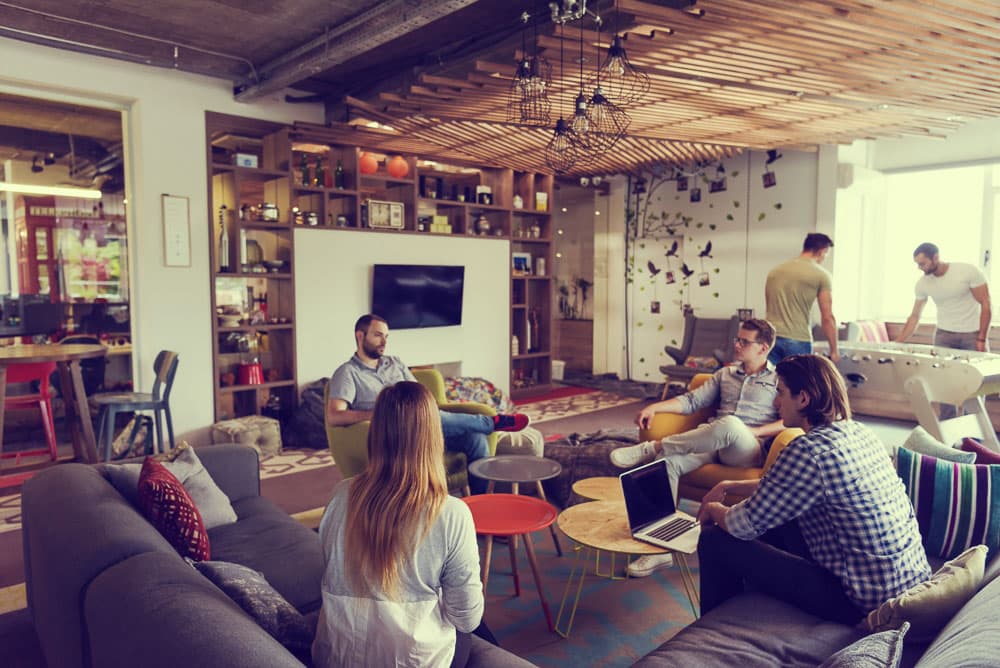 Your Office Away From The Office
Another way of easing the transition back to work is by making it less of a transition to begin with. Many businesses are exploring the possibility of flexible and hybrid models that allow teams to work from their own home offices for part of the week. A company that supports productivity and collaboration at home and in traditional work environments will be far more adaptable and resilient to challenges that arise in the future.
Office Furniture Trends
Flexibility is still going strong in modern commercial office design in 2022, and this goes for your furniture as well. Modern office furniture should be mobile, ergonomic, and adjustable.
Every business should provide comfortable seating which gives staff the ability to tailor their chairs and desks to their specific height and body type – think swivelling arms, adjustable head and back rests, and even sit-stand desks that can be raised or lowered with ease. This furniture should be specifically tailored to the human body, offering extra support to minimise discomfort and fatigue.
We're also seeing more offices incorporating furniture that encourages staff to move during the day, helping ease the strain of long hours of sitting. Staff don't need to run a marathon every day, but such furniture prompts small amounts of gentle activity, such as moving the feet, gently rocking back and forth while sitting, or even alternating periods of sitting and standing.
Active furniture includes:
Foot rockers
Gym balls
Wobble chairs
Sit-stand desks
An active office design could simply mean offering multiple types of seating, and establishing a movement-friendly work culture where teams feel comfortable getting up and switching seats throughout the day.
Office Trends Post-Covid
We've already discussed some of the impacts of the pandemic on the workplace, but how is this shaping modern commercial office design? Here are some of the post-Covid office trends we're seeing this year:
More hybrid and flexible working arrangements
Virtual meetings with staff and clients
Greater use of technology in the office
More hands-free technology such as automated taps, lights, and hand dryers
Hand sanitation stations
Office sneeze guards and privacy screens
Marked pathways through the office to direct the flow of traffic
Office pods serving as small, private spaces where staff can work alone or in small groups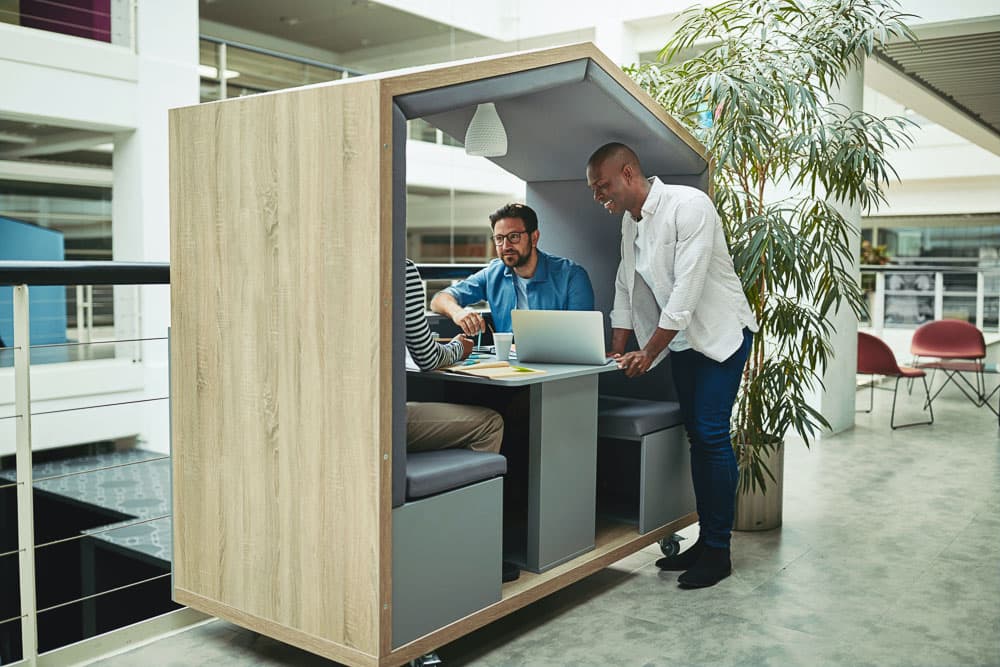 Commercial Office Interior Design Ideas
Big or small, the interior design of your office environment is essential to the health, happiness, and productivity of your teams. It can also say a lot about your business during visits from customers and stakeholders.
Here are some creative interior design concepts to show your company in its best light.
Large Office Space Ideas
When you've got a lot of room to work with, you'd think it would be easy to create a stylish and functional workplace. But a large office space can present some unique challenges. Large areas can be particularly noisy and prone to reverberation, making acoustic control a priority. It can also be tempting to fill up all the available space, making your office seem busy, messy, and disorganised.
Here are some ways you can design a large office that's stylish, comfortable, and – above all – practical.
Establish a Floor Plan
Going into an interior design project without a clear plan is like travelling without a map, you're likely to get lost along the way. Before you make any changes to the room, sit down and map out your floor plan.
Once you've got a clear image of what you're working with, you can begin planning where you'll put key furniture and design elements for maximum efficiency. Consider whether you want an open office design, or a more traditional commercial space fitted with cubicles or small spaces for private work.
Control the Noise
Echoing in a large room can quickly become deafening, creating an uncomfortable work environment for everyone. Acoustic ceiling panels, wall panels, and fabric partitions offer sound-dampening properties that reduce echoing. Other elements, such as sound absorbing wall decor made from soft materials, or even a feature wall made up entirely of plants can also assist with noise control while adding a stylish splash of colour.
You may also wish to create more private workspaces, conference areas, and break rooms so your team can retreat somewhere quieter when they need to.
Offer Plenty of Writing Surfaces
Teams work best when they have adequate surfaces to write on. This allows them to share information and knowledge with their peers while working collaboratively. Conference rooms can be fitted with whiteboards, while technology such as computers and projectors can be installed to help get teams on the same page.
Shared Spaces
Even if your office design utilises a lot of cubicles and private rooms, it's always best to set aside a space where teams can catch up, interact, or work collaboratively. The best thing about a large open workplace is that there's often enough floor space to establish sizeable break areas and meeting rooms for employees.
Promote a Culture of Respect
When working in a shared or open space, promoting a corporate culture of respect should be top priority. Loud conversations, tapping, whistling, or any other disruptive behaviours can lead to distraction and annoyance, so it's best to discourage these behaviours from the beginning. When teams need to work collaboratively, it's best to direct them to a conference room or an area in another part of the building where they won't become a distraction.
Fostering a company culture where all employees are aware of how their actions impact others will help your teams feel more valued by their peers.
Private Work Zones
When someone needs to focus on independent work, they need a place where they can get away from the noise and hubbub of the office. Private work zones, cubicles, or even pods can be used to separate these spaces from the rest of the room, cutting down on noise and distraction while enhancing privacy.
Flexible Workspaces
Flexible office environments are the key to creating a more resilient company that can face unexpected challenges in the future. But while an open plan layout is one of the most flexible arrangements available, it can often lead to stress, and even impact the productivity and overall health and wellbeing of your team.
By incorporating flexible and ergonomic furniture, as well as partitioning solutions such as freestanding wall dividers, you can enjoy greater freedom to customise open spaces. User friendly and highly portable, freestanding partitions can divide a communal workspace, create temporary meeting rooms, and control noise in the building for greater employee comfort.
Small Commercial Office Interior Design Ideas
Businesses working out of a smaller commercial office building will find themselves faced with a different set of challenges compared to larger ones. The biggest challenge will be in creating an office design that caters to every need without appearing cluttered or cramped.
Here are some on trend interior design options to help you get the most use out of a small commercial office.
Mirrors
Installing mirrors on the walls can make your office seem bigger, lighter, and brighter. To achieve this, it's best to use a single large mirror rather than grouping a number of smaller mirrors together. Try to choose a mirror with a small, unobtrusive frame, and position it at eye level.
It may just be an illusion, but mirrors can really open up the space while reflecting natural light to create a bright and airy atmosphere.
Semi-Private Workstations
Traditional office cubicles create a more private space while helping reduce stress and distraction. But they can lead to lack of communication, as well as disconnection from others. Semi-private workstations with desk-mounted screens, on the other hand, offer a little extra privacy while still allowing people to stand up and communicate with their peers.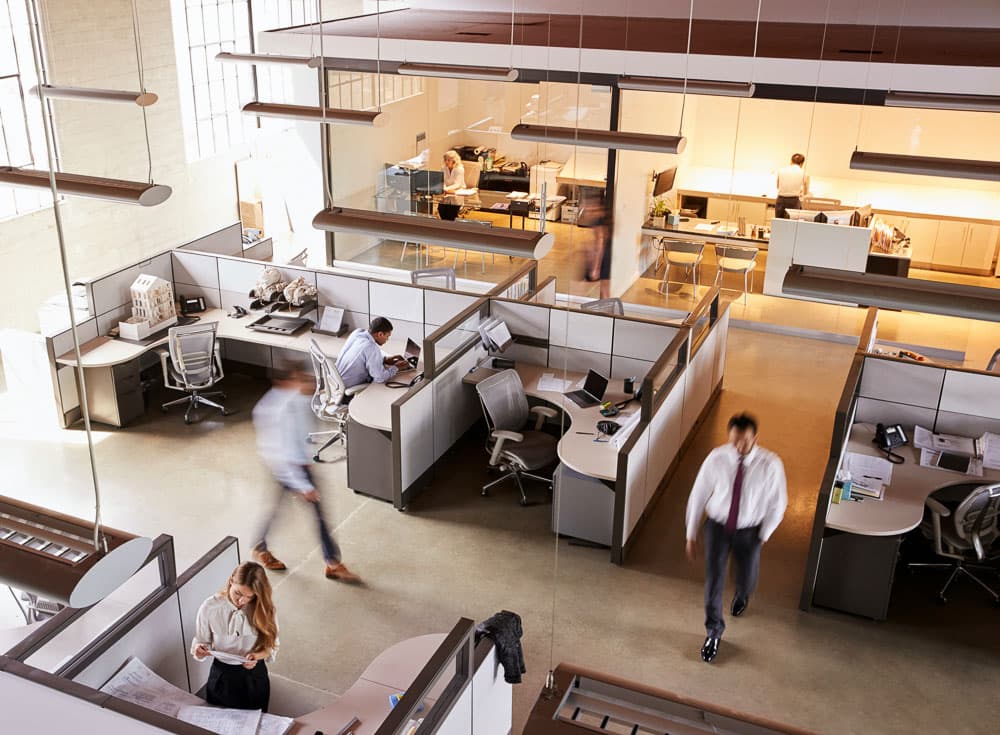 Be Transparent
Open plan designs can create a noisy and stressful environment that leave teams feeling overwhelmed and desperate to get away. Using transparent or semi-transparent walls and partitions rather than solid dividers can help break up the space and block off sources of noise without making the office seem smaller.
Transparent walls and dividers allow you to retain a sense of openness, with the added benefit of better sound control, greater privacy, and less distraction at work.
Wall-to-Wall Flooring
Interior decorators recommend wall-to-wall flooring in small areas, rather than mixed floors which can 'chop up' the room, making it seem disjointed and smaller than it actually is.
By using the same type of flooring from one end to the other, you can highlight the natural flow of the room. When choosing your floor, be wary of hard surfaces such as tiles which can cause reverberation and sound amplification. Carpet squares are a particularly popular option for busy offices where spills are likely to occur. Carpet squares are relatively easy to clean and can simply be replaced if damaged by coffee stains, ink spills, or other mishaps.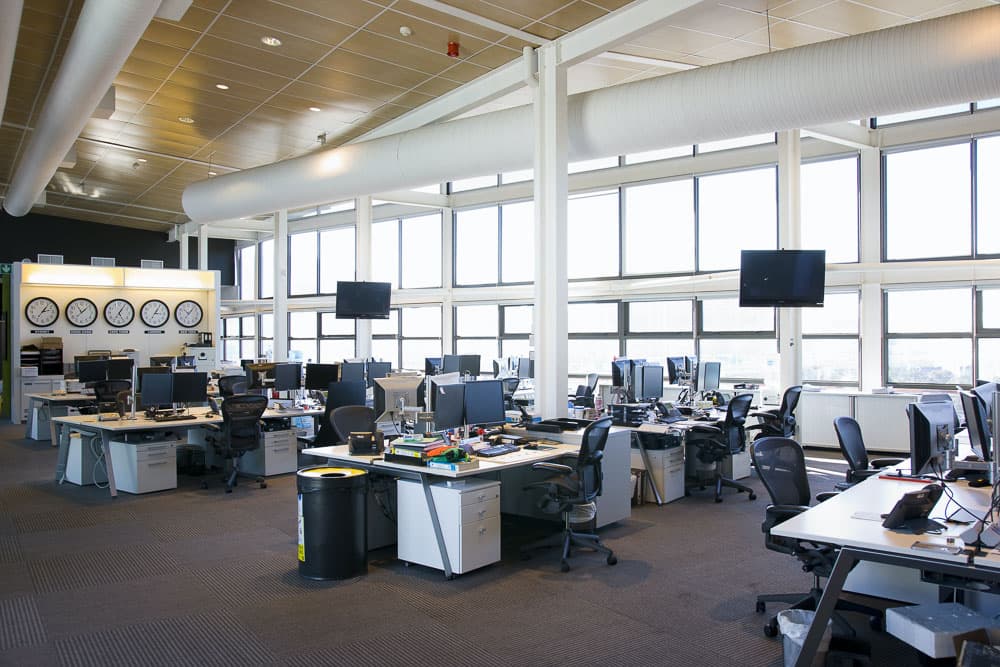 Abandon the 'Trophy' Office
A large, private office has long been a badge of honour for high-ranking staff. But, such designs are often impractical and wasteful in a small room, especially given how much time upper management spends outside of the office. An example of this change can be seen in modern law office design, where trophy offices have been used less over the years.
It may go against the grain, but giving large offices to high ranking staff isn't always the smartest option. A big room will probably do a lot better in the hands of someone who spends 90% of their time in the office, compared to a manager who's only there about 40% of the time.
Alternatively, you can do away with the private office entirely, and instead use the space as a meeting room, collaborative space, or even a comfortable break room.
Cable Management
With businesses growing increasingly more reliant on technology, many offices can become a mess of wires and cords. Cable management is an important aspect of the modern office, particularly in smaller areas.
Try to go wireless wherever possible. For technology that requires a cable, you can keep things neat and tidy with cable ties and other organisation tools. Try to conceal cords along the wall, under the floor, or across the backs of desks. Also be sure to offer plenty of powerpoints and wall ports throughout the workplace so cables don't have to travel far to be plugged in. This can help prevent those unsightly cables from becoming a tripping hazard.