The modern school today faces increasing difficulty in terms of available classroom space capacity to accommodate an ever growing list of classes, clubs and activities.
Whilst schools are keen to encourage personal student growth and development beyond the standard timetable, they are often hampered by a severe lack of available space to satisfy the demand. Both student, teacher and parent moral can suffer as a result of growing frustrations and restrictions.
Adaptability of classrooms is therefore critical to accommodate multiple requirements within the same existing space. With ongoing budget pressures full scale building works are not always the answer. Planning constraints, design work, disruption and timing are all turn offs when it comes to making a decision to try and adapt a current classroom space for multiple simultaneous usage.
Portable Partitions Australia (PPA), the market leading supplier of portable room dividers and mobile partitions, were recently approached by Collaroy Plateau Public School in Sydney to help provide a cost effective solution for splitting an existing classroom space.
The client brief was to ensure two separate and defined areas could be quickly and easily created, with minimal disruptions. They were also keen to use the separating wall to display artwork to help personalise and soften the space.
The decision was made to use a Wall-Mountable 360 Degree Acoustic Folding Room Divider to create a temporary wall that could concertina fold open and closed to split the space as and when required. When not in use the room divider could be folded flat to the adjoining permanent wall using a simple and unobtrusive wall bracket requiring five minutes initial installation time.
The composition of the room divider, made from acoustic honeycomb core, fibreglass both sides and an acoustic fabric ensured sound transfer was significantly slowed between the two spaces. The panels of the divider also accept both pins and tacks for displaying student artwork.
With no building works required, disruption and cost were kept to minimum and the whole project was completed within one week of the initial conversation, from product build to delivery and installation.
Jane Williams, Deputy Principal at Collaroy Plateau Public School, commented 'Our bands are loving the acoustic benefits and the dance groups love the fact that they can separate the room for rehearsals. We have used the temporary wall in a variety of ways so far, including as a display board for our 60th Celebration materials.'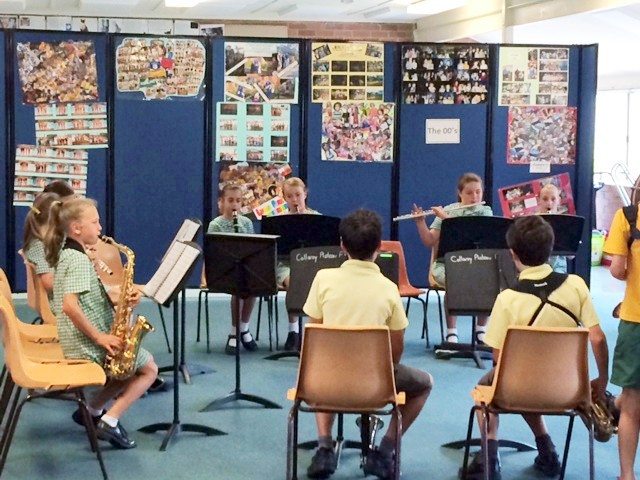 Wall-Mounted 360 Degree Folding Acoustic Room Divider, Blue Fabric, 2.29m H x 7.62m L