For beauty salons and other small businesses, it seems like space is at an all-time premium these days—and managing space effectively is critical. You want to maximize your space without investing a lot of time and money. Now you can! Read on to learn about using portable room dividers to create flexible treatment rooms in any salon.
How can we help you maximize your space?
Portable Partitions Australia offers mobile partitions and moveable walls for many businesses, including salons.
No matter if your salon is in a rented room, a shopping center or somewhere else, we're here to help. With our room dividers, there's no need for any building construction and there's no such thing as an unadaptable space. Now you can create treatment rooms in any space through our intelligent space-saving and space-enhancing room dividers. They're designed to give you a temporary or semi-permanent division of your room and offer the ultimate flexible space as you configure your rooms.
The 360 Degree Acoustic Portable Room Divider (Polycarbonate) is perfect for salons of all kinds. It folds out to create the ideal divider for your treatment rooms, and then folds back to store just as easily.
Benefits of mobile room dividers
using dividers to create a private salon room with business branding
Say goodbye to the challenges of small spaces for your business when you say hello to mobile room dividers. Check out a few of the many benefits.
Make any current salon space into a flexible, adaptable one. Create treatment rooms for all beauty professionals, private spaces, break-out areas, waiting rooms, meeting rooms or consultation booths in a matter of seconds—for as long as you need them.
Save time and money. We've got products for every budget—without the hassle.
The sound-absorbing materials used on many of our partitions create noise barriers, which offer much-needed privacy.
Our room dividers are super-easy to fold, move and store when you don't need them.
Make our room dividers your own
Courbee Beauty, a salon in Dubbo, New South Wales, Australia, needed a way to create individual treatment rooms for their beauty professionals. The use of a white polycarbonate portable room divider solved their problem. They even added a sophisticated business decal to give the partition their unique salon branding.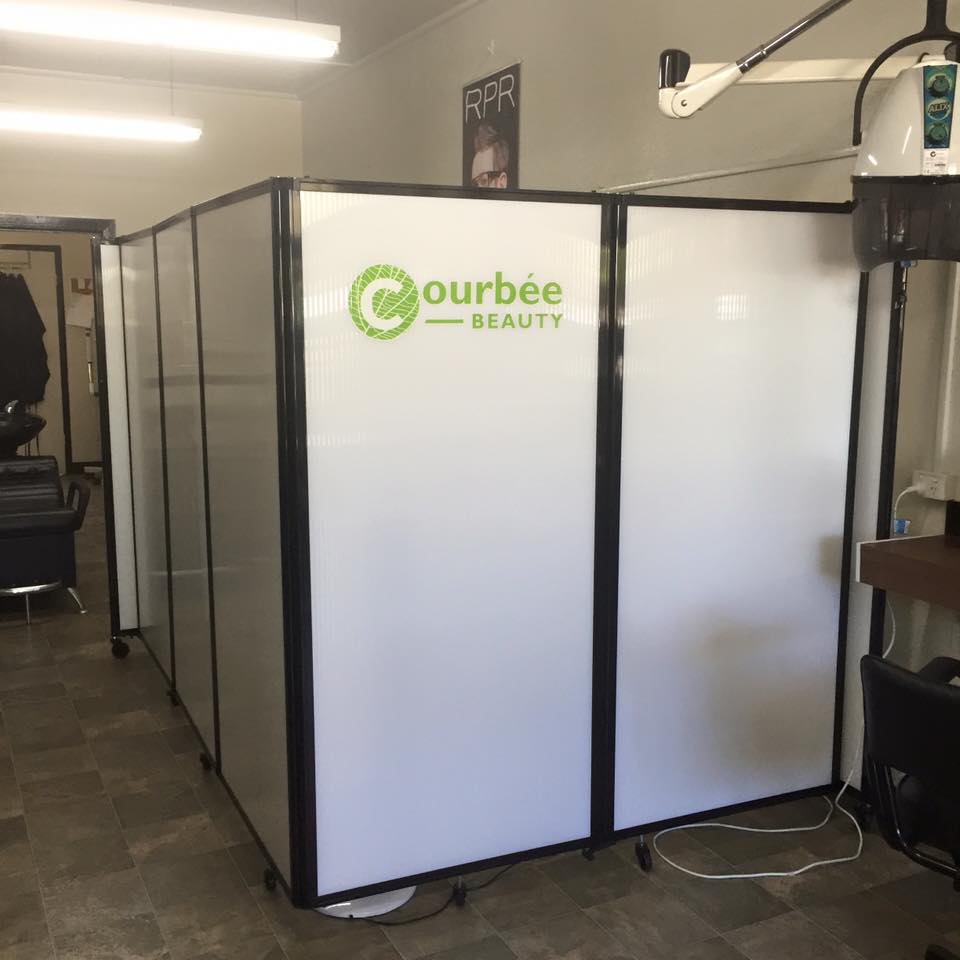 Make the most of your salon's space
No matter what kind of space you have for your salon, beauty professionals all over Australia can benefit from room dividers. Make the most of your space and start reaping the benefits today!