As hairdressing studios all across Australia continue to broaden their service offerings to thrive and prosper, effective store space utilisation is critical.
The service requirements of the store can quickly change based on fashions, fads and short term demands. Space flexibility and adaptability is therefore key to success. Having the ability to create 'spaces within spaces' to offer extended services such as waxing and beauty treatments can be a great differentiator for many businesses.
Portable Partitions Australia (PPA), the market leading supplier of portable room dividers and mobile partitions, were recently approached by Ignite Hair Design Studio in Adelaide to help provide a cost effective solution to enable them to capitalise on increasing demands for extended services, beyond traditional hairdressing.
The client brief was to ensure a portable room divider could be used to create an in-store waxing booth. It was also important that the divider was could be easily moved around the store for other uses and folded away for storage when not in use.
The client selected the MP10 Mobile Room Divider as a simple and cost effective solution to the problem. Made from a lightweight canvas fabric and a steel frame the unit can be easily folded down and moved on its 3inch wheels. Its 360 Degree folding panel hinges also means the partitions can be shaped as required, in this case to create a continuous booth around the waxing table.
At over 2m high and 3m long the Mobile Room Divider provides great coverage and since the system is fully mobile, expensive building works were avoided. Store disruption and overall costs were also minimised.
Margaret Porter from Ignite Hair Design Studio commented 'They are a perfect privacy solution to create mobile waxing booths. We have now bought two units over the past few months as they provide so many uses for us. Everyone loves the vibrant modern colours and it really blends in well to our store surroundings. Everyone comments how great they look.'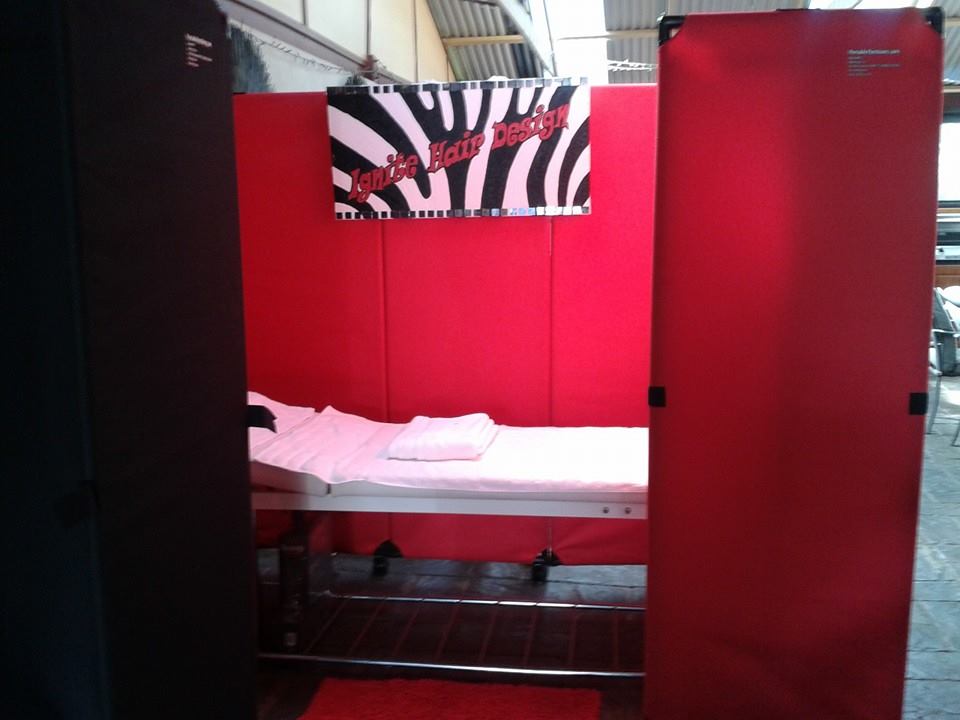 VIEW ALL ECONOMY ROOM DIVIDERS