With the spread of coronavirus at last beginning to slow, Prime Minister Scott Morrison has outlined the three-step framework that will be used to gradually roll back restrictions and reopen the economy; hopefully restoring one million jobs in the process. With restrictions set to be eased on restaurants, bars and cafes, the food industry needs to begin preparing to return to a world ravaged by Covid-19.
So what is the food industry to do in a post-pandemic world? And what steps can we take to future-proof the industry?
Justin Hemmes, owner of the Merivale Group, and a pioneer within Australia's hospitality industry, admits that it will be 'a steep learning curve' for everyone. (Hemmes believes that the extra floor space typically found in fine dining restaurants will allow them to bounce back quicker than most businesses. But smaller establishments are unlikely to possess enough space to meet social distancing requirements while still being able to run at a functional capacity.
It All Starts With Education
While the Covid-19 pandemic is undoubtedly a tragedy, there are important lessons we should be taking away from it. For one, the pandemic has underlined areas in which the food industry may have fallen short when it comes to health and safety. Right now, we've been presented with a unique chance to learn, grow and revolutionise the food industry.
CEO of the Restaurant & Catering Association (RC & A), Wes Lambert, has described the hospitality industry as a very 'high touch' environment. He has therefore stressed the need for businesses to take 'some type of COVID-safe training, whether that's by business or whether it's by person.'
This pandemic has proven that there needs to be more education on health and safety, and the correct use of PPE equipment. From the proper use of gloves and face masks, to correct hand washing techniques, the food industry has been offered a valuable opportunity to educate their staff and their patrons; and to safeguard against future diseases.
A Few Simple Changes For a Stronger and Healthier Food Industry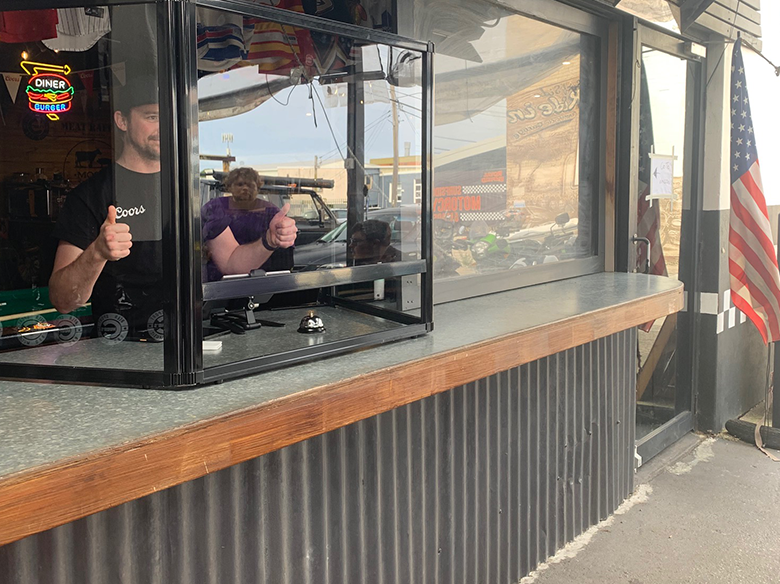 By implementing new rules such as 'reservation only' and 'table service only' policies, and thorough cleaning regimes, as recommended by the American Industrial Hygiene Association (AIHA); restaurants, bars and cafes will be able to help prevent the spread of diseases in the future.
While many establishments have adapted well to allowing for home-deliveries and contactless payments —a shift that can protect staff and customers long into the future — a new challenge will arise once restrictions are eased and dine-in establishments are at last opened back up to the public.
How Can the Food Industry Function While Adhering to Social Distancing Restrictions?
Wes Lambert has pointed out that, once Covid-19 restrictions are eased, and the economy reopened, many businesses would be forced to work at just 25% capacity just to abide by 4sqm social distancing requirements. Lambert admits it would be 'extremely difficult for them to trade through that and many won't'.
It's unsustainable.
But perhaps it doesn't have to be.
The RC & A is advocating for 1.5 metres between tables, and the introduction of protective technologies can make this both possible and safe. In the midst of this outbreak, there have been many developments in technology that could help us slow the spread of all infectious diseases, not just Covid-19. New, protective equipment such as plastic partitions are finding their way into markets and retail stores; and they may just be the food industry's ticket to a safe return to work.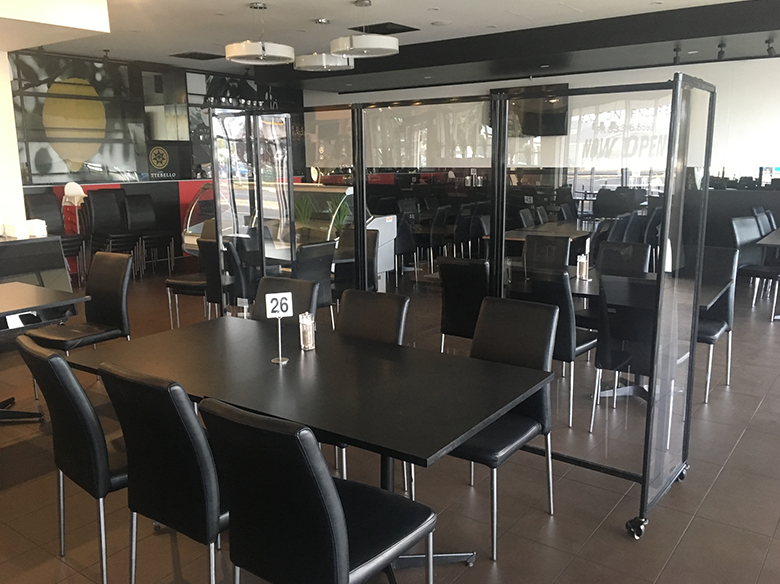 AIHA has recommended that establishments 'place plastic partitions between employees and customers wherever possible' Slotted bench top partitions can be placed at registers, bars, and fast food windows to keep staff and customers safe; while full length plastic partitions can be placed between tables and booths. This will allow businesses to maintain staff and customer safety without having to slash the number of patrons allowed inside at any one time. Tables, chairs and safety screens should all then be thoroughly cleaned and 'disinfected after each customer.
Once the Covid-19 threat has eased, these protective partitions can easily be removed and stored away, ready for use in the event of a future outbreak.
But why not consider the continued use of safety measures such as protective screens, even once the immediate threat has passed? Maybe the most important lesson we should be taking away from the Covid-19 pandemic is the knowledge of how to protect staff and patrons in the food industry.
Perhaps the food industry should take this as an opportunity. By safeguarding staff and customers, businesses can better protect their future, and become a part of the revolution to prevent outbreaks before they occur.