Throughout history, natural disasters like COVID-19 have changed the world not only temporarily, during the disaster and the immediate aftermath, but permanently, in both subtle and substantial ways. The same is expected now; while we anticipate that the economy will bounce back and business will resume, resembling a more familiar environment by the end of the year, some changes will last indefinitely as a result of our experiences throughout the pandemic.
A case study on viral spread in office environments
This case study offers a prime example of the risk that call centres and other densely populated office spaces pose to workers and customers, when applicable. Here are the highlights:
Officials were informed of widespread transmission in a Seoul call centre on March 8th
911 call centre employees were spread out among four stories of the mixed-use building; residential apartments comprised remaining stories of the building
1143 employees and visitors were tested with 97 confirmed positive cases of COVID-19
of the 97 positive cases, 94 were employees who worked on the 11th floor of the call centre
43.5% of 11th floor employees were diagnosed with COVID-19, the majority of them working in close proximity to one another on half that story
after the initial round of testing, affected employees passed the infection onto 34 members of their household
Perhaps most shocking of all the details is that one person spread COVID-19 to 93 other people working on the same floor of the call centre. Interestingly, investigators found that sharing common spaces like the main entrance and the elevator did not contribute to spread of infection.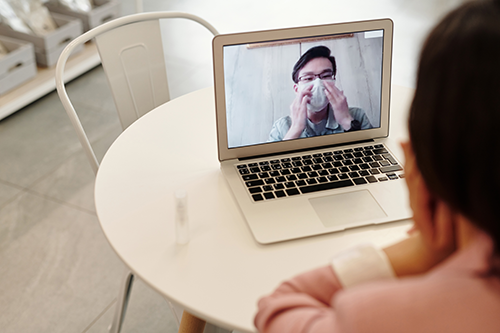 COVID-19 throughout 2020…and beyond
While social distancing efforts have likely helped keep the virus at bay, cases continue to rise worldwide. Many have speculated that heat during summer months will slow or stop the spread of the virus, leading to a temporary decline in new cases and then potentially a second peak in infections this when it gets colder again.
In this article, experts weigh in on these claims. "It's really clear that warmer weather does not stop the transmission or growth of the virus. That's clear from Australia, Singapore and Hong Kong. Singapore and Hong Kong have kept it to a large degree under control, but that's with incredibly intense control measures. There's no question that coronaviruses are capable of transmitting in hotter, humid climates," says Dr. Marc Lipsitch, director of the Centre for Communicable Disease Dynamics at Harvard TH Chan School of Public Health.
Dr. Lee Riley, chair of the Division of Infection Disease and Vaccinology at UC-Berkeley School of Public Health, expects social distancing and lockdowns to continue (or require repeating) well into the future: "It's conceivable that we may have to do another round of lockdowns, but we need to look even further ahead. What's going to happen next year? Is it going to come back again like the influenza? Is a new type of coronavirus going to come back? Maybe not next year, but maybe, two years from now? This is not the only time we're going to be doing these lockdowns."
Business leaders, workers, and consumers will see long-term impacts to their routines as the country adjusts to the long-term existence of the coronavirus. Until herd immunity is established (and it must be established slowly to prevent overloading our nation's healthcare systems), some form of social distancing and control will be required in nearly every setting, from schools to supermarkets to office spaces.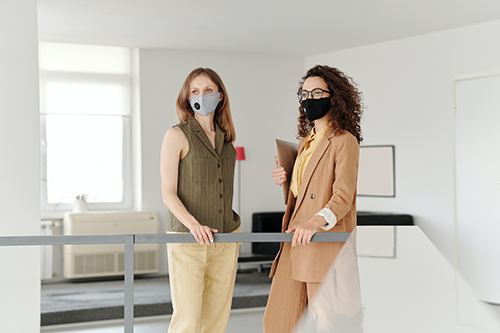 Trends in today's office spaces
The Australian workplace has evolved over the last five years, contributing to office spaces that are innovative and exciting for millennial workers. Let's discuss some of the changes most relevant as we explore how COVID-19 will transform the Australian workplace.
The introduction of amenities to the workplace
"People say they want to work in offices with restaurants, cafes, shops, and other services," says Sue Williams with Commercial Real Estate. More and more employers have taken an innovative approach when building or renovating office spaces to provide a downtown culture for their employees, ensuring they can grab a Starbucks in the morning, enjoy a meeting with colleagues at an attached cafe, or even seek urgent care for a cough or cold during their lunch break. This has led to an increase in shared spaces and opportunity for socialisation throughout the workday.
Innovative spaces for entrepreneurs and telecommuters
Not all telecommuters prefer to telecommute, so as more and more organisations have tossed aside the brick-and-mortar business model and hired employees and gig workers to deliver from their home offices. While that arrangement is ideal for some workers, many thrive on the energy of a shared office space and experience improved focus and productivity in a dedicated workspace, away from home (and the distractions inherent to being at home). Companies like The Local Office in Sydney provide an opportunity to marry the two by providing shared office spaces for entrepreneurs, telecommuters, and gig workers.
Activity-based working replaces the open office concept
While open-concept offices were front and centre for a spell, more and more organisations are shifting their focus to activity-based working, a compromise between traditional office spaces and open concept spaces in which employees have the opportunity to work in whatever space best promotes collaboration and success for an individual task or project. Options might include a sound-proof phone booth, where employees can step away for a private call, or living-room style brainstorming spaces, where teams can think and create together. Likewise, they may choose to work from a quiet zone while analysing data and an active zone while checking emails. The result? More shared spaces (phone booths, hot desks, etc.), fewer walls, and people in closer proximity throughout the day.
Tomorrow's office spaces – what to expect
All of these trends offered a myriad of benefits in pre-COVID-19 Australia, but the pandemic will inevitably change the way we do business in the future. While these trends won't (and can't) be replaced overnight, modifications will be required in order to ensure the safety of workers and clients for months and possibly a few years into the future.

Anticipated changes include:
a shift from hot desk policies to assigned seating to limit the number of workers coming in contact with shared surfaces
the permanent or long-term presence of temperature check screens at employee and visitor entrances with ongoing symptom and temperature screening
more stringent disinfection procedures and increased need for and presence of environmental services staff; more responsibility for cleanliness and disinfection placed on workers
the installation of countertop protection screens at visitor counters, customer service desks, cafeterias, and other high-traffic service areas
better division between workspaces through the use of protective plexiglass screens or cubicle extenders
a change in the way amenities are offered the workplace; ongoing closures or limitations in the way service is provided by cafes and coffee shops and other business attached to or in close proximity to the workplace
Additionally, all workplaces must be better equipped to allow those workers who can work remotely to do so – with limited notice – as minor illnesses will require staying home and a second peak in COVID-19 cases may require quick transition from on-site to remote work again.
Employers will find that by implementing physical barriers to prevent the spread of the virus, they'll reduce their risk long-term. By ensuring they have adequate materials on hand – from PPE to temperature screening stations and protective screens – the more agile they'll be when the next peak hits.