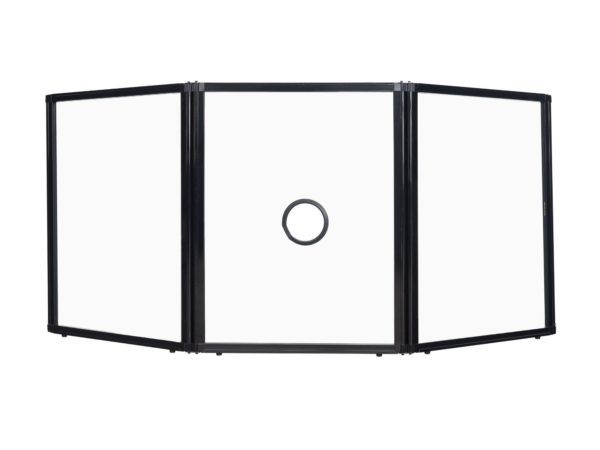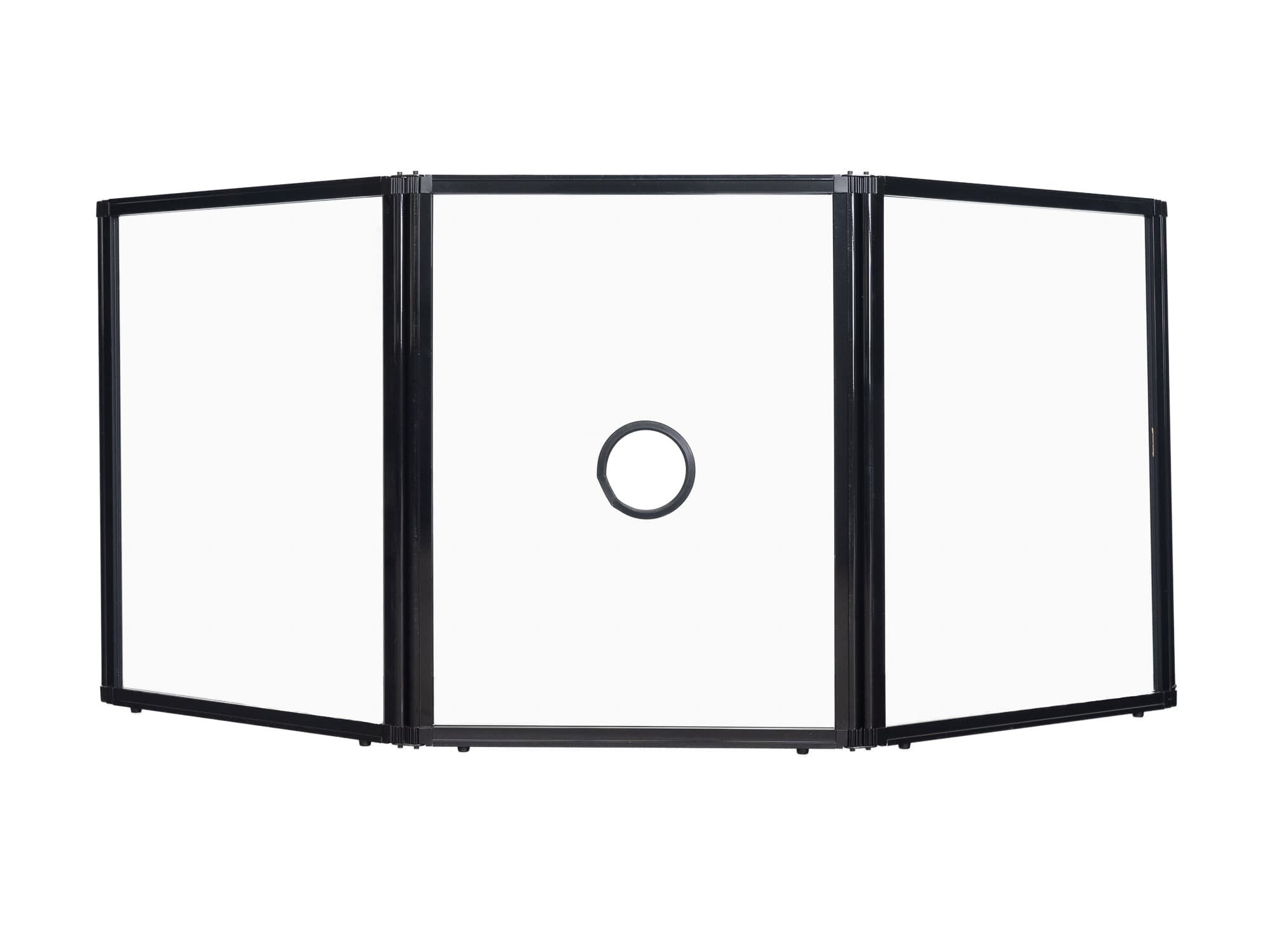 Temperature Check Screen – 3 panel Freestanding (Desktop)
$590.00
---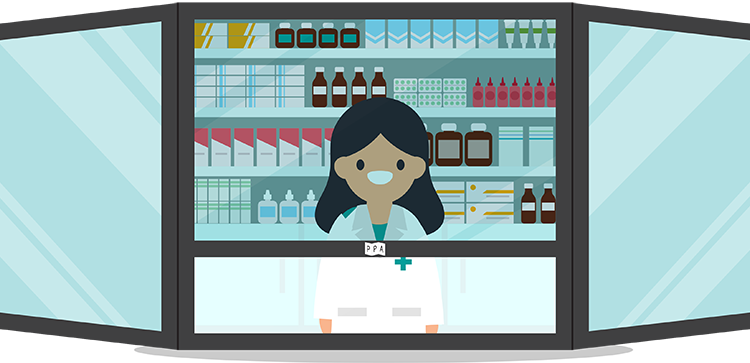 OVERVIEW
● Will help reduce community transmission of COVID-19
● All in one solution for safer temperature checks
● Can be configured to fit any size bench top
● No building required
● Temporary semi permanent or permanent solution
● Made from clear acrylic and easy to clean and sanitise
● Available for same day despatch
This Countertop Temperature Screen can be used to help minimise community transmission of COVID-19 in schools and the workplace.
Checking for fever, one of the key symptoms of COVID-19, and being able to turn those affected away will increase the safety of students, teachers and any workplace staff where initiated.
The screen is made from a clear acrylic and contains a hole, allowing frontline testers to remain staff as they check for fever of those entering any premises.
Multiple configurations: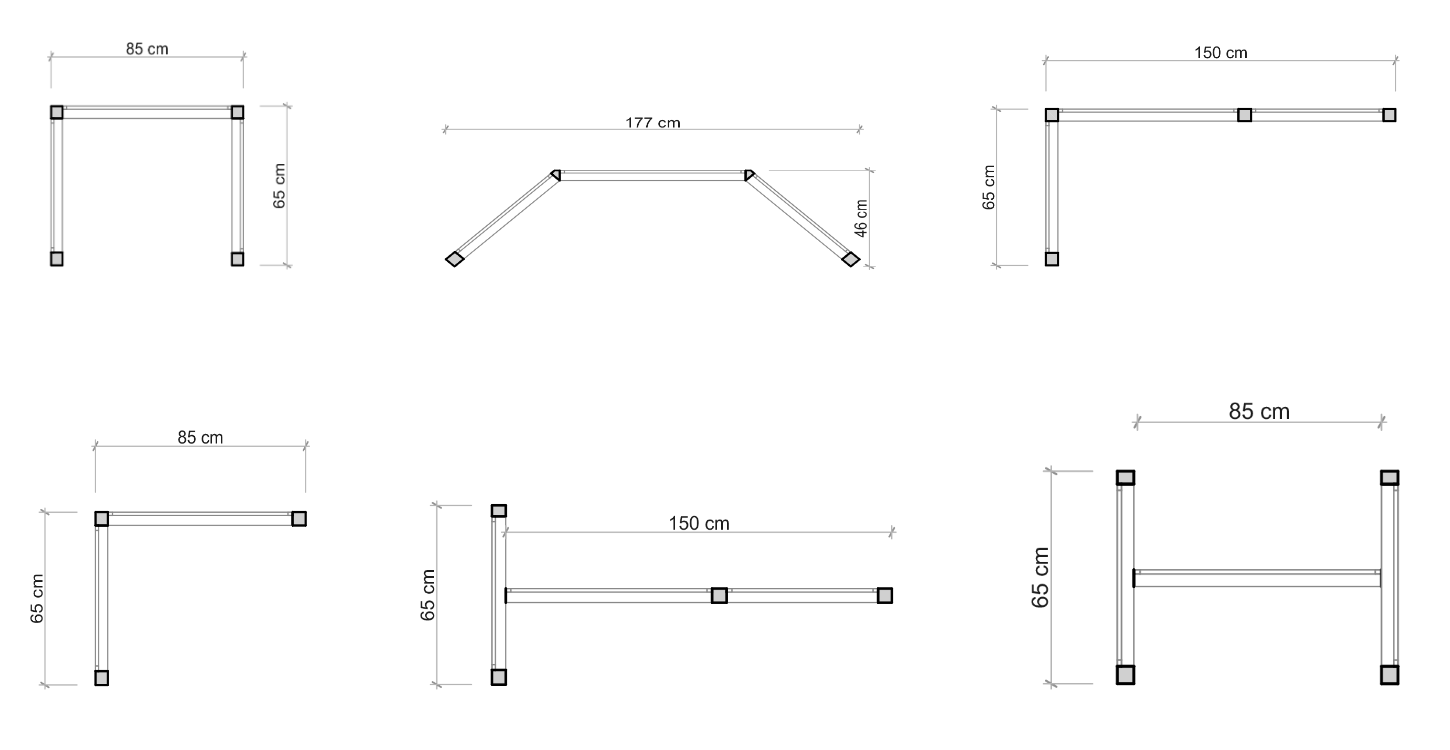 Examples of screens used in retail environments
| | | |
| --- | --- | --- |
| 1/ Straightline with feet either side (2.15m long x depth of foot 42cm) | 2/ L shape, no feet required (1.5m wide x depth of single side panel 65cm) | 3/ U shape, no feet required (85cm wide x depth of 2 side panels 65cm). |
The Countertop Temperature Screen is designed to be easily cleanable and acts as a barrier between people in close proximity. It may significantly lower the health safety risk for employees while temperature testing and supports the effectiveness of PPE even if social distancing protocols cannot be followed.
Created to provide comfort and relief for temperature testing staff, the Countertop Temperature Check Screen is a 80cm high clear acrylic partition that forms a shield that may help prevent the direct physical and airborne spread of germs. The clear acrylic allows effective temperature screens and prevents direct contact between people. Easy to clean with any common disinfectant, this partition is also lightweight, portable, and fully collapsible, making it versatile and easy to store. Middle panel is 85cm and the outside panels are 65cm allowing for full U shape protection for staff (custom sizes available).
As we look to slowly open back up schools and the economy and places of work these Temperature Screens can help provide a safer environment for that gradual easing back into normal life.
They should provide students, parents, teachers and staff across all workplaces with more confidence that their places of learning or employment are safe.
The Temperature Check Screen for countertops and desktops is perfect for:
● Schools
● Hospitals
● Medical Centres
● Pharmacies
● Offices
● Warehouse
---

Stay Protected
Maintain social distance protection while continuing to serve your loyal customers with flexible product configurations that fit any countertop or room.

Save Time & Money
Avoid expensive, lengthy and disruptive permanent building works by considering cheaper temporary or semi-permanent solutions. Products to suit every budget, without the hassle.

Fit Any Countertop or Room
We designed our Protection Screens and Room Dividers in a fully customisable way so there is always a way to make it work for your needs.

Easy Set-Up
Most of our products ship semi assembled or assembled. Simply unbox and use easy setup guide to place into position. No need for professional building services or installers.

Australian Made
Manufactured, assembled and shipped directly from our Sydney factory ensuring the highest quality.

Next Day Shipping
All products are in stock and available to order directly through the website or via phone. The majority can be dispatched next day for delivery across Australia.
Additional information
| | |
| --- | --- |
| Length | 85cm, 2.15m |
| Depth | 65cm |
| Height | 82cm |