How to Turn Restaurant Design into Your Greatest Advantage
Restaurant design is a key element to the success of your business. Not only does curbside appeal have the power to attract patrons off the street, interior design has even been linked to a better dining experience for customers. As every business owner knows, a guest who enjoys a positive experience at your establishment is much more likely to return in the future – and recommend you to their friends.

Today, we'll be exploring how interior design can affect your customers and staff, how to reduce noise in a restaurant as well as some top tips on how to design a restaurant – even when operating out of a small space or on a tight budget.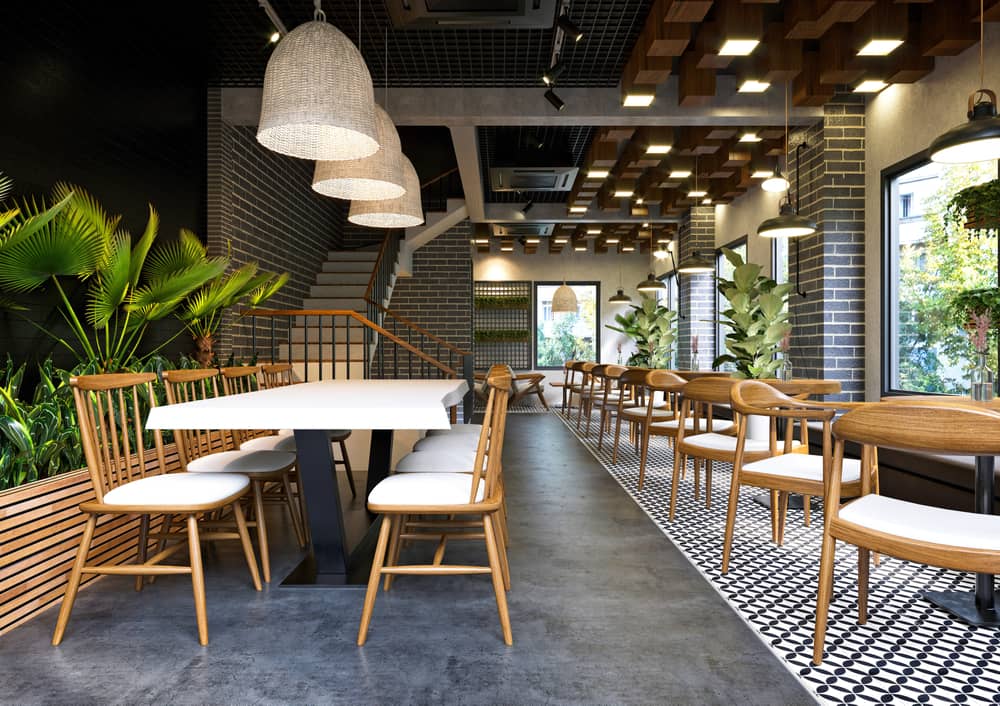 Best Restaurant Design
A successful design is going to look different for everyone, and will depend on many factors, including your target audience, the type of food you serve, your budget, as well as the shape and size of your building.

So what is restaurant design? And how can you use it to your advantage? Below, we'll be exploring the psychology of design to help show you how to design a restaurant that makes a great impression.
The Psychology of Design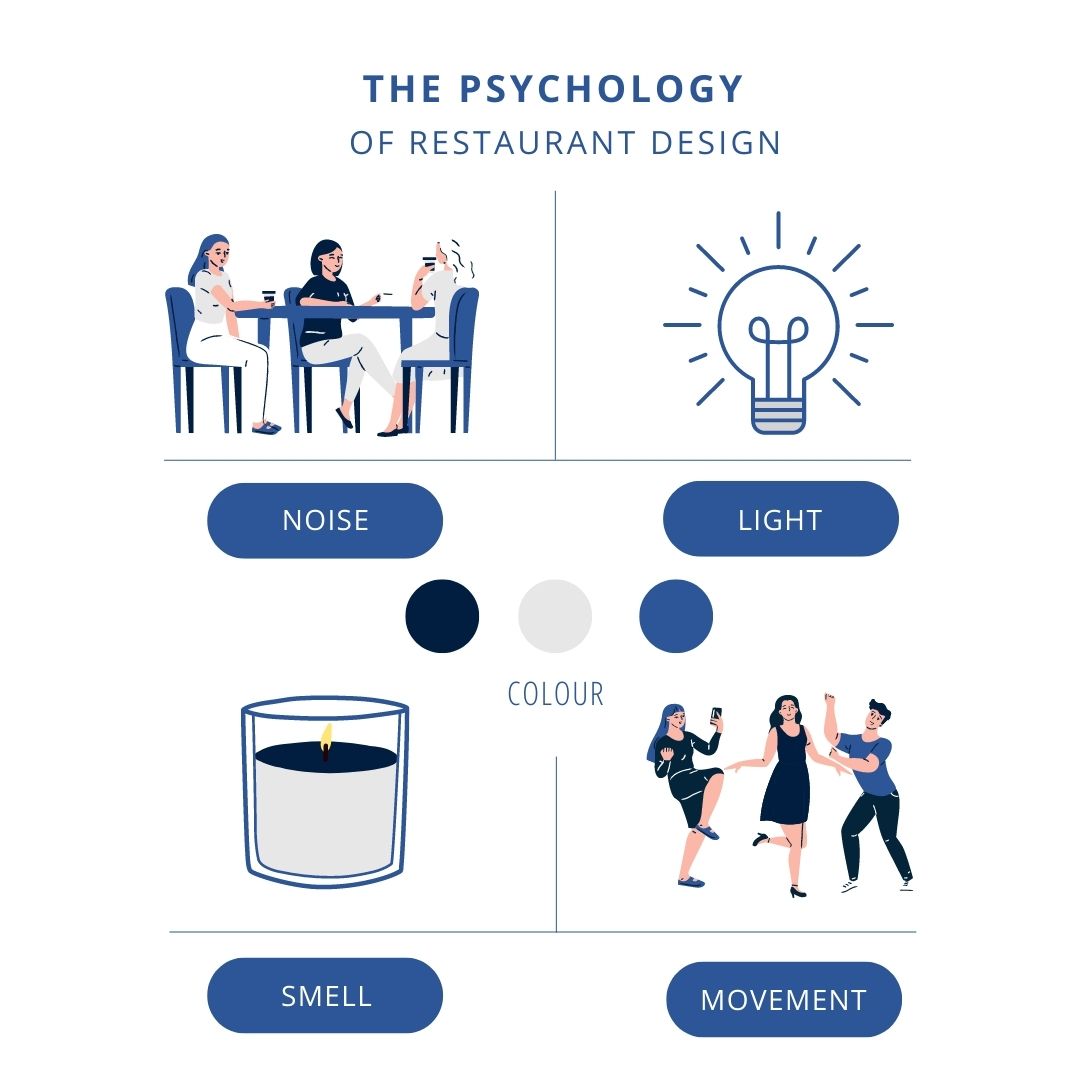 Every aspect of your establishment, from the colour of the walls in the dining room to the smells wafting from the kitchen, can have an impact on your customers' dining experience.

Here are some interesting insights into how design can influence your customers.
Colour: Colours have an unusual ability to influence customer behaviour and mood. Warm colours such as orange, yellow, and red can stimulate appetite, while black, grey and brown may suppress it.

Smell: Different smells have the ability to influence mood. For example, the smell of baking bread may establish a welcoming and homely atmosphere, while floral scents may be more relaxing. The smell of smoke or burning food, on the other hand, is a sure way of making a room seem small and claustrophobic.

Lighting: Humans are naturally inclined to follow the most well-lit path, meaning clever lighting arrangements can be used as tools to help guide your guests through the room without much direction from your staff. Uniform lighting can also make a room seem more spacious, while an uneven distribution of lights may feel more relaxed and casual.

Noise: Noise is an unavoidable aspect of working in the hospitality industry, but too much noise can quickly impact customer enjoyment and even staff health. There are plenty of ways of controlling noise, including installing acoustic panels, or breaking up the room with mobile partitions.

Movement: No one enjoys feeling cramped and claustrophobic while eating. To create a comfortable and enjoyable environment for all, be sure to set out clear pathways with enough room for people to move around without having to squeeze past chairs or get too close to other diners.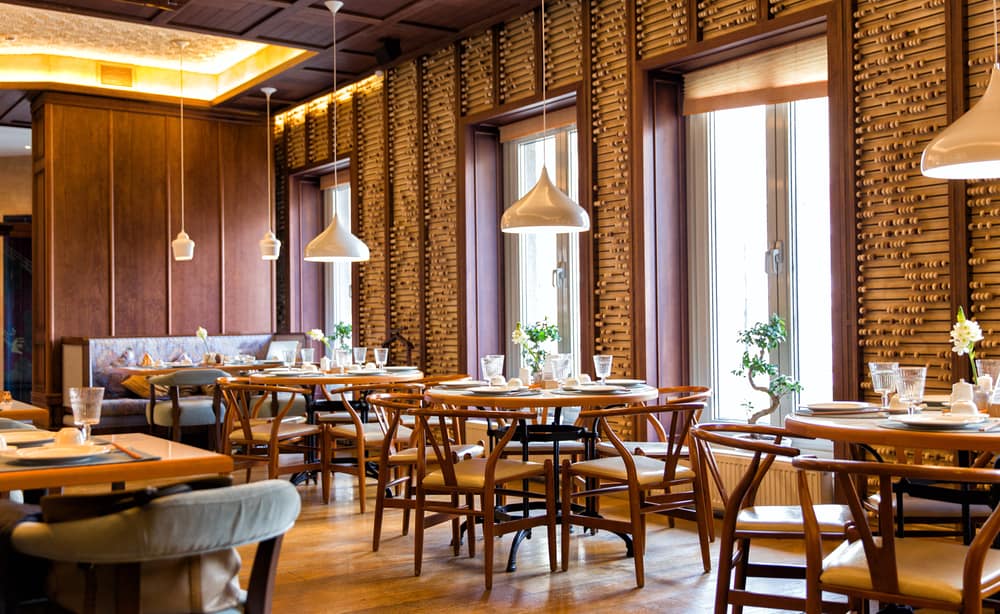 How to Design a Restaurant
Now that we know why design is so important, it's time to explore how to design your establishment for maximum enjoyment. Here are some simple steps you can take when planning your restaurant for success.
First Impressions Count
Your patrons will be judging their experience the moment they step through the door – and perhaps even before that – so be sure you're making a good impression from the get-go. This means making the front of your building look inviting, creating a welcoming entrance, and ensuring that customers are greeted warmly and seated promptly after entering.
Remember, your customers' first impressions may shape the rest of the dining experience, so be sure to make a good one.
Put Yourself in Your Patrons' Shoes
To truly understand the customer experience, you should try putting yourself in their shoes. Walk into your establishment like a guest visiting for the first time. Remember, this is about much more than just visuals, so pay careful attention to what your guests would see, as well as what they would hear, feel, and smell.
As you go through, here are some questions you might wish to ask yourself so you can be certain you're delivering the best dining experience.
Are you greeted warmly at the door?
Are there signs marking important areas such as toilets and staff-only areas? Is each sign clear and easy to see or do guests have to search for them?
Are wall-mounted menus easy to read?
Is there a lot of noise?
Are any tables sitting too close to unpleasant objects such as mop buckets or bins? Are there any unpleasant smells coming from these objects?
Are the tables or floors sticky or dirty?
Is the air conditioning blowing directly on any of the tables? Many will find this uncomfortable.
When conducting this experiment, try sitting at every table to see what your customers see. Chairs facing toilets, storage closets, or other facilities can be less pleasant for guests. If this is unavoidable, take special care to give patrons something else to look at in these areas. Try putting a beautiful picture on the wall, or some pretty flowers in the corner. You can even set up a privacy screen to partially block the view.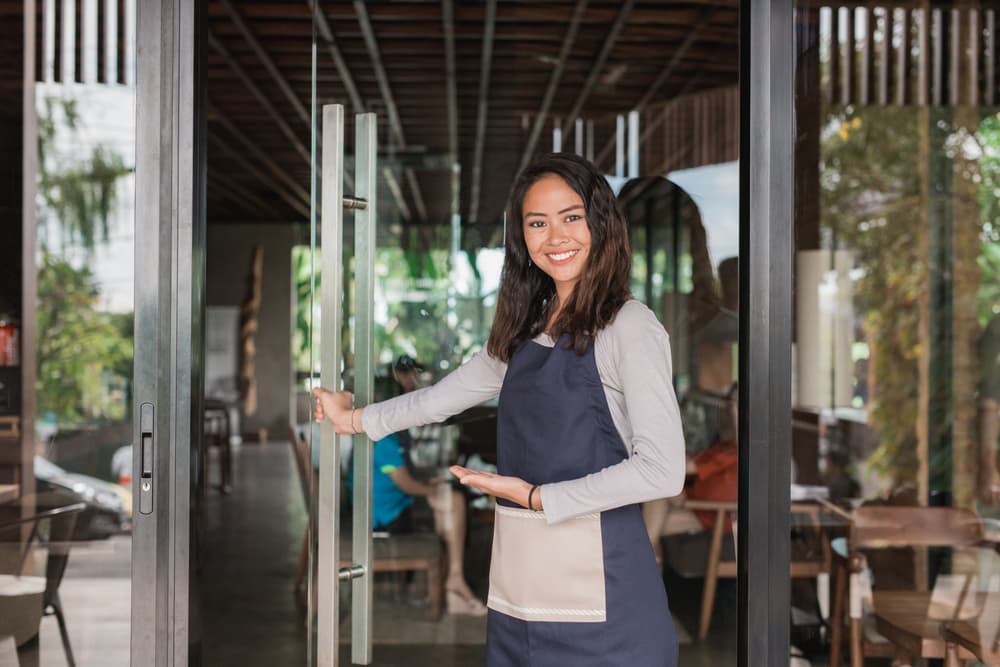 Consider Your Staff's Needs
Your staff are the face and the voice of your business, so if they're not happy, this can translate to your customers as well. That's why, when it comes to a successful restaurant, staff comfort can be just as important as the comfort and enjoyment of your patrons.

When designing your restaurant, consider the needs of your staff as well. This includes providing enough room to move around, take orders, and serve meals without bumping into one another or having to squeeze past tables. Is there adequate and accessible storage for important resources such as cleaning materials? Do staff have somewhere to store their personal belongings while working? And what about a break room?

The more of your employees' needs you can meet, the happier and more productive they're likely to be.

Facilitate Movement
Your floor plan should follow a certain flow that facilitates proper circulation and efficient movement. This is essential to the comfort and safety of staff and customers alike.

Patrons should be able to walk to their table unhindered and without having to squeeze awkwardly past other tables and chairs. On a busy day, if guests need to wait in the lobby, they shouldn't be packed together like sardines. Be sure to provide adequate standing room by the door.

Staff should similarly be able to move smoothly from the kitchen to all the tables, even while carrying trays. To help prevent staff from disrupting one another, you may wish to set up 'zones' within the dining area, with each waiter allocated a zone to focus on so they don't get in each other's way as they work.

If you're designing a new restaurant, schedule a practice run to ensure everything runs smoothly on opening day. Plan out the most efficient pathways through the dining area and be sure to clearly communicate each staff member's role, and their zone for the day.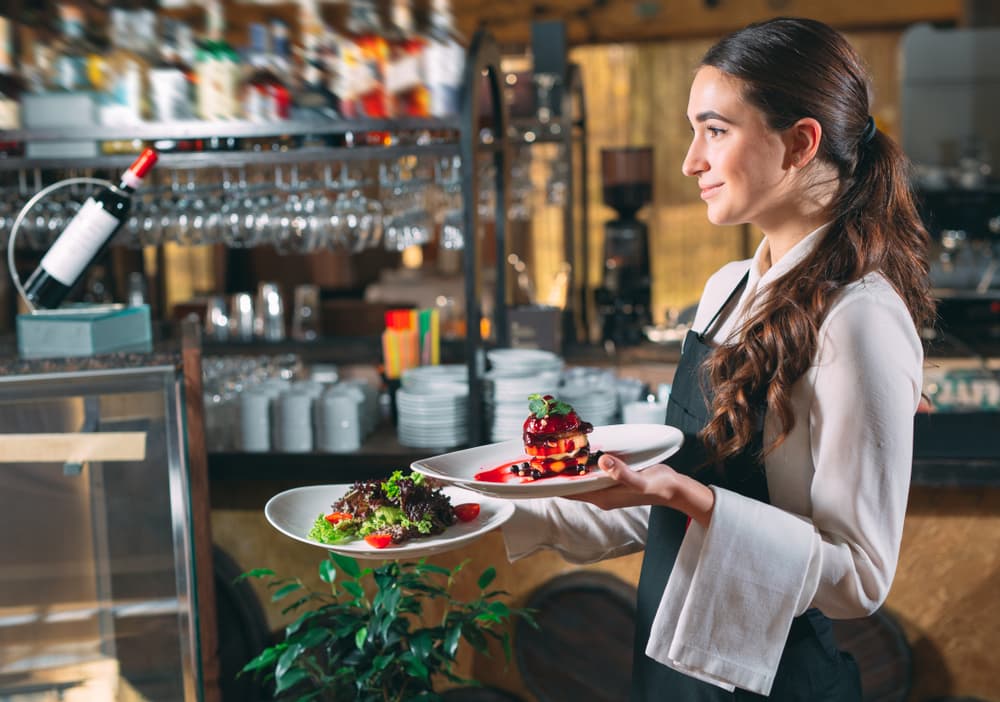 Consistency is Key
A disconnected style can seem confusing, disorganised, and even inconsistent with your company branding.

Be sure to consider the style of your establishment, as well as your target audience, the type of cuisine, and even the look of the building you're operating out of when organising decor. Considering all these factors can help you make a great impression while remaining consistent with your brand's identity.
Restaurant Design Ideas
There are many cost-effective ways that design can elevate the customer experience as they eat. Below are some ideas for creating beautiful or unique spaces without breaking the bank.
Beautiful Restaurant Design
Making your establishment look beautiful need not cost the Earth. In fact, even small elements can add a subtle and sophisticated pop of style to the room. Here are some stylish elements to help inspire you.
Biophilic elements such as plants add a little colour and vibrancy to a room and can even double as visual barriers while aiding with sound absorption.

Whether you're located in the city, the country, or the suburbs, take advantage of attractive views by offering large windows that look out upon the landscape and perhaps show off a bit of the local lifestyle.

Utilise existing features in the building, such as an old fireplace, and turn it into the centrepiece of the room.

Set the mood with lighting. Bright white lights can seem stark and cold, so designers often use orange lights for a more welcoming and comfortable atmosphere that leaves guests feeling at home as they eat.

Mix up your flooring to establish distinct 'zones'. This not only helps staff identify their allocated zone, it's also a stylish way to add a little variety to the venue. Take care however, as mixed flooring can potentially make an area seem smaller, so it may not be the best option for very small buildings.

Utilise all the floorspace available to you, both indoor and out. Creating a nice outdoor area not only looks beautiful, customers will also enjoy having a little more autonomy over where they sit and eat.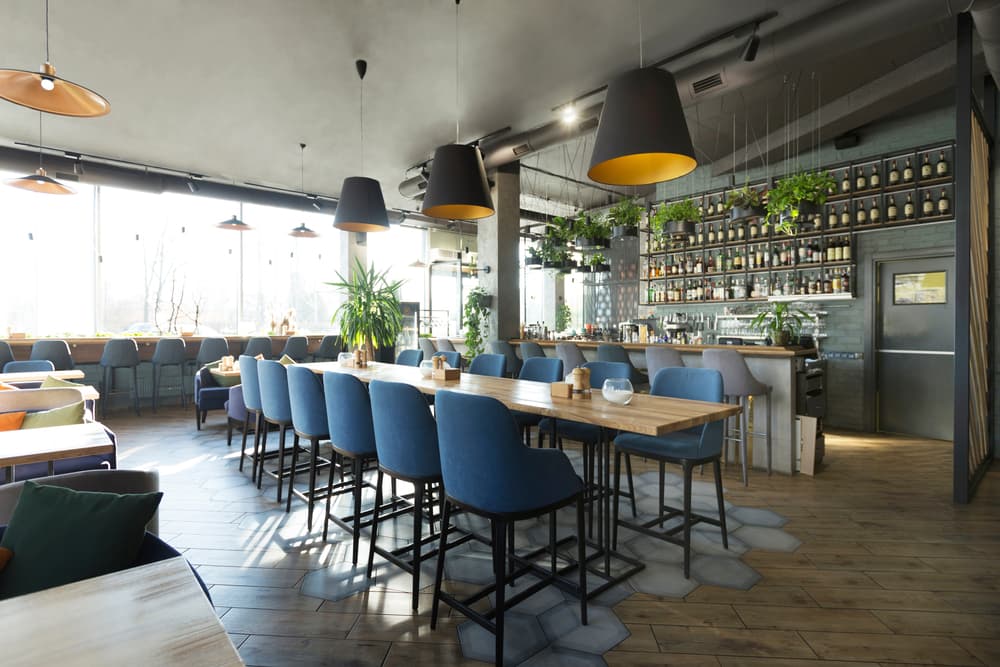 For some additional inspiration, why not check out the 'Eat Drink Design Awards' website. This program celebrates and awards some of the best designed restaurant, hotel, bar, and cafe projects throughout Australia and New Zealand.

Don't forget to check out the latest award winners in the Eat Drink Design Awards gallery.
Unique Restaurant Design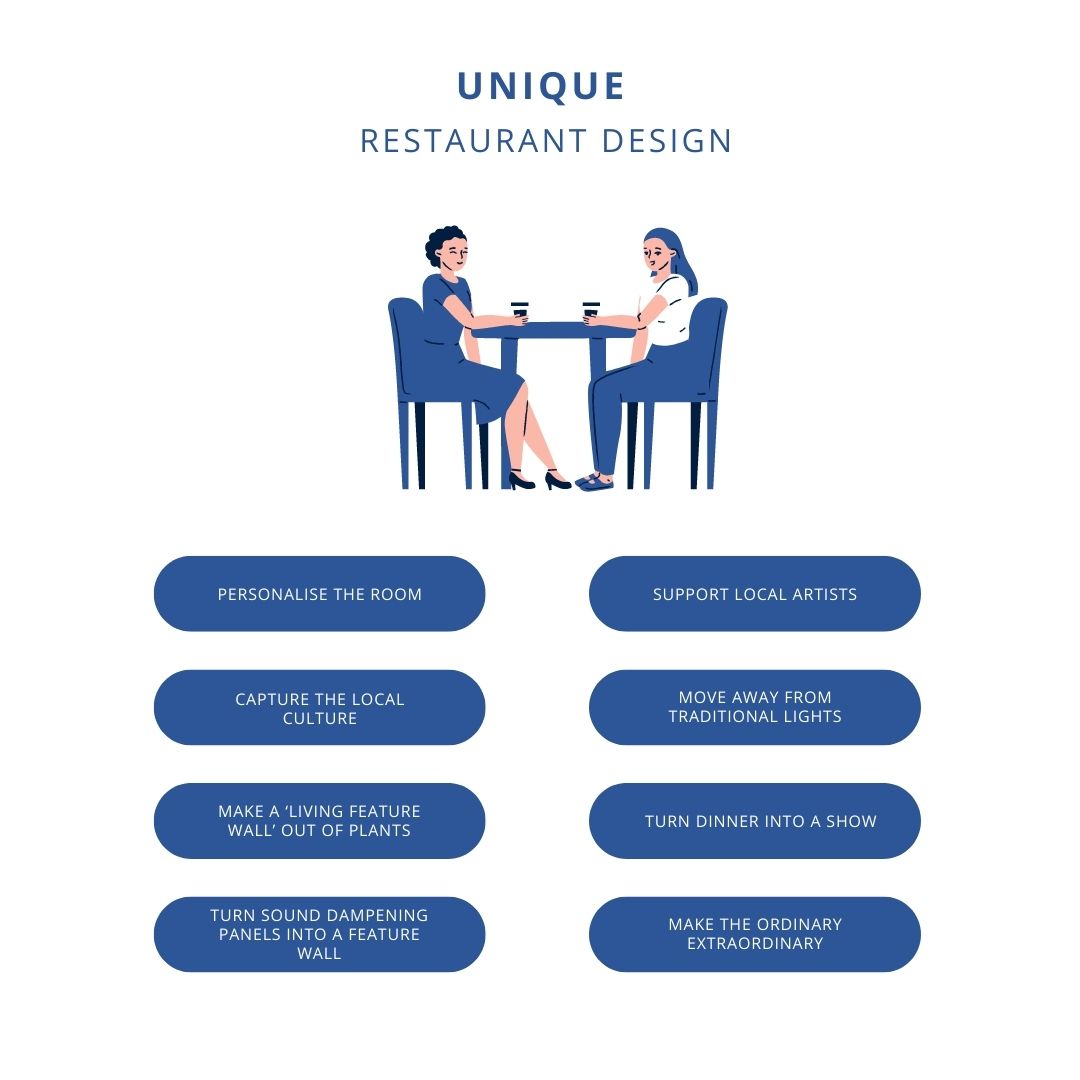 Competition is fierce in the hospitality industry, and sometimes a uniquely designed venue can be the difference between drawing customers off the street, or seeing them go to your closest competitor.

Here are some clever ways of standing out from the crowd.
Personalise the room: Add a little heart to the room by allowing staff and patrons to contribute to its design. There are many ways of doing this, from installing a blackboard wall to setting up pinnable fabric partitions where people can share photos, drawings, notes, and more.

Capture the local culture: A restaurant can offer a unique snapshot into the world it was built in, whether that be a bustling city centre or a sleepy town in rural Australia. Try to capture the local lifestyle and culture by including pictures of the surrounding landscape, local art, photos of residents, and any other elements that capture the spirit of the community. You could even produce a monthly newsletter – either printed or posted on your website – to share the latest local news and events.

Make a 'living feature wall' out of plants: Not only does this add a bit of life, colour, and visual interest, plants have also been found to offer great sound dampening qualities.

Turn sound dampening panels into a feature wall: Rather than trying to disguise your acoustic panels, why not make them stand out instead? With the right arrangement and mixture of colours, you can create an image or pattern that turns your panels into a design feature.

Support local artists: By displaying local art, you'll not only benefit from having unique work on your walls, you'll also be helping build awareness for artists in your community.

Move away from traditional lights: Hanging fixtures, chandeliers, vintage fittings, or modern lights can all add their own unique charm and sophistication to a room.

Turn dinner into a show: Many people love watching their meals being prepared, so why not show your chefs at work with a more transparent layout that lets customers watch their meals take shape.

Make the ordinary extraordinary: Even the most mundane objects can become exciting when presented in a new and unique way. There are many great examples of businesses taking ordinary objects such as plates or plant pots, and turning them into decorative features by hanging them from the walls or ceiling.
Small Restaurant Design
Operating out of a small building or on a tight budget can introduce some new challenges for business owners. Below are some ideas for turning your small venue into a striking and beautiful place that draws customers from far and wide.
Modern Small Restaurant Design
There are many ways of making a small venue look more modern. Here are some ideas to help get you started:
Design an open plan layout

Embellish with geometric shapes and decorations

Integrate technology into the area – a study found that 95% of restaurant owners agree that technology improves efficiency, while 73% of customers say it improves the dining experience.

Install large windows to make the room seem bigger

Ensure lots of sources of light, including natural light

Once you've decided on a colour palette, stick to it – neutral colours are a great way of making a space seem more modern, but can also leave it looking stark and lifeless. Select two neutral colours and one accent colour to help strike the balance and bring the place to life.

Too many unique objects can clutter up a space. Choose just one statement piece to act as the centrepiece that ties the whole design together.

Use the whole space, not just the walls and floor. Try hanging decorative objects from the roof to free up walls and floor space.

Add large, wall-to-ceiling mirrors with minimal frames to make the room seem bigger and brighter.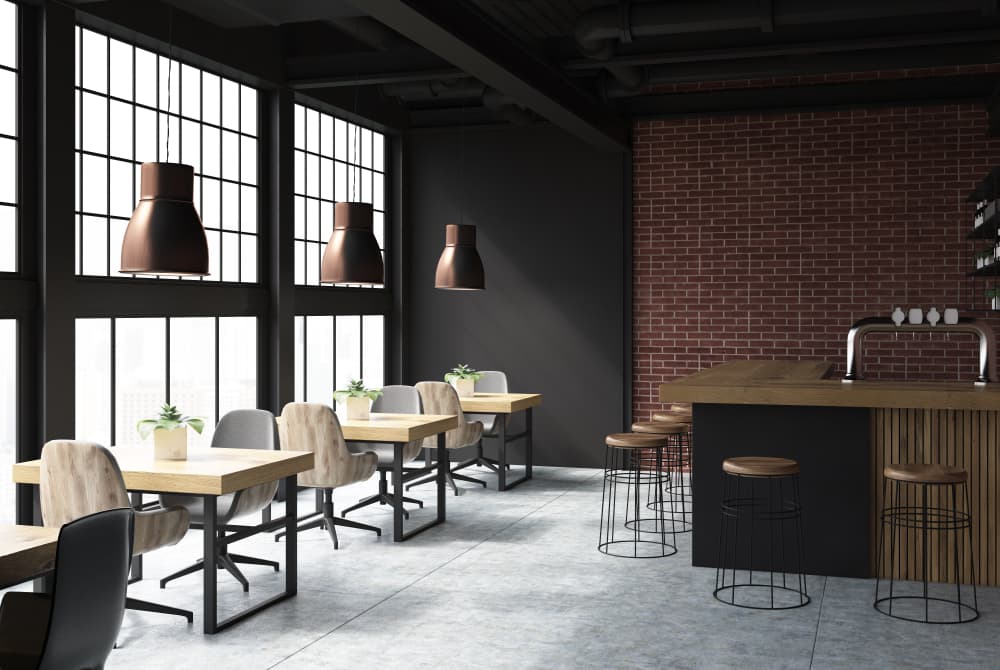 Low Cost and Low Budget Small Restaurant Design
A tight budget can add an extra layer of difficulty when trying to get the most out of a small layout. Here's some options for how to design a small restaurant on a budget.
Set up a gallery wall of continuously shifting local art. Not only will the constant circulation of art keep things looking fresh, the exposure may be the first step in helping an artist kick off their career.

Smaller venues can easily become cramped and cluttered. Mobile partitions can help divide up the room and offer a little more privacy for patrons without ever committing to a single layout – or forking out lots of money. Rolling partitions can also assist with controlling sound and reverberation at just a fraction of the cost of permanent walls

When you're running out of room inside, why not utilise outdoor areas as well? If there's room outside, try to make the front of your establishment as open as possible to extend the floorplan beyond the walls of your establishment. This will allow you to fit more people in at once without impacting the dining experience.

A minimalist design not only looks modern, it can also save you money on unnecessary furniture, decorations, and other items. The best minimalist designs emphasise functionality with just a few striking design elements to really tie the look together.
Small Restaurant Bar Design Ideas
Taking up a large portion of your floorspace, your restaurant's bar can be as much a design feature as the images on the walls and the furniture on the floor. Here are some ideas for turning your bar into the centrepiece of the room.
Create a backlit display of bottles arranged on a large, floor-to-ceiling shelving unit. To make things easier on your staff, keep all the usable bottles within arm's reach, while empty or 'show' bottles can be placed higher up.

Turn drink pouring into a spectacle by installing flat benches that don't obscure the view as bar staff mix drinks. This can add an element of performance to the design as staff show off their expertise. This may have the added benefit of inspiring other customers to buy more drinks or try something new.

A way of catering to people who aren't looking to eat is to offer a dedicated drinking area. Depending on the size of your establishment, this can be as simple as providing a couple of stools at the bar, or creating an entire space, complete with drink-only tables. This helps free up tables in the dining room while still allowing people to drink at the bar.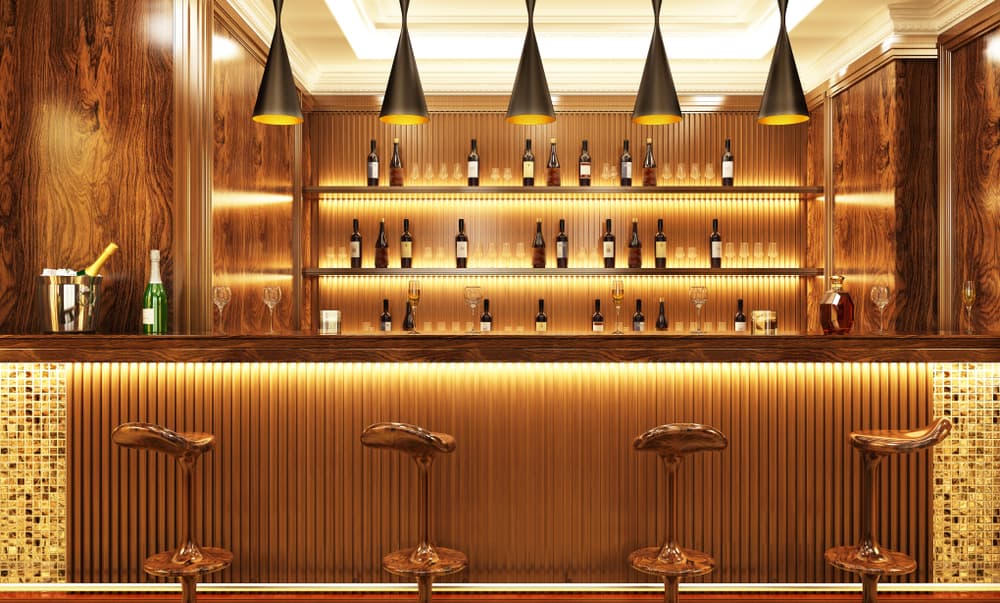 Fast Food Restaurant Design Ideas
The fast food industry is changing. Heavy hitters such as McDonald's have already undergone extreme makeovers in order to modernise their brand. In this new era, we're seeing these establishments take a classier, and more sophisticated approach to their dining areas.

Explore our ideas for fast food restaurants to discover how your establishment can cater to the tastes and preferences of modern diners.
Incorporate Company Branding
You've likely already dedicated a lot of time to establishing your brand identity, so now it's time to capture it in the decor. Branding can and should be incorporated into virtually every design element, from the colour and shape of your furniture to the images and decorations on the wall.
Design Your Floor Plan with Care
Where fast food varies from others in the industry is in the way they serve meals, often offering opportunities to dine in, pick up, or even order from the comfort of their car. As a result, you need to find a way to make all of these options readily accessible without disrupting others.

To achieve this, try to establish a clear division between diners and people picking up their orders. This can be done by placing large gaps between the cash registers and tables, or even setting up partitioning systems to act as visual dividers and sound barriers.

Remember, your establishment will need to be functional for staff too, so be sure to leave enough room, as well as clear pathways for your employees to get around with ease.
Get Involved in the Local Community
There's lots of ways restaurants can contribute to their local communities: from sharing news in a monthly newsletter to supporting local causes.

Popular burger joint, Grill'd, offers an excellent example of how a brand can get involved. Their 'Local Matters' community donation program gives customers a token for every order, which allows people to vote for a local cause while they're waiting. Different causes are presented at the door, complete with large containers for collecting votes.

In this form of democratic giving, each cause will receive some amount of money at the end of the month, but how much they'll get is determined by the customers.
Choose the Right Furniture
Your furniture needs to cater to a range of ages and body types. Be sure to purchase versatile furniture that's both comfortable and functional so families of every shape and size can sit and enjoy a meal together. Varied seating options may also help patrons find a chair that best suits their needs.

As you'll likely be serving a lot of young children, it's best to purchase tables, chairs, booths, and even partitions that are easy to wipe down and disinfect without staining. Try to avoid fabrics in favour of hard, wipeable surfaces.